Tournament poker is one of the most exciting forms of the game and one that gives you the chance to turn a small investment into a massive sum of money.
Although there are thousands of tournaments running every week on various online poker sites, nothing beats the excitement of sitting down in a real life casino, feeling the cards and chips in your hands and competing for huge cash pots.
The three biggest- and most popular- live tournament festivals are the World Poker Tour (WPT), World Series of Poker (WSOP) and the European Poker Tour (EPT).
All three of these festivals offer dozens of tournaments at various venues around the world, capped off with a high buy-in Main Event that pays hundreds of thousands of dollars (or euros). It's also a chance for players to immortalise themselves in the poker history books by winning titles.
However, the high cost of entering these major live tournaments is a big deterrent to many budding poker players. A typical EPT Main Event costs €5,300 to buy into, whilst WSOP entry prices range from $1,000 and increase to an eye-watering $50,000 for the highest buy-in events.
Unless you are a successful professional poker player, or have a very well paid job, investing €5,300 plus travel and accommodation for a single tournament may be a step too far. Fear not however because thankfully there are ways to win a seat at the biggest championships and you don't even have to leave the comfort of your own home.
Give your bankroll a boost with our range of exclusive sign-up bonuses and special promotions.
All of the pre-eminent online poker sites including: PokerStars, Full Tilt Poker, partypoker, 888poker, PKR and Betfair Poker offer special tournaments known as satellites.
These satellites play like any standard tournament but with one key difference: they do not boast a cash prize. Instead, they offer seats to Main Events and sometimes entire packages that include hotel accommodation and travel expenses.
Below are the most popular type of satellite competitions that are available on most online poker sites:
Full Package Satellites
A satellite that offers a full package to an event usually awards the winner with a seat to the Main Event, money towards travel and accommodation costs and sometimes even spending money. Full Package Satellites generally become available a month or two before the big events begin with PokerStars the only place to qualify for EPTs, partypoker the place where you can qualify for the WPTs and sites such as 888poker and Betfair Poker often putting packages together for the WSOP.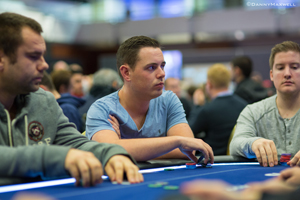 Seat-Only Satellites
These tournaments are similar to the full package tournaments except the winner(s) only receive a seat to the Main Event and nothing else. If you live near the tournament venue, or know someone who stays nearby, these type of satellites are perfect.
Steps Satellites
Steps satellites have grown significantly in popularity during recent years because they offer hopefuls the chance to win a comprehensive package for very little outlay. Steps usually take the form of single table tournaments where the winner progresses to the next highest step and continues to do so until they win the main prize.
In most circumstances, finishing in second or third place in a step satellite gives you another shot at the same step level. However, if you finish outside of the top places then you will be dropped down to the next available lowest step. This format allows players to make a small buy-in last a long time whilst you step up and down the various levels.
Flip or All-In Satellites
If you are short of time and want to leave qualifying for an event completely up to chance, then participating in Flip or All-in satellites is the best option. These tournaments see the blinds and antes placed so high that everyone is automatically all-in at the start of the tournament and will remain so until the winner is determined.
Generally speaking, this form of satellite requires very low buy-ins and they are great fun to watch!
Once you've decided type of satellite is best for you, make sure you sign up to your preferred poker site via PokerNews for all the best, latest and biggest sign-up bonuses.