After ten levels of play in Event #9: €100,000 Super High Roller a total of 76 players have entered and that number is set to increase with late registration and unlimited re-entry open for two levels tomorrow.
Leading the final 33 players through to Day 2 is Timothy Adams who lead throughout most of the day. After busting Andrej Desset at the feature table, he added Jean-Noel Thorel to his list of victims - twice! And despite a late spurt by Dominik Nitsche, the German doubled Steve O'Dwyer on the final hand of the night to fall back in the standings.
"I ran really good," said Adams. "I busted a few short stacks; woke up with aces and kings when people shoved ten big blinds so that was always nice and easy. For the most part, it was a smooth sailing day; just made hands and won pots without showdown.
"I thought it was going to be one of the better 100ks of the year. I played this last year and it was a really good field. This is the reason why I came here, to play this 100k because it's one of the best ones of the year. I'm happy with the quality of the field if you want to call it that."
Adams will be taking forward 12,960,000 in chips as chip leader in this event, one place higher than in the €25,000 High Roller earlier in the festival, where he advanced from Day 1 second in chips.
"To be honest tomorrow's a new day at work," said Adams reflecting on having been in the situation before. "Sometimes maybe you're going to get ahead of yourselves, but that's just your mind playing tricks. You just turn up tomorrow and it's just another day of poker. some days are more important than others. IIf you've been doing it long enough, it's all the same. "
Other big stacks include Dominik Nitsche (9,515,000), Adrian Mateos (8,365,000), Tobias Ziegler (8,230,000), Steve O'Dwyer (7,390,000) and Stefan Schillhabel (7,275,000) on a day where five of the top eight have won WSOP bracelets before, three of which on more than one occasion.
Among the other players to play and bust today were bracelet winners Bertrand Grospellier, Niall Farrell and Fedor Holz. Jack Salter, Dietrich Fast and Anatoly Filatov, along with High Roller regulars Richard Yong, Andreas Eiler, Renato Nowak and Winfred Yu were also eliminated. Both the aforementioned Thorel and Christoph Vogelsang fired four bullets in the Super High Roller, with Vogelsang surviving with 3,590,000 in chips.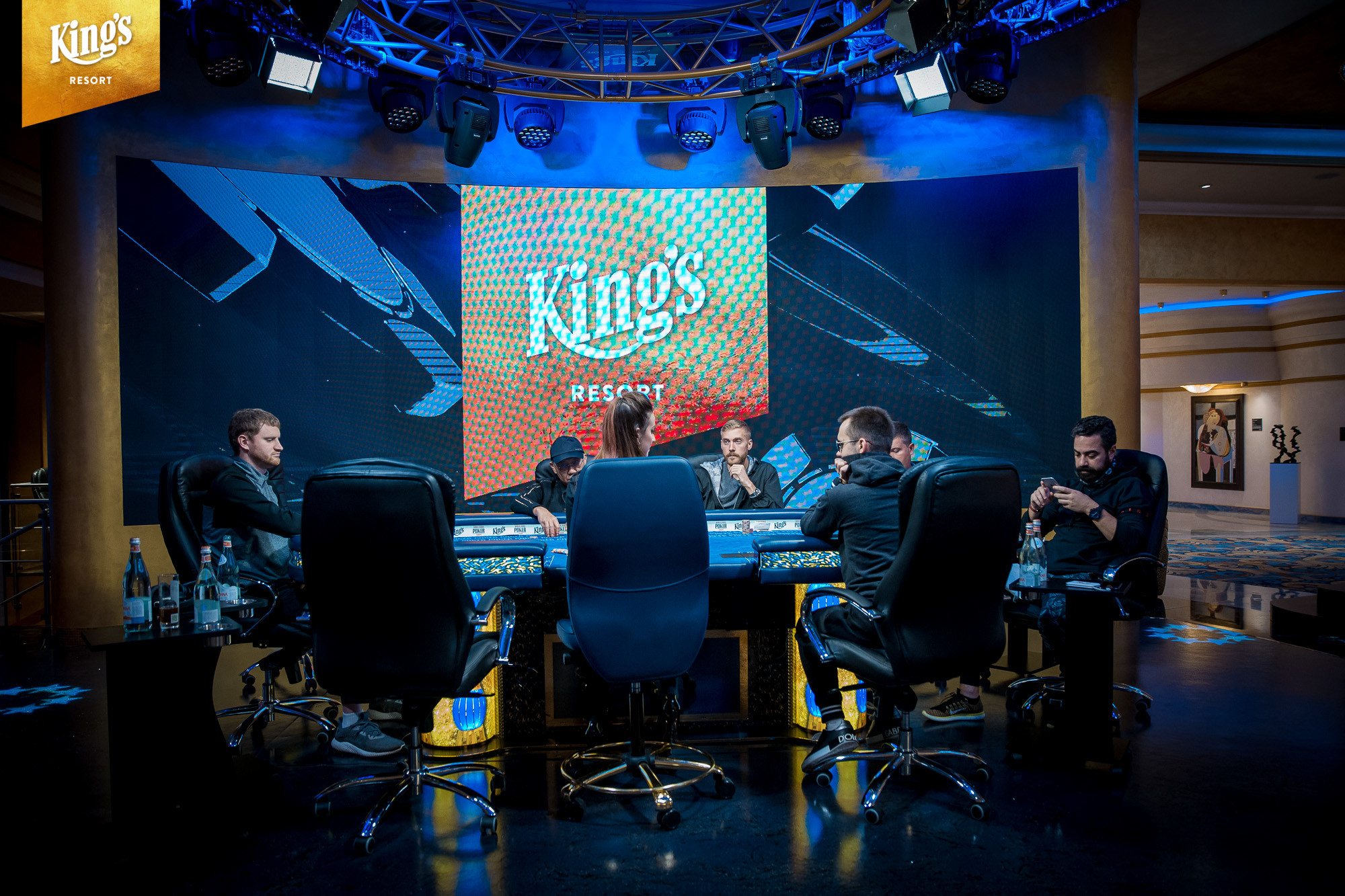 Day Recap
Unusually for a Super High Roller of this magnitude, the tournament kicked off on time with triple bracelet-winner Adrian Mateos and recent €25,000 Short Deck champion Mikita Badziakouski in the field.
However, it didn't take for long for players to get the message and the numbers swelled, with tournament officials coping admirably to manage the balancing of tables at all stages of the tournament.
Shortly after Thorel became the first casualty of the day, eliminated by Badziakouski, Fedor Holz joined the field and he was followed by €25,000 High Roller champion Michael Addamo.
There were some stand-out hands on the feature table, with David Peters flopping quads against Steffen Sontheimer's pocket aces.
But there seemed to be no stopping Adams as he climbed steadily through the counts; from tripling up with pocket jacks after both he and Renato Nowak flopped sets, to the multiple eliminations of the unfortunate Jean-Noel Thorel.
The eliminations kept on coming, with Manig Loeser, Wai Leong Chan, Markus Durnegger and, yes, you guessed it Jean-Noel Thorel all heading for the exit.
There were no late dramas, meaning Adams comfortably leads over second-place Dominik Nitsche, who was helped by eliminating Fedor Holz and Wai Kin Yong inside the final level.
The blinds resume tomorrow at 40,000/80,000 with an 80,000 big blind ante, meaning anyone choosing to register at the start of Day 2 will sit with 25 big blinds. Follow all the live updates on PokerNews.com as we finalise the prizepool on Day 2 and get closer to crowning the winner of the biggest buy-in event at the 2018 World Series of Poker Europe.
Day 2 Seat Draw
| Table | Seat | Player | Country | Chip count | Big Blinds |
| --- | --- | --- | --- | --- | --- |
| 40 | 1 | Aymon Hata | United Kingdom | 2,300,000 | 29 |
| 40 | 3 | Vladimir Troyanovskiy | Russian Federation | 4,245,000 | 53 |
| 40 | 4 | Joao Vieira | Portugal | 5,415,000 | 68 |
| 40 | 6 | James Chen | Taiwan | 3,210,000 | 40 |
| 40 | 8 | Steve O'Dwyer | Ireland | 7,390,000 | 92 |
| | | | | | |
| 43 | 1 | David Peters | United States | 6,110,000 | 76 |
| 43 | 2 | Wai Leong Chan | Malaysia | 2,725,000 | 34 |
| 43 | 3 | Johannes Becker | Germany | 3,520,000 | 44 |
| 43 | 4 | Martin Kabrhel | Czech Republic | 1,755,000 | 22 |
| 43 | 7 | Steffen Sontheimer | Germany | 3,375,000 | 42 |
| 43 | 8 | Ahadpur Khangah | Iran | 5,095,000 | 64 |
| | | | | | |
| 44 | 1 | Christoph Vogelsang | Germany | 3,590,000 | 45 |
| 44 | 2 | Michael Addamo | Australia | 6,385,000 | 80 |
| 44 | 4 | Ivan Leow | Malaysia | 5,220,000 | 65 |
| 44 | 5 | Ole Schemion | Germany | 2,850,000 | 36 |
| 44 | 6 | Richard Yong | Malaysia | 1,425,000 | 18 |
| 44 | 8 | Koray Aldemir | Germany | 3,420,000 | 43 |
| | | | | | |
| 45 | 1 | Matthias Eibinger | Austria | 2,885,000 | 36 |
| 45 | 2 | Stefan Schillhabel | Germany | 7,275,000 | 91 |
| 45 | 3 | Orpen Kisacikoglu | Turkey | 3,560,000 | 45 |
| 45 | 4 | Rainer Kempe | Germany | 1,765,000 | 22 |
| 45 | 7 | Julian Thomas | Germany | 5,770,000 | 72 |
| 45 | 8 | Manig Loeser | Germany | 2,085,000 | 26 |
| | | | | | |
| 46 | 1 | Sergio Aido | Spain | 3,070,000 | 38 |
| 46 | 3 | Mikita Badziakouski | Belarus | 5,865,000 | 73 |
| 46 | 4 | Jan-Eric Schwippert | Germany | 5,280,000 | 66 |
| 46 | 5 | Michael Soyza | Malaysia | 2,080,000 | 26 |
| 46 | 6 | Stanley Choi | Hong Kong | 4,235,000 | 53 |
| 46 | 7 | Igor Kurganov | Germany | 2,400,000 | 30 |
| | | | | | |
| 47 | 2 | Timothy Adams | Canada | 12,960,000 | 162 |
| 47 | 3 | Dominik Nitsche | Germany | 9,515,000 | 119 |
| 47 | 7 | Tobias Ziegler | Germany | 8,230,000 | 103 |
| 47 | 8 | Adrian Mateos | Spain | 8,365,000 | 105 |