Event Info
| | |
| --- | --- |
| Buy-in | 20,000 AUD |
| Players | 53 |
Level Info
| | |
| --- | --- |
| Level | 21 |
| Blinds | 15,000 / 30,000 |
| Ante | 15,000 |
AU$20,000 High Roller
Day 2 completed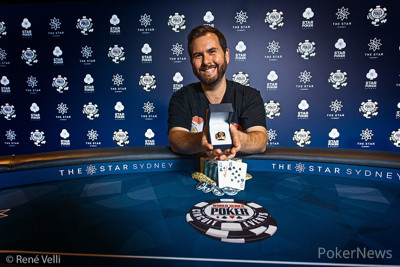 The 2019 World Series of Poker International Circuit The Star Sydney AU$20,000 High Roller played out to a thrilling conclusion.
It was Jonathan Karamalikis the man to defeat a star-studded 53-strong field and tough final table; putting on a master class in heads-up poker to battle back from behind to take the AU$377,625 (~$257,640) top prize after an epic confrontation against New Zealand's Ryan Otto, who took home AU$233,624 (~$159,395) for his runner-up finish.
Karamalikis showed just why he has over US$4.6 million in live tournament winnings, with this victory representing his 13th outright title, and first World Series of Poker Circuit title.
The gruelling heads-up battle lasted close to four 60-minute levels, with Karamalikis coming into the match with over a 4-to-1 chip deficit.
It took close to a full 60-minute level of playing through the streets with Karamalikis climbing to just under a 2-to-1 chip deficit before managing to edge in front after an Otto bluff backfired to give Australia's youngest Poker Hall of Famer the lead for the first time in the tournament.
The chip lead changed hands twice more over the following three levels before Karamalikis was able to close out the win; Karamalikis had whittled Otto down to his last 220,000 (seven big blinds) at the 15,000/30,000 - 15,000 big blind ante level and called the New Zealander's short-stacked shove.
While Otto had the lead with ace-five and paired his five on the ten-nine-five double diamond flop Karamalikis, holding queen-eight, hit an unbeatable straight when the jack of diamonds landed on the turn to leave his opponent drawing dead.
"I'm feeling superb," said an upbeat Karamalikis immediately after his victory. "I wasn't really thinking much coming in, I was content to take it as it comes and whatever happens, happens, I just wanted to try and do my best. I'm pretty cooked though [after the epic heads-up battle]."
"I'm not really a ring man, maybe I'll put it on a gold chain and start rocking some gold chains," he quipped, before posing with his new jewellery and heading off into the Sydney night to celebrate.
Final Table Results
| Place | Player | Country | Prize (AU$) | Prize (US$) |
| --- | --- | --- | --- | --- |
| 1st | Jonathan Karamalikis | Australia | $377,625 | $257,640 |
| 2 | Ryan Otto | New Zealand | $233,624 | $159,395 |
| 3 | Roger Teska | United States | $153,064 | $104,430 |
| 4 | Qiang Fu | New Zealand | $105,735 | $72,140 |
| 5 | Mladen Vukovic | Australia | $77,539 | $52,900 |
| 6 | Michael Egan | Australia | $59,413 | $40,535 |
Final Table Action
A total of nine players returned for the second and final day, and with only the top six places paying out three of them would be departing empty-handed. Level length increased from 45-minutes to 1-hour but that did not slow down the early action.
The first elimination came immediately after play restarted, with Bernie Stang falling at the hands of start of day chip leader Otto on the first hand played; Stang defending his big blind with ace-three of hearts and getting all the chips in on a king-high double heart flop. Unfortunately, Otto was holding ace-king, which held to bring the field down to eight.
Tom Rafferty followed Stang to the rail just 30-minutes later on the same level, another victim of a red hot Otto. The hand started innocuously enough, with Rafferty limping the small blind and Otto checking his option in the big blind, with the two getting into a raising war on a rainbow deuce-trey-nine flop.
Rafferty moved all-in on the four of diamonds turn with pocket jacks but could not beat Otto's flopped deuce-trey two pair to give the New Zealander close to 40% of the total chips in play.
The start of the second level played saw the short-stacked Julien Sitbon depart on the money bubble, falling at the hands of the USA's Roger Teska when the two got all the chips in pre-flop with king-queen and ace-eight respectively. An ace on the flop brought Sitbon's final table to a close and pushed Teska up to second in the pecking order, guaranteeing all six remaining finalists a payday of at least AU$59,413 (~$40,535).
Australia's Michael Egan was the next casualty, falling midway through the level at the hands of Otto after losing a battle of the blinds; his king-nine trailing to Otto's king-queen and staying that way on a queen-high runout.
The five remaining players were all set to go on break, but for Mladen Vukovic the break would be a permanent one, with the Australian playing a huge pot that ate into five minutes of the break and losing out to a rampant Otto, who rivered the Wheel with ace-five of clubs on a ten-high board to crush Vukovic's ace-ten of spades. Vukovic took home AU$77,539 (~$52,900) for his fifth-place finish.
It took a further level and a half of cagey play before five became four, New Zealand's Qiang Fu becoming short and then losing a brutal hand against a resurgent Karamalikis. The two got all the chips in pre-flop with Fu's pocket kings leading Karamalikis' ace-king of clubs and while Fu looked to be in great shape for a double on the all-heart eight-high flop, especially considering he held the king of hearts, the ace of spades turn crushed his dreams of a High Roller title and brought Karamalikis right back into contention.
Otto began to increase the pressure and Karamalikis and Roger Teska then battled each other for the honour of playing heads-up, with Karamalakis picking some great spots to hoover up chips without showdown to edge in front of the American.
However, it would be Otto to score the next casualty to bring his tally of final table scalps up to five when Teska and the New Zealander got all the chips in pre-flop. Teska made his last stand with ace-queen but lost the race against Otto's pocket fours to give the kiwi over 80% of the chips in play.
All that high stakes excitement does not conclude the action for the series, with the Main Event still left to play out. The fourth and final flight, Day 1d, kicks of at 12:15pm on Friday, December 6 and the PokerNews live reporting team will be on hand to bring you all the highlights of the day. Live coverage is also available on the official live stream, so join tune in then for more poker action.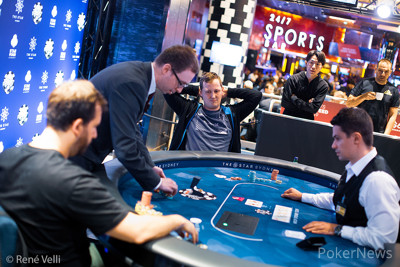 The epic heads-up match has come to a conclusion, with Jonathan Karamalikis the man to emerge the winner.
There was some more small ball played prior to the final hand, with Ryan Otto limping the button once more and Jonathan Karamalikis checking his option to take play to a flop of



.
Karamalikis check-raised Ottos' 30,000 continuation bet to the tune of 80,000 which was enough to win the hand and reduce Otto to 250,000.
Karamalikis shoved the button the next hand to take the blinds, with Otto getting a walk the hand after, and winning the next flop played in a limped pot. Then it was another Karamalikis button shove.
Then, finally, some action. Reduced to his final 220,000 (7BB) Otto moved in from the button, with Karamalikis making the call and both players tabled their hands. Sensing the end was near, the watching rail crowded as close to the table as the barriers allowed to see who had what.
Ryan Otto:



Jonathan Karamalikis:


Otto had the best of it pre-flop and paired his five on the



board, but disaster struck on the

turn to give Karamalikis an unbeatable straight. There was no coming back from this, and Otto got up from his chair to shake his opponents' hand.
The

river was merely a formality, with Jonathan Karamaliks battling back from close to a 4-to-1 chip deficit to win his first World Series of Poker Circuit ring and the AU$377,625 (~$257,640) top prize.
Both players look physically drained after that marathon 3 hour and 40-minute back-and-forth heads-up battle, though Karamalikis was understandably a little more upbeat about it as he posed for his winner's shot before accepting the congratulations of the Australian rail.
Otto headed off to claim the AU$233,624 (~$159,395) on offer for second and will be disappointed not to have been able to convert his chip lead into a win, but there is no shame in losing to a player of Karamalikis' calibre.
End of day wrap to follow.
| | | | | | |
| --- | --- | --- | --- | --- | --- |
| Jonathan Karamalikis | | | | 2,650,000 | 325,000 |
| Ryan Otto | | | | Busted | |
There were a number of raise-folded pots and several more taken down with a continuation bet on the flop, with Jonathan Karamalikis the main beneficiary before the next significant pot played out.
When it did, Ryan Otto limped the button with Karamalikis raising to 100,000 from the blinds, which Otto called to swell the pot to 215,000. The



flop saw both players check, with the

hitting the turn, which saw Karamalikis lead out for 115,000 with Otto sliding out the call after a few seconds thinking it over, leaving himself 325,000 behind.
The

river saw Karamalikis apply maximum pressure and move all-in and Otto went deep into the tank, quietly talking to himself as he considered his options. Eventually, he decided that a fold was the best one available, dropping down to 325,000, while Karamalikis raked in the pot to climb further ahead with a stack of 2,325,000.
| | | | | | |
| --- | --- | --- | --- | --- | --- |
| Jonathan Karamalikis | | | | 2,325,000 | 325,000 |
| Ryan Otto | | | | 325,000 | -375,000 |
Play has become cagey once more, with Jonathan Karamalikis and Ryan Otto reverting back to small ball poker.
This has benefited Karamalikis who has managed to whittle Ryan Otto down further, winning that last two hands in a row. The first saw Karamalikis limp the button and Otto seemed content to peel off a flop, which came down



. That was as far as the hand went, with Karamalikis taking down the pot with a continuation bet of 25,000.
The next hand saw Ryan Otto limp the button, with Karamalikis checking his option to bring in the



flop, which saw no betting. The

turn was also checked, with Karamalikis taking a stab on the

river. Otto made the call, but mucked when Karamalikis showed


.
| | | | | | |
| --- | --- | --- | --- | --- | --- |
| Jonathan Karamalikis | | | | 2,000,000 | 400,000 |
| Ryan Otto | | | | 700,000 | -500,000 |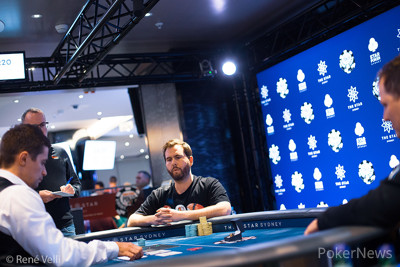 The chip lead is changing hands with increasing frequency and two minutes after the blinds climbed to level 21 there was a cry of 'All-in, Call!' over on the final table.
With the community cards spread





and over 400,000 in the pot already, stacks were being counted down. Jonathan Karamalikis had


face-up on the felt for top pair and Ryan Otto's cards were already in the muck.
Karamalikis climbed back into the chip lead after the hand, stacking up to 1.6 million to Ryan Otto's 1.2 million.
| | | | | | |
| --- | --- | --- | --- | --- | --- |
| Jonathan Karamalikis | | | | 1,600,000 | 200,000 |
| Ryan Otto | | | | 1,200,000 | -600,000 |
Level:

21
Blinds:

15,000/30,000
Ante:

15,000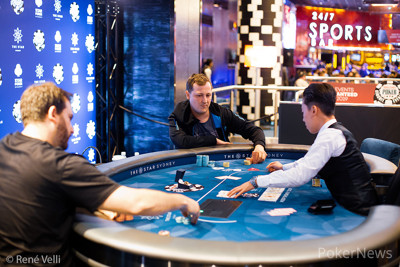 Ryan Otto has retaken the chip lead after an all-in and a call confrontation. Down to 886,000 at the start of the hand, Otto moved all-in from the blinds after Karamalikis raised to 50,000 on the button with the latter making a quick call.
Jonathan Karamalikis:



Ryan Otto:


Otto was the at-risk player but had the best hand and the





runout saw him double to 1.8 million to Karamalikis' 1.4 million.
| | | | | | |
| --- | --- | --- | --- | --- | --- |
| Ryan Otto | | | | 1,800,000 | 600,000 |
| Jonathan Karamalikis | | | | 1,400,000 | -50,000 |
Ryan Otto has climbed back into contention after winning a pre-flop all-in. It was Otto the man driving the action with a 50,000 button raise and making the call for his tournament life when Jonathan Karamalikis moved all-in.
Jonathan Karamalikis:



Ryan Otto:


The



flop saw Karamalikis keep the lead, but Otto earned the double on the

turn, with the river the

.
| | | | | | |
| --- | --- | --- | --- | --- | --- |
| Jonathan Karamalikis | | | | 1,450,000 | -770,000 |
| Ryan Otto | | | | 1,200,000 | 650,000 |
Heads-up has turned into a grindfest, with stacks very similar to previous. Karamalikis has begun to mix button limps up with button raises with pots remaining small presently.
In order to pass the time, Karamalikis has begun to play air hockey with the button whenever he has to pass it back to Ryan Otto. It remains uncertain whether Karamlikis will knock over Otto's chips with the button, or take the rest of them in a clash of hands.
Karamalikis limped the button with Otto checking his action to bring in a flop of



, where the action went check, bet 50,000 call and the

hit the turn. Karamalikis took down the pot with a bet of 125,000 after Otto checked the action over.
Otto won the next hand pre-flop with a button raise and won the following limped pot also after bombing the river for 100,000 on a board of





.
| | | | | | |
| --- | --- | --- | --- | --- | --- |
| Jonathan Karamalikis | | | | 2,220,000 | 20,000 |
| Ryan Otto | | | | 550,000 | -20,000 |