Event #11: $400 NLH Ultra Deepstack
Event Info
| | |
| --- | --- |
| Buy-in | $400 |
| Prize Pool | $510,120 |
| Players | 1417 |
Level Info
| | |
| --- | --- |
| Level | 49 |
| Blinds | 1,000,000 / 2,000,000 |
| Ante | 200,000 |
Players Info - Day 1
| | |
| --- | --- |
| Players Left | 1 |
| Entries | 1417 |
Level:

11
Blinds:

300/600
Ante:

60
| Date | Tournament |
| --- | --- |
| July 12 | #12: $500 No-Limit Hold'em Turbo Deepstack |
| July 13 | #13: $1,000 No-Limit Hold'em Freezeout |
| July 14 | #14: $500 No-Limit Hold'em |
| July 15 | #15: $5,300 No-Limit Hold'em High Roller Freezeout |
| July 16 | #16: $600 Pot-Limit Omaha Hi-Lo 6-Handed |
| July 17 | #17: $400 No-Limit Hold'em 8-Max |
| July 18 | #18: $1,000 No-Limit Hold'em North American Open |
| July 19 | #19: $888 Pot-Limit Omaha Crazy Eights 8-Handed |
| July 20 | #20: $3,200 No-Limit Hold'em High Roller |
| July 21 | #21: $600 Pot-Limit Omaha Six-Handed |
| July 22 | #22: $600 No-Limit Hold'em Knockout |
| July 23 | #23: $500 No-Limit Hold'em Turbo |
| July 24 | #24: $400 No-Limit Hold'em Monsterstack |
| July 25 | #25: $7,777 No-Limit Hold'em Lucky 7s High Roller |
| July 25 | #26: $500 No-Limit Hold'em The Big 500 Encore |
| July 26 | #27: $1,000 Pot-Limit Omaha Championship |
| July 27 | #28: $3,200 No-Limit Hold'em High Roller Championship |
| July 28 | #29: $800 No-Limit Hold'em 8-Max Turbo Deepstack Championship |
| July 29 | #30: $600 No-Limit Hold'em 6-Max Championship |
| July 30 | #31: $500 No-Limit Hold'em Summer Saver |
| July 31 | #32: $1,000 No-Limit Hold'em Championship |
| Aug. 1 | #33: $500 No-Limit Hold'em Grand Finale ($1M Guaranteed) |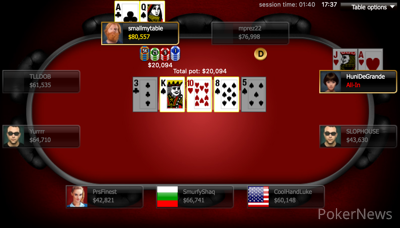 Lee "smallmytable" Gale raised to 2,500 from the cutoff only to have Matthew "HuniDeGrande" Stone three-bet jam for 9,072 from the small blind. The big blind folded and Gale made the call.
Lee "smallmytable" Gale:



Matthew "HuniDeGrande" Stone:


Stone had a kicker problem and it didn't get resolved as the board ran out





. Stone was felted on the hand but opted to re-enter.
| | | | | | |
| --- | --- | --- | --- | --- | --- |
| Lee "smallmytable" Gale | | | | 80,557 | |
| Matthew "HuniDeGrande" Stone | | | | 50,000 | |
Level:

10
Blinds:

250/500
Ante:

50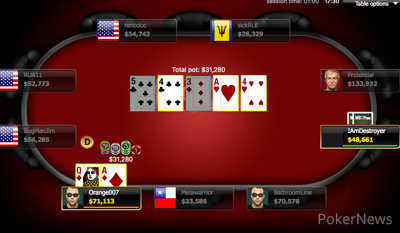 Bhaskar "Orange007" Aryasomayajula three-bet to 2,720 from the cutoff over a raise to 800 and a call from two players. Ryan "Protential" Laplante called as did "IAmDestroyer" and "Melawarrior".
The flop came the



. It checked to Aryasomayajula who bet 2,100, Laplante folded, "IAmDestroyer" called and "Melawarrior" folded.
The turn was the

. Action went check-check to the river which came the

. Aryasomayajula bet 7,620 and got called.
He showed the


to win the pot.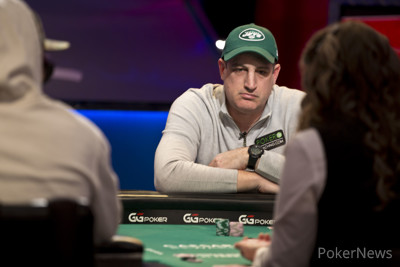 Last level, with the blinds still at 150/300, Gershon "jets613" Distenfeld was sitting with 93,00 when Robert "Nvrstsfied" Natividad raised to 700 from the lojack. Distenfeld called from the cutoff with the


and David "goldwatch" Weisberger came along from the big blind to make It three-way action to the



flop.
Weisberger checked, Natividad bet 1,726, and only Distenfeld called to see the

turn.
Natividad checked and Distenfeld bet 3,150 with the nuts. Natividad then check-raised to 14,700 and Distenfeld just called. A

paired the board on the river and Natividad jammed for around 35,000. Distenfeld called only to see Natividad roll over


for a full house.
Distenfeld took a big hit on that hand and wound up going but before the end of the level.
| | | | | | |
| --- | --- | --- | --- | --- | --- |
| Gershon "jets613" Distenfeld | | | | Busted | |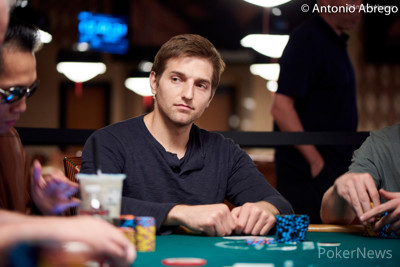 WPT Commentator Tony "Panoramic" Dunst has over $3.8 million in Hendon Mob recorded cashes to his credit, and with those million of dollars in earnings are a pair of WSOP Gold Bracelets, one of which he won in 2016 in the WSOP's Event #63: $1,000 No Limit Hold'em for $339,254 (which is actually just the fourth largest score of his career). The second bracelet was earned in last year's iteration of the WSOP Online Bracelet Series, in Event #21: $777 No Limit Hold'em 6-Max.
That event, which saw 1,361 entrants hit the virtual felt, saw Dunst hit the final table of six with a big chip lead, one he used to knock out the dangerous Jon "havuuuuuc" Turner and Krista "Pollux" Gifford in short order. Charles "ilosestackz" Phillips" and Alec "Tango_Bravo" Parslow fell next, and in heads-up play, James "paymycollege" Pace made a seven-high straight against Dunst with the stack sitting nearly even, but Dunst held a flush and left Pace with a single big blind. No chip and chair story came to fruition for Pace, and Dunst collected his second WSOP Gold Bracelet and $168,342 for the victory.
Dunst played a large slate of events in last year's events, and we'll be looking for him to be a frequent contender to add more WSOP hardware to his coffers during this summer's WSOP Online Bracelet Series.
| | | | | | |
| --- | --- | --- | --- | --- | --- |
| Tony "Panoramic" Dunst | | | | 80,769 | |
Level:

9
Blinds:

200/400
Ante:

40
| | | | | | |
| --- | --- | --- | --- | --- | --- |
| Philip "tomte" Yeh | | | | 170,533 | 19,681 |
| Junpei "ImUrNeMeSiS" Terajima | | | | 167,045 | 167,045 |
| LuxuryMaster | | | | 160,935 | 160,935 |
| P_NICE | | | | 153,909 | 153,909 |
| Michael "Bballlind10" Lind | | | | 151,072 | 151,072 |
| Mark "askyourgirl" Perry | | | | 146,106 | 146,106 |
| mittsa | | | | 141,665 | 141,665 |
| Ryan "protential" Laplante | | | | 137,692 | -9,445 |
| Yin "wuwu1982" Wu | | | | 136,181 | 136,181 |
| | | | | | |
| --- | --- | --- | --- | --- | --- |
| James "Donut12" Schuler | | | | Busted | |
| Kevin "Krypto" Huang | | | | Busted | |
| Robert "wronghole" Olmstead | | | | Busted | |
| Alida "av1925" Veliu | | | | Busted | |
| Dominic "ry_ty_ly" Picinic | | | | Busted | |
| Vagine | | | | Busted | |
| densthmnce71 | | | | Busted | |
| KerriP | | | | Busted | |
| csurge87 | | | | Busted | |
| Big _Shaun | | | | Busted | |
| davidabcdefg | | | | Busted | |