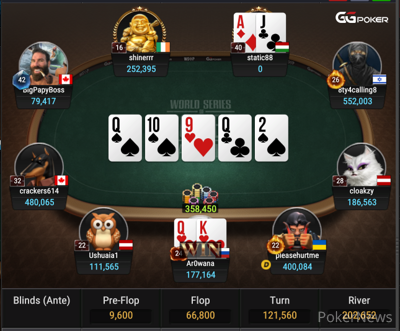 Amir "8ty4calling8" Dvir flat-called a raise to 9,200 by Olivier "BigPapyBoss" Rebello while on the button and the duo headed to the



flop, on which Rebello check-raised to 32,000 and was called. Rebello then led the

turn for 45,800 to pick up a call by Dvir and led the

river for 137,400.
Dvir tank-called after plenty of consideration and was good with


, as Rebello had bluffed the


.
In the next big pot on the same table, Artem "Ar0wana" Vezhenkov three-bet to 29,600 and was called by the initial raiser Adam "static88" Banko.
Vezhenkov made it 27,380 to go on the



to receive a call and fired another 40,546 on the

turn, which Banko called. On the

river, Vezhenkov checked and Banko jammed for the 77,899 he had behind. Vezhenkov used his time bank for the second time on the river and eventually called with the


for trips queens.
Banko was done for the night as his bluff with


was caught.
| | | | | | |
| --- | --- | --- | --- | --- | --- |
| Amir "8ty4calling8" Dvir | | | | 552,003 | 225,200 |
| Artem "Ar0wana" Vezhenkov | | | | 535,614 | 176,625 |
| crackers614 | | | | 480,065 | -18,436 |
| pleasehurtme | | | | 400,084 | -17,200 |
| Toby "shinerrr" Joyce | | | | 252,395 | -32,800 |
| Paul "cloakzy" Hoefer | | | | 186,563 | -17,200 |
| Diego "Ushuaia1" Zeiter | | | | 111,565 | -8,238 |
| Olivier "BigPapyBoss" Rebello | | | | 79,417 | -140,000 |
| Adam "static88" Banko | | | | Busted | |