Joao Vieira has come through a record-breaking 815 entrant field in Event #70: $5,000 No-Limit Hold'em 6-Handed at the 2019 World Series of Poker to win his first piece of WSOP jewelry and the impressive first-place prize of $758,011. Vieira beat none other than 2009 Main Event champion and four-time bracelet winner Joe Cada heads-up to claim the title and only the fourth bracelet for Portugal.
Vieira ended Day 2 with the chip lead and he was still on top of the leaderboard at the start of the final table. Mostly thanks to a hero call with pocket kings on an ace-high board against Ankush Mandavia on Day 3. Vieira commented that it felt like the turning point in his tournament. ''I have been trying to develop my live reads for such a long time. On a crucial moment, in a crucial hand of the biggest tournament, of the biggest day of my professional career. I found a call based on all the hard work I have done over the past four years.''
A friend and teammate of Vieira joined him on the final table. Pierre Calamusa, who ultimately busted in fourth place, was eliminated by Vieira himself. Vieira told PokerNews after the tournament: ''If I sit at the poker table he's just another opponent. Whether the board is favorable or unfavorable, I have to play a hand when it's over. I love the guy, he is a great guy, but when you sit down it's just business and you try to do the best you can and compete to your full abilities.''
Official Final Table Results
| Place | Player | Country | Prize (USD) |
| --- | --- | --- | --- |
| 1 | Joao Vieira | Portugal | $758,011 |
| 2 | Joe Cada | United States | $468,488 |
| 3 | Jamie O'Connor | United Kingdom | $317,956 |
| 4 | Pierre Calamusa | France | $219,468 |
| 5 | Olivier Busquet | United States | $154,112 |
| 6 | Barry Hutter | United States | $110,127 |
Final Day Action
The day started out in the highest gear possible and it only took two hands for the first elimination to take place. Barry Hutter started the day as the short stack and he was the first player eliminated only a couple of minutes into the day. He got his chips in the middle with second pair against the top pair of Jamie O'Connor. Hutter hit two pair on the turn but was counterfeit when the board paired on the river to award O'Connor with a better two pair. Hutter played two hands on day four and was eliminated in sixth place worth $110,127.
The action did not slow down right away because three hands after that it was Calamusa who was at risk of elimination and it didn't look good for the Frenchman. Calamusa had to come from behind with pocket jacks against the pocket queens of O'Connor. The flop brought a jack right away and he managed to double up.
Vieira's chip lead was in no danger for a while but Cada then doubled up through the Portuguese to take over the chip lead. Olivier Busquet then busted out after a series of unfortunate hands he ended up jamming king-four in the small blind and he was called by O'Connor in the big blind with king-queen. Busquet busted out in fifth place after he wasn't able to come back from behind and he was sent to the cashier to collect $154,112.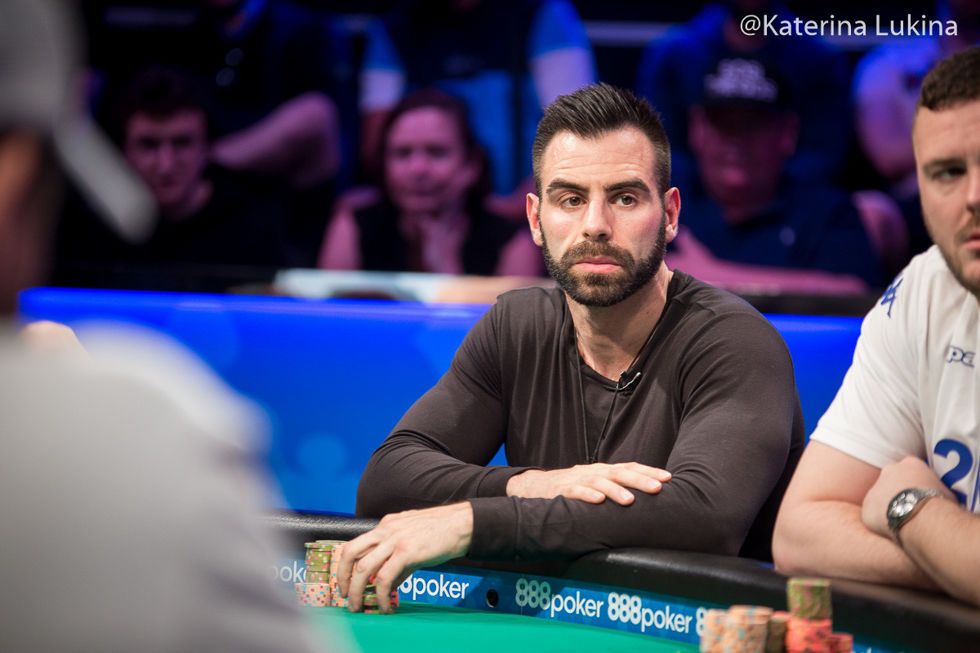 Eventual champion Vieira busted his teammate Calamusa in fourth place. Vieira had the better hand with ace-king against the ace-seven of Calamusa but the Frenchman managed to hit a seven on the flop. Vieira hit a king on the river to eliminate him and Calamusa collected $219,468.
The three-handed battle went on for a little while and stacks evened out a bit. Cada at one point had the shortest stack with 7,000,000 but Vieira only had a marginal chip lead with 8,300,000. Cada then took over the chip lead by winning a big pot off O'Connor and Vieira delivered the knock-out punch. O'Connor wasn't able to fade a king or queen on the board when he was at risk of elimination and he busted out of the tournament in third place, missing the heads-up match. He did cash for $317,956.
Cada started the heads-up match with the lead but it was the fourth hand of the heads-up where it all switched. Cada faced a river raise from Vieira on a board that read five-four-deuce-king-ace. Cada called after a couple of minutes but mucked when Vieira showed him four-trey for a straight. They got their chips in the middle another four hands later and Cada finished in second place when his ace-queen couldn't win against the king-queen of Vieira. Cada had to settle for $468,488 while Vieira wins his first WSOP gold bracelet and $758,011.
When asked about his victory Vieira answered the following: ''I'm very happy. I don't think it has settled in yet. I've been having a lot of patience and the road hasn't been easy. I don't believe in justice but I believe in hard work. Winning five bracelets is one of my main goals. This is the first one and it's a huge burden off my back.''
Vieira joins the club of bracelet winners while Cada has to wait a little longer for number five. Stay tuned to PokerNews for more 2019 World Series of Poker coverage.