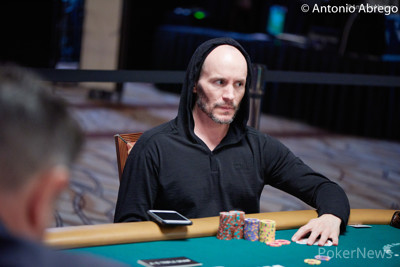 A-5 Triple Draw
Mike Leah raised, Frank Muir contemplated his decision for a minute, then called and drew one. Leah took two in position. Leah fired another bet and Muir called right away, drawing one again. Leah stood pat on the second draw.
Leah bet and Muir called once again, leaving himself with just 12,500. He drew one again and Leah almost opened his hand, forgetting that Muir wasn't all in just yet.
Muir checked to him and Leah bet 12,000. Muir weighed his options, then put the 12,000 aside and found he'd be left with 500 if he called and lost. Eventually, he rather stuffed it in completely and Leah called.
Leah had





and Muir briefly showed a ten-seven before heading to the payouts.
Leah still trails the tournament average but he now has almost nine big bets to maneuver.
| | | | | | |
| --- | --- | --- | --- | --- | --- |
| Mike Leah | | | | 105,000 | 42,000 |
| Frank Muir | | | | Busted | |