Level:

21
Blinds:

5,000/10,000
Ante:

1,000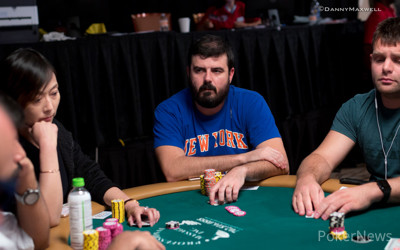 After 10 hours of action-packed play yesterday, 27 players survived and will return to the Rio All-Suite Hotel and Casino to continue their campaign at 2p.m today.
A minimum of $9,657 is guaranteed to all those returning. The plan will surely be to lift the trophy at the end of the night, to be crowned the champion for 2018 and win a gold bracelet, as well as $323,472 in winnings.
All eyes will be on Timur Margolin, who comes back with over half a million in chips. If he can be the last man standing, he will have won his second bracelet this series. It is unlikely to be easy though as standing in his way are Longsheng Tan who bagged 993,000, which is not far off ten percent of the total chips in play. Heng Zhang will also be another worthy contender with 938,000 in front.
The schedule for today is to play down to a winner. Levels will last for 60 minutes and there will be a 15-minute break every two levels. There will also be a 60-minute dinner break after Level 6 (8:30p.m.). All the action will take place in the Miranda room.
PokerNews has activated the My Stack App for this event, allowing you to directly adjust your chip counts in our live reporting blog using your iPhone or Android phone.
You can download the app for iPhone or Android now to get started. Then, create a new PokerNews account or update your current one to start updating your status immediately. Your followers can see all the live action that you're involved in.
Click here to download the My Stack app for iPhone, or click here to download the My Stack app for Android.
| Room | Table | Seat | Player | Country | Chip Count | Big Blinds |
| --- | --- | --- | --- | --- | --- | --- |
| Miranda | 602 | 1 | Jayaram Kovoorchathoth | United States | 286,000 | 29 |
| Miranda | 602 | 2 | Jorge Aristizabal | United States | 197,000 | 20 |
| Miranda | 602 | 3 | Shyam Srinivasan | Canada | 241,000 | 24 |
| Miranda | 602 | 4 | Rex Clinkscales | United States | 420,000 | 42 |
| Miranda | 602 | 5 | Stephen Bierman | United States | 744,000 | 74 |
| Miranda | 602 | 6 | Jason Paradis | United States | 251,000 | 25 |
| Miranda | 602 | 7 | Juan Testoni | Brazil | 219,000 | 22 |
| Miranda | 602 | 8 | Heng Zhang | United States | 938,000 | 94 |
| Miranda | 602 | 9 | Austin Hughes | United States | 320,000 | 32 |
| | | | | | | |
| Miranda | 603 | 1 | John Pannucci | United States | 512,000 | 51 |
| Miranda | 603 | 2 | Johnson Liu | United States | 264,000 | 26 |
| Miranda | 603 | 3 | Vladimir Fomine | United States | 107,000 | 11 |
| Miranda | 603 | 4 | Kfir Nahum | United States | 323,000 | 32 |
| Miranda | 603 | 5 | Michael Wasserman | United States | 594,000 | 59 |
| Miranda | 603 | 6 | Xiaoqiong Liu | United States | 135,000 | 14 |
| Miranda | 603 | 7 | Timur Margolin | Israel | 513,000 | 51 |
| Miranda | 603 | 8 | Adam Laskey | United States | 372,000 | 37 |
| Miranda | 603 | 9 | Nathan Nguyen | United States | 162,000 | 16 |
| | | | | | | |
| Miranda | 604 | 2 | Trey Brabham | United States | 603,000 | 60 |
| Miranda | 604 | 3 | Chen Yu Hung | United States | 374,000 | 37 |
| Miranda | 604 | 4 | Longsheng Tan | United States | 993,000 | 99 |
| Miranda | 604 | 5 | Lanny Levine | United States | 206,000 | 21 |
| Miranda | 604 | 6 | Daniel Weinman | United States | 401,000 | 40 |
| Miranda | 604 | 7 | Georgios Tavoularis | Greece | 362,000 | 36 |
| Miranda | 604 | 8 | Nick Cipiti | United States | 240,000 | 24 |
| Miranda | 604 | 9 | Justin Zaki | United States | 238,000 | 24 |
Event #66: $1,500 No-Limit Hold'em
Day 3 started