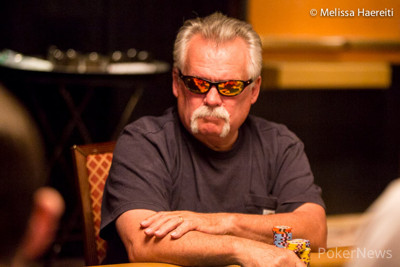 Stud 8
George:


/




/


Guss:


/




/


Morrison:


/




/

Picking up with the action on fifth street, Chris George led out with a pair of fives. Brandon Guss cut out a raise and Dennis Morrison made it three bets to go. George and Guss called to see sixth.
On sixth street, Morrison made sixes, allowing him to lead out first. Both George and Guss called and the trio received seventh street. Morrison moved all in in the dark for his last 13,000 and both of his opponents called. Guss rolled over



for trip nines which was good enough to take the high.
George showed



for an eighty-five which earned him the low. Morrison showed



for sixes and an eighty-seven for the second-best hand in both the high and the low. He was eliminated from play in 22nd place.
| | | | | | |
| --- | --- | --- | --- | --- | --- |
| Brandon Guss | | | | 250,000 | 75,000 |
| Chris George | | | | 250,000 | 68,000 |
| Dennis Morrison | | | | Busted | |