Level: 11
Hold'em - Omaha 8 500 1,000 1,000-2,000
Razz - Stud - Stud 8 200 300 1,000 1,000-2,000
Level: 11
Hold'em - Omaha 8 400 800 800-1,600
Razz - Stud - Stud 8 200 200 800 800-1,600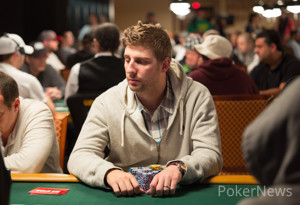 Yesterday this event started with 862 players. Only 177 return today to compete for the $258,960 first prize. Only 96 players make the money, so about half the remaining field will walk away from this tournament empty-handed.
John Seaman leads the field entering day two with 62,600 chips. His lead is far from safe, however, as tournament veteran and four-time bracelet winner David Chiu is right on his tail with 62,200. There are plenty of other notables returning today who will make it difficult for Seaman and Chiu to stay ahead. David Bach, who won the 2009 WSOP $50,000 H.O.R.S.E. event, sits with 27,700. Andy Bloch, who finished second in that event in 2006, has 47,900. They are joined by Dan Kelly (23,200), Kathy Liebert (19,000), and last year's Main Event runner-up Jesse Sylvia (51,200).
Cards will be in the air in about fifteen minutes. Stay with us here at Pokernews.com for updates throughout today's play.
Event #15: $1,500 H.O.R.S.E.
Day 2 started