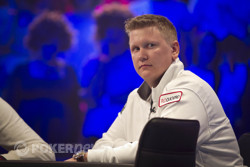 Matt Giannetti started the hand with the button.
Giannetti raised on the button to 2.6 million and Ben Lamb reraised all in from the big blind for 26.8 million. Giannetti called and everyone in the theatre jumped to their feet.
Giannetti:



Lamb:


The flop came down



and Lamb picked up a flush draw. The crowd stayed standing as they awaited the turn and river.
The turn brought the

and you could probably hear the roars from Lamb's cheering section down on Fremont Street as he nailed an unbeatable flush and would double up.
The river completed the board with the

.
Lamb doubled to 55 million while Giannetti was crushed down to under seven million.