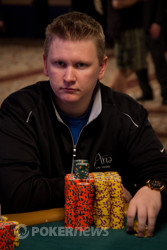 David Labchuk had just come over to take the empty seat at the secondary feature table, positioned a couple to the right of Ben Lamb, when he found himself all in before the flop for what looked to be his last 350,000 or so with


.
And yes, Lamb was his lone opponent. And yes, Lamb had


.
The board ran out





, and just like that Seat 5 is empty once more.
"It's your world and we're just living in it, brother!" yelled a Lamb supporter from the rail. He looks to have moved back into the lead with that one, up now to around 4.4 million.