| | | | | | |
| --- | --- | --- | --- | --- | --- |
| David Chiu | | | | 436,000 | |
| Peter Gelencser | | | | 400,000 | |
| Don Mcnamara | | | | 370,000 | |
| Raphael Zimmerman | | | | 262,000 | |
| Tad Jurgens | | | | 223,000 | |
| Leonard Martin | | | | 195,000 | |
| Shunjiro Uchida | | | | 173,000 | |
| Jameson Painter | | | | 127,000 | |
Event #7: $2,500 2-7 Triple Draw Lowball
Day 2 completed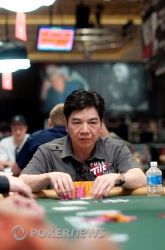 Day 2 of Event #7, the $2,500 2-7 Triple Draw event was a productive one as the field was reduced all the way down to eight players, keeping us just two eliminations shy of reaching the final table.
The action was steady and sustained throughout the course of the day, and the table talk was lively in all corners of the room. The non-Hold'em events always draw an entertaining crowd of pros and old-school gamblers, and this event has been no exception. Among the casualties of this moving day were a whole slew of notables -- Greg Mueller, Bryan Devonshire, Amnon Filippi, Steve Billirakis, Barry Greenstein, Jon Turner, Huck Seed, Bill Chen, Jeffrey Lisandro, Tony G; the list goes on and on. Pat Poels, Ted Forrest, David Baker, and Farzad Bonyadi all made deep runs into the money tonight, but each of them fell just a few places short of a seat at tomorrow's final table.
The day has concluded with eight players remaining, and they'll be back here tomorrow to pick up the story. The ever-present David Chiu is hoarding a massive stack of 436,000, and he'll be the betting favorite heading into tomorrow's conclusion. The remainder of the field has played very well thus far, however, and a few dangers lurk in the leader board, including the short-stacked-but-sneaky Tad Jurgens.
The final two tables kick off at 4:00 p.m. tomorrow (thanks to that pesky twelve-hour rule), and we'll be right back here in the Amazon Room to keep you updated on every ninety-six, eighty-five, and number one that the final day has to offer.
The floor has just given the "Three hands left" call to both tables, and the dealers will follow that instruction before the chip bags come out to signal the end of Day 2.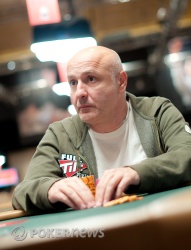 Farzad Bonyadi has just been relieved of his few remaining chips thanks to Peter Gelencser. Bonyadi was drawing the whole way, and Gelencser made an eighty-seven with





to usher Bonyadi to the exit in 9th place.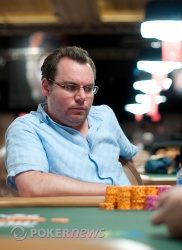 Don McNamara raised before Farzad Bonyadi reraised. McNamara called and was to act first on every street. He drew two and Bonyadi drew one for the first draw. McNamara then checked, Bonyadi bet and McNamara called.
On the second round of draws, McNamara drew one and Bonyadi drew one. McNamara checked and Bonyadi bet again. McNamara took his time and then made the call.
For the third and final draw, McNamara elected to stand pat and Bonyadi drew one. Both players then checked before McNamara threw over a





. Bonyadi mucked and dropped to 45,000 chips. McNamara moved up to 350,000.
Well, it's that time of night when fatigue starts setting in and the players begin to pine for the end of play. We're scheduled to finish out the rest of this level, but there is some chatter right now about potentially changing the format for the remainder of the event.
Nothing is decided yet, but David Chiu and a couple others have asked the floor staff to call it a day when we lose one more player and let the eight survivors return tomorrow to sit together around one final table. That'll mean two players will have to sit out each hand, and so far we haven't heard anyone put up a strong objection.
We'll keep you posted about any scheduling developments.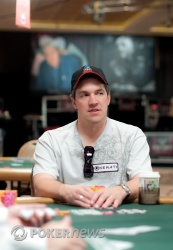 Under the gun, Raphael Zimmerman open-raised, and Pat Poels made the call from the big blind.
Both players discarded two, and Poels check-called a bet. On the second draw, Poels drew two more and went ahead and bet out all in for his few remaining chips. Zimmerman made the call after taking one new card. He patted on the final discard while Poels took one more card.
Zimmerman turned up





, and Poels flashed a

as he mucked his cards and headed toward the exit. He is our 10th-place finisher, and his chips move Zimmerman back up into the chip lead with 440,000.
From the button, Pat Poels raised and Raphael Zimmerman called form the small blind. Zimmerman drew three and Poels drew two. Zimmerman checked, Poels bet, Zimmerman raised and Poels called.
For the second draw, both players drew one card. Zimmerman bet and Poels called. For the final draw, Zimmerman stood pat and Poels drew one. Both players then checked.
Zimmerman tabled the





and Poels slammed his hand on the table as his mucked his cards. Poels was left with just 16,000 chips and Zimmerman moved up to 330,000.