Miguel Proulx

2,440,000

Ludovic Lacay

2,295,000
16,000

Daniel Alaei

1,800,000

Dmitry Stelmak

1,285,000

Matthew Wheat

745,000

Stephen Pierson

570,000

Ville Mattila

440,000
-50,000

Trevor Uyesugi

435,000

Alexander Kravchenko

PokerStars Team Pro (Russia)

325,000
-5,000
Event #55: $10,000 Pot-Limit Omaha Championship
Day 3 completed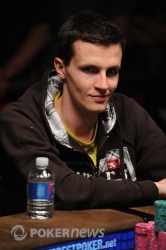 In a frantic few minutes of the PLO we'd been hoping for all day, we are suddenly at our official final table of nine players!
At that point the decision was put in the player's hands - halt play and come back tomorrow, or play it out tonight. After a brief discussion the decision was unanimous - play would stop for the day and this final table would recommence at 4:00 p.m. tomorrow afternoon. Yes, indeed there is a God.
Here's how they will lineup at 4:00 p.m. tomorrow afternoon as they play it out for the 55th WSOP Championship bracelet of this series:
Seat 1: Ludovic Lacay - 2,279,000
Seat 2: Daniel Alaei - 1,800,000
Seat 3: Miguel Proulx - 2,440,000
Seat 4: Matthew Wheat - 745,000
Seat 5: Ville Mattila - 490,000
Seat 6: Trevor Uyesugi - 435,000
Seat 7: Alexander Kravchenko - 330,000
Seat 8: Stephen Pierson - 570,000
Seat 9: Dmitry Stelmak - 1,285,000
It's not the dream final table that some may have been looking for at the start of the day as the big names of Medic, Ulliott, Cousineau, Hellmuth, Dwan and Mercier all fell short. Instead it's Miguel Proulx who will lead them into play tomorrow with the chip advantage as he bagged up 2,440,000 in chips.
Thanks for your company again this evening and join us again tomorrow at 4:00 p.m. as this extended $10,000 Pot-Limit Omaha World Championship reaches a conclusion.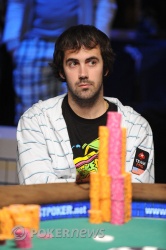 In the span of about 120 seconds, three players have been eliminated and we are down to the final table. The last to bust was Jason Mercier. The remainder of his stack got into the middle after a flop of



.
Mercier:





Alaei:




Mercier needed a third heart or a jack to hit the board, but the

turn and

river were no help to the young pro, ending his tournament just shy of the final table.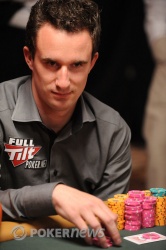 Alessio Isaia raised to 80,000 from the cutoff before Ludovic Lacay re-raised the pot to 265,000. Isaia moved all in and Lacay called it off.
Isaia:





Lacay:




The board ran out





to give Lacay a set of aces and the pot to eliminate Isaia in 11th place for $50,867.
With that elimination the players are now redrawing to our unofficial final table of ten. We'll have the redraw for you shortly.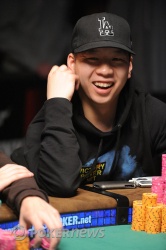 Down to 170,000, Danny Wong got his chips in against Matthew Wheat with a very good chance to double.
Wong:





Wheat:




Wheat was in bad shape, but when the flop ran out



, Wheat was in prime position to send Wong to the rail. The

turn and

river were no help to Wong and he is out in 12th place.
Finally we're back in action!
We also have confirmation that we'll be stopping play this evening once we reach our final table of nine players. We're still a little way from that point, so if we played on to try and find ourselves a champion, we wouldn't be finishing until sometime around the year 2015. It's a sensible decision to stop and resume things fresh tomorrow afternoon.
Level:

25
Blinds:

15,000/30,000
Ante:

0
This break seems kinda long. We believe there may be some computer glitches that are preventing play from resuming. We hope to be underway in a few minutes.
Miguel Proulx

2,455,000
105,000

Dmitry Stelmak

1,261,000
-4,000

Daniel Alaei

1,250,000
300,000

Ludovic Lacay

1,205,000
345,000

Alessio Isaia

940,000
50,000

Matthew Wheat

590,000
-80,000

Stephen Pierson

570,000
30,000

Jason Mercier

PokerStars Team Pro (USA)

475,000
15,000

Trevor Uyesugi

464,000
71,000

Ville Mattila

430,000
-240,000

Alexander Kravchenko

PokerStars Team Pro (Russia)

315,000
-40,000

Danny Wong

170,000
-120,000