Level:

15
Blinds:

1,500/3,000
Ante:

0
The players are now taking a break to stretch their legs while tournament staff color up. Back in twenty.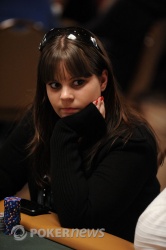 We walked up to Table 320 to see a flop of



out on board and about 25,000 in the pot. Ryan Aiken, Mikhail Smirnov, and Nenad Medic all checked, and Annette Obrestad bet 16,300. That folded the first two checkers, but Medic raised to 45,000 and Obrestad moved all in for 84,500 total. Medic called with his covering stack, and our last lady left was at risk for her tournament life.
Showdown
Medic:





Obrestad:




Obrestad's overpair was no good, and she was looking for a heart or a third queen or king in order to stay alive. The turn

gave her a few more outs to the gutshot, but the river

slammed the door shut and relieved her of her remaining chips.
Medic is up to 210,000 now, and he and the rest of his table won't have to worry about Annette for the rest of the day.
We caught the action on the river as a crowd developed around Ben Lamb and Jamie Pickering with the board reading





. Lamb had bet around 28,000 with Pickering in the tank with a decision for most of his chips.
Pickering sighed and made what appeared to be a reluctant call. Lamb was coy about opening up his hand, and which point Pickering realized his second nuts were good as he revealed




.
Lamb and others at the table raised their eyebrows wondering why Pickering had taken so long to call with the second nuts as Pickering explained he was concerned that Lamb had the ten-nine.
Pickering virtually doubles to 95,000 with Lamb back down to 125,000.
Catching the action on a flop of



, a bet of 11,300 came from early position with Dmitry Stelmak making the call. Action was then with Jan-Peter Jachtmann on the button who announced a raise of the pot.
It was calculated to be an additional 53,100 which forced a fold from the early position player as Stelmak went into the tank. Stelmak eventually announced "call" but Jachtmann only had about 16,000 more behind. The two players then agreed to be all in and the cards were tabled.
Jachtmann:





Stelmak:




Jachtmann had plenty of outs with his straight wrap as Stelmak had top two pair. The turn was the

and river the

providing no help for Jachtmann as he was disgusted to be eliminated. Stelmak, on the other hand, was all smiles as he stacked up 330,000 chips.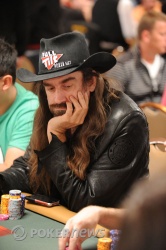 Julio Marines raised to 5,100 from the cutoff seat, and Chris Ferguson three-bet to 21,900 next door. Marines called, and the two of them took a flop of



. Marines led out with a bet of 20,000 and Ferguson moved all in for just about 30,000 total, turning up




for the overpair. He was in bad shape, however, as Marines called him down with




, having flopped two pair to put Ferguson in danger.
The turn

didn't change anything for Ferguson, and the

river was a blank and the last river card of his day. Ferguson is out, and Marines is up to 215,000.
On a flop of



, Ludovic Lacay checked to Sol Bergren, and Bergren bet 10,000 into a pot of about that much. Lacay promptly check-raised to 37,000, and Bergren moved all in for 52,000 total. Lacay called.
Showdown
Lacay:





Bergren:




Neither player had a pair, and Bergren's flush outs were dead to put him in bad shape with two to come. The turn

left him dead to a chop as Lacay filled in his straight, and the

river was not enough to get Bergren over the hump. He's out, and Lacay moves his stack up to 153,000 courtesy of that pot.
Dan Heimiller has been sent to the rail at the hands of Daniel Alaei. We don't have details of the action but Heimiller's seat is now vacant and Alaei is stacking up 310,000 in chips.
Level:

14
Blinds:

1,200/2,400
Ante:

0
On a flop of



, Ville Mattila checked to Rory Rees Brennan who fired 20,000. Vivek Rajkumar then announced a raise to 100,000 to force a fold from Mattila, but Brennan called off his last chips few chips.
Rajkumar:





Brennan:




Two pair for Rajkumar as Brennan was on the flush draw but the turn and river bricked out

,

. Brennan is out as Rajkumar stacks up 178,000 chips.