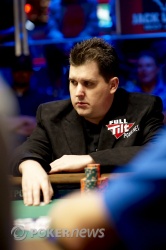 With the board reading



Scott Montgomery fired a 125,000-chip bet in the small blind. Adam Richardson called in the big and Mick Carlson folded on the button.
The turn card was a

and Richardson called a 250,000-chip bet from Montgomery. The river brought a

to the table and Montgomery fired a 650,000-chip bet. Richardson tanked and eventually folded.
Montgomery is now up to 3,450,000 chips and Richardson slipped to 2,850,000.