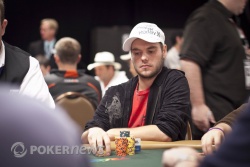 We're back in the Amazon Room and for the nine remaining players it's their fourth and final day in Event #24: $1,000 No-Limit Hold'em. It's been a long haul to get past 3,280 other players to reach this very point, but hopefully they've saved their best for last as this is where it counts the most. A bad beat today could mean the difference between $38,629 and $503,389...oh and one of those little shiny bracelet thingies!
JD McNamara and Thanh dat Tran were exchanging the chip lead yesterday afternoon, with McNamara taking a narrow advantage into play today.
Here's how the players will lineup at the start of this final table:
Seat 1: Blake Kelso - 1,166,000
Seat 2: JD McNamara - 2,393,000
Seat 3: Thanh dat Tran - 2,311,000
Seat 4: Greg Pohler - 1,660,000
Seat 5: David Cai - 844,000
Seat 6: Michael Gross - 535,000
Seat 7: Denis Murphy - 789,999
Seat 8: Jeffrey Tebben - 466,000
Seat 9: John Tolbert - 925,000
All the action will kick off at 2:30pm local time, which is about 15 minutes from now. Stay tuned to PokerNews.com for exclusive live updates from the heart of the WSOP!