Event #13: $1,000 No-Limit Hold'em
Day 1a completed
Andy Black

90,275

Pedro Reis

78,550

Marcello Delgrosso

PokerStars Team Canada

68,300

Steven Mcloughlin

56,600

Shaun Hartlin

55,750

Jeremy Maher

55,700

Andrew Youngblood

54,300

Diogo Borges

54,200

Michael Leibgorin

54,050

Dylan Linde

53,200

Felipe Quijano

49,900

Vagan Sudzhyan

48,875

Jose Quintas

47,150

Jean Hamel

47,100

Joseph Cappuccio

46,875

Michael Atkinson

46,125

Clark Hamagami

45,650

Marios Savvides

45,575

Philip Collins

44,375

Phil Gordon

44,225

Joseph Tan-Torres

44,225

Mikail Tulchinskiy

43,175

Chang Luo

42,925

Navarro Jorge

42,775

Jacob Bazeley

41,875
| | | | | | |
| --- | --- | --- | --- | --- | --- |
| Andy Black | | | | 92,000 | 48,000 |
| Marcello Delgrosso | | | | 68,300 | 17,300 |
| Andrew Youngblood | | | | 54,300 | -700 |
| Dylan Linde | | | | 53,200 | 50,200 |
| Mike Atkinson | | | | 46,000 | 43,000 |
| Clark Hamagami | | | | 45,650 | 23,650 |
| Phil Collins | | | | 44,375 | 13,375 |
| Phil Gordon | | | | 44,225 | 12,225 |
| Lisa Parsons | | | | 40,000 | |
| Vitaly Lunkin | | | | 32,825 | 11,825 |
| Kevin O'Donnell | | | | 31,125 | 28,125 |
| William Reynolds | | | | 28,500 | 12,000 |
| Paul Wasicka | | | | 27,725 | 15,725 |
| Shaun Deeb | | | | 26,850 | 850 |
| Adam Katz | | | | 26,625 | 15,125 |
| Don Knavel | | | | 24,775 | 21,775 |
| Perry Friedman | | | | 24,500 | 7,500 |
| Victor Ramdin | | | | 23,300 | 14,300 |
| William Chen | | | | 22,075 | 14,075 |
| David Levi | | | | 21,575 | 8,275 |
| Stevie Chidwick | | | | 20,500 | 5,500 |
| Josh Norris | | | | 19,825 | 16,825 |
| David Reimann | | | | 18,225 | 15,225 |
| Nick Mitchell | | | | 13,800 | 2,300 |
| John Cernuto | | | | 12,575 | -1,175 |
"Finish the hand you're on, you all are done for the night." The magic words were just uttered and bags were passed out as well as seat redraws. We didn't play a full 10 levels, as play was stopped with 278 players remaining.
The field was smaller than expected for the first day one flight of Event #13, the second $1,000 no-limit hold'em event of the 2010 World Series of Poker thus far. Just 1,922 players entered the day with the hopes of bagging chips at the end of the night and making it to Day 2.
Justin Bonomo, Katja Thater, Gavin Smith, Joe Sebok, JP Kelly, James Akenhead, Eli Elezra, Chris Ferguson, Tom McEvoy, Gavin Griffin, and Kara Scott were among the bracelet hopefuls that would not be back on Monday.
Players bagging and tagging their chips tonight include, Shaun Deeb, Phil Gordon, Phil "USCPhildo" Collins, Paul Wasicka, Vitaly Lunkin, Bill Chen, and "Miami" John Cernuto. It appears that Andy Black is our overnight chip leader with 92,000.
Tomorrow at noon local time, another round of hopefuls will make their way into the Pavilion Room here at the Rio with the same dream as the 1,922 that entered today. The remaining players from tomorrow night will meet the remaining players from tonight on Monday at 2:30 local time.
Be sure to follow along at PokerNews for every flop, turn, and river as we bring you all the action live from the tournament floor.
The tournament has been stopped for the night since we've reached 15% of the field. Players are currently counting and bagging their chips and will receive a new seating assignment for their return on Monday.
"Miami" John Cernuto got all of his chips in preflop against the player in Seat 1.
"Miami" John:



Seat 1:


The board ran out





and "Miami" John's pocket kings held up. He doubled his stack and is now sitting on 13,750.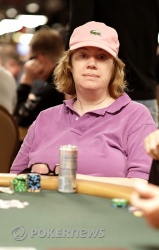 Kathy Leibert was eliminated from the tournament shortly after we returned from break. We missed the action, but her empty spot over at Table 22 has already been filled.
The players are back in their seats and action is underway. The tournament staff has announced that they will stop the tournament when only 15% of the field remains or after 10 levels, whatever may come first.
Level:

9
Blinds:

300/600
Ante:

75
We're now on a 20-minute break. See you in a few.