Event 46 - $5,000 No Limit Hold'em Six-handed
Day 2 completed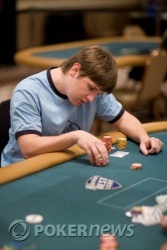 Harrah's officials have now confirmed the chip counts as previously reported for the six finalists in Event 46, $5,000 No-Limit Hold'em, Six-handed. The six are led by Richard Lyndaker and include Davidi Kitai, who will try to overcome severe short-stack status and become the year's second double bracelet winner. The six finalists:

Richard Lyndaker 2,345,000
Joe Commisso 1,961,000
Tom Lutz 1,493,000
Sam Trickett 1,000,450
Edward Ochana 928,000
Davidi Kitai 298,000

The players will have a short night's rest before action resumes this afternoon at 2pm PDT.
It took more than 14 hours, but we've finally established the final table for Event No. 46, the $5,000 No-Limit Hold'em Short-Handed event. Five of the six who made it -- Joe Commisso, Samuel Trickett, Tom Lutz, Edward Ochana, and current chip leader Richard Lyndaker -- held the chip lead at some point during the latter stages of today's play. And our sixth player, Davidi Kitai, will be gunning for his second WSOP bracelet this summer after having won Event No. 38, the $2,000 Pot-Limit Hold'em event, less than a week ago.

Join us tomorrow -- or, rather, later today -- at 2pm to see who among these six will claim the gold bracelet.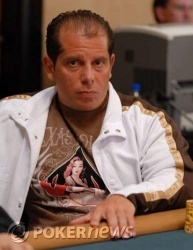 Richard Lyndaker raised to 65,000 from under the gun and Edward Ochana called from middle position. Action folded to Will Failla in the big blind and he moved all in for a total of 250,000. Lyndaker quickly announced "I'm all in!"
Ochana flashed two tens, one red, one black, and then mucked his hand. Failla said, "I got coolered," as if he knew what he was in for.
Lyndaker held


and Failla held


.
The board ran out





and that would be it for Failla. He would miss the official final table by one spot and earn $82,858 for his efforts. He congratulated everyone on making the final table, shook their hands, and then moved out of the tournament area.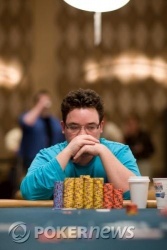 Edward Ochana continued his aggressive play and raised again preflop, this time to 85,000. Joe Commisso made the call from the small blind. The flop came down



. Both players checked.
The turn was the

and Commisso bet out 85,000. Ochana made the call. The river was the

and Commisso bet 200,000. Ochana made the call.
"Fives full," said Commisso as he rolled over


.
"Good hand," replied Ochana and he mucked.
Commisso is now at 2.1 million chips and Ochana has dropped down to one million.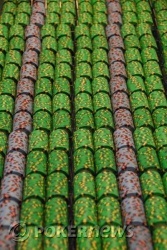 Richard Lyndaker - 1,800,000
Joe Commisso - 1,600,000
Edward Ochana - 1,575,000
Samuel Trickett - 1,100,000
Tom Lutz - 1,035,000
Davidi Kitai - 400,000
Will Failla - 380,000
Tom Lutz completed from the small blind, and Edward Ochana checked his option in the big blind. The flop came



. Lutz bet 35,000, and Ochana called. The turn was the

. This time Lutz bet 70,000, and Ochana again made the call.
The river was the

. Lutz bet 145,000, and Ochana again made the call.
"Ace high," confessed Lutz. Ochana showed


for a pair of tens, and a small cheer erupted from the rail.
Ochana is up to 1,575,000, and Lutz is at 1,035,000.
Level:

22
Blinds:

12,000/24,000
Ante:

3,000
After about 15 hands of the seven-handed table, Samuel Trickett pulled out a small portable fan with which to cool off. It isn't that warm in the Brasilia Room, actually, though perhaps the fan is nonetheless affording Trickett some relief from the pressurized play.

Meanwhile, Edward Ochana has a number of fans (the other kind) gathered around the table cheering his every move.
The board read



when Will Failla bet out 125,000. Tom Lutz put him all in and Failla tanked for about five minutes before folding, claiming he had


and asked Lutz if he had a queen. Lutz nodded and Failla believed him.
Joe Commisso chimed in by saying that he say Failla's hand and that Failla did not have


. "You had nine-ten."
Failla said that he didn't see his hand at all and that he was lying. "One million percent says you didn't see me hand. No way."
The players had some banter back and forth that continued over into the next couple of hands. Finally Commisso said, "I apologize, I thought I saw nine-ten. I'm not trying to be an a**hole or anything," and play went on.