Event 24 - $2,500 Pot Limit Hold'em/Omaha
Day 2 completed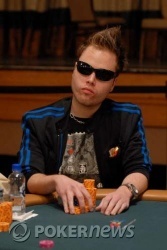 With the chips bagged and verified, these are the standings heading into the Saturday finale of Event #24, $2,500 Pot-Limit Omaha/Hold'em:

Kyle Kloeckner 494,000
Allen Cunningham 484,000
Lennart Holtkamp 253,000
Max Pescatori 212,000
Kyle Hegeman 198,000
Greg Hurst 197,000
Jonathan Depa 185,000
Minh Ly 174,000
John-Paul Kelly 79,000

Action resumes at 3pm PT on Saturday.
Today began with 85 hopefuls competing for the final nine spots here in Event #24. Play was lively early, and things were progressing at a reasonable pace for a couple of hours. When the money bubble hit though, play ground to a near-halt. Even when we got past the bubble, it seemed the players were uninterested in seeking out big confrontations. That trend became even more apparent as we approached the final table bubble. Eliminations have been extremely few and far between for several hours now. Finally, just after 5:00am local time, the field has been narrowed to the lucky nine who will return tomorrow to play for the bracelet.

Kyle Kloeckner will be our chip leader to start play tomorrow, sitting with 494,000 chips. There are a few players hot on his heels though -- including Allen Cunningham with 484,000 -- and it really is anyone's game at this point. This last table of ten players tonight gave us a little glimpse of what to expect. If it is any indication, tomorrow's table will be quite serious in nature, and quite a hard-fought battle for whoever comes out on top.

Join us tomorrow (today) at 3:00pm local time from the ESPN arena in the Amazon Room as we seek out our champion and award the 24th bracelet of the year!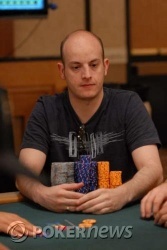 We have an all in and a call!
David Penly and Kyle Kloeckner got it all in preflop, with Penly at risk of elimination. The hands were turned over:
Kloeckner:




Penly:




The board ran down





. With that loss, David Penly has fallen from the mid-day chip lead to final table bubble boy. He will take away $14,175 for his work over the last two days.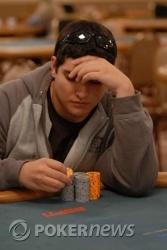 Action passes around the table to Allen Cunningham in the small blind. He limps in, and David Bergerson raises the pot from the big. Cunningham plays back, re-raising the pot, and Bergerson calls all in.
He tables


, and is live against the


of Allen Cunningham. The door begins to close quickly though, as the flop comes



. The turn and river come down

and

.
Bergerson fails to catch up, and he is eliminated in 11th place. For his work over the last two (very long) days, he will be awarded $14,175.
Now that we are down to 10 players, the two tables have been combined into one, and we'll play for one more knockout.
Kyle Kloeckner raises the pot from late position. Allen Cunningham comes along, and the two men watch the flop bring



.
Both players check, and the turn is the

. Kloeckner bets 50,000, and Cunningham fires back a pot-sized raise. Kloeckner quickly calls all in, and the hands are shown:
Kloeckner:


Cunningham:


Cunningham is already drawing dead, with a meaningless

coming on the river. Kloeckner doubles up to 398,000, and has taken a slight lead over the man he took that pot from.
The players have returned from break, and the cards are in the air once more!
Level:

19
Blinds:

0/0
Ante:

0
The tournament clock has been paused, and players are taking one more (hopefully the last) 20-minute break,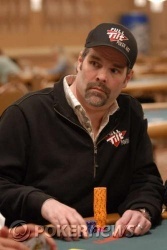 From the small blind, Howard Lederer completed the bet, and Lennart Holtkamp raised, making it 14,000 to go. Lederer called, and they went heads up to the flop.
It came down



. Lederer checked, and Holtkamp continued out with 25,000 chips. Lederer moved all in, and was quickly called.
Lederer:




Holtkamp:




Lederer was well behind, and when the board ran out

,

, it spelled the end for The Professor. After making a noteworthy comeback from a very low stack, Lederer couldn't gain quite enough ground, and he is out shortly before the final table. He will take home $14,175, though he looked more than a little disappointed as he left the tournament room.