Event Info
| | |
| --- | --- |
| Buy-in | $4,000 |
| Prize Pool | $1,000,000 |
| Players | 262 |
Level Info
| | |
| --- | --- |
| Level | 28 |
| Blinds | 30,000 / 60,000 |
| Ante | 10,000 |
Main Event
Day 5 completed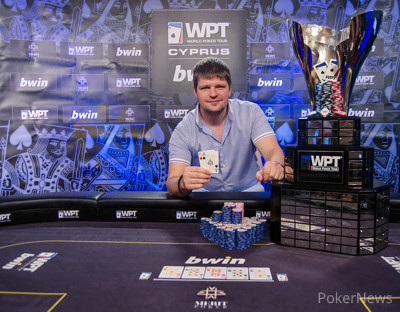 The 2013 bwin WPT Merit Cyprus Classic lasted six days at the Merit Crystal Cove Hotel and Casino. Alexey Rybin led the way after each one of them. The Russian businessman, who missed a big meeting in Monte Carlo to play the final table in Cyprus, endured the toughest day of his tournament on Wednesday but still managed to claim victory and the top prize of $258,000.
Rybin started off the final table unusually passive and almost out of sorts compared to how aggressively he'd played the earlier days. However, a late rally three-handed saw him cooler compatriot Andrei Nikonov with ace-queen against ace-jack to take back the chip lead going into a heads up battle against Albert Daher, who finished runner-up for $160,200.
Lebanese player Pierre Sayegh was the first player to be eliminated on Wednesday. The oldest player in the tournament was also both the shortest stack and considered the tightest player left. Sergey Rybachenko had opened preflop with Daher calling before Sayegh squeezed all in. The Russian folded but Daher called with


and won the flip against Sayegh's


on a





board.
Sergey Rybachenko, the most experienced of the three Russians on the final table, managed an early double up through Daher and for a moment the young Lebanese player could no longer afford to be the most aggressive player at the table. Rybachenko meanwhile couldn't hold onto his newly won chips and ended up five-bet folding


into Andrei Nikonov's aces.
Eventually, Daher got his chips back from Rybachenko in a huge pot but he was very lucky to do so. Rybachenko was crippled by this and barely a couple of hands later he was all in with


against Daher's


and couldn't spike on the





board.
After losing with


to Rybin's


, Turkish player Kayhan Tugrul was left nursing a microstack. Tugrul was all in with


against Nikonov's


and Rybin's


and the latter made a boat on the





board to leave us with two Russians and a Lebanese player left.
Three-handed play lasted a while, as Daher and Nikonov exchanged the chip lead a couple of times while Rybin saw his stack drop down to only 12 big blinds at one stage. But after Rybin won successive big pots, including a double up, the stacks became much more even.
Rybin's ascent and eventual victory came down to two big pots, firstly he coolered Nikonov in a pot that also gave him back the chip lead for the heads-up battle against Daher.
The second saw a three-bet pot where Daher flopped top pair with


on a



board but Rybin had a monster in


. When Rybin instantly moved all in on the

turn, Daher found himself levelled into calling and was drawing dead. Left with just six big blinds, Daher managed to double up twice and there looked like a genuine chance that he could pull off some sort of amazing comeback. But the third time was the charm for Rybin, his ace-five besting Daher's king-nine for the $258,000 first prize, the seat at the WPT Championship next year, and most importantly the WPT title.
2013 WPT Cyprus Merit Classic Final Table Payouts
| Place | Name | Prize | Country |
| --- | --- | --- | --- |
| 1 | Alexey Rybin | $258,000* | Russia |
| 2 | Albert Daher | $160,200 | Lebanon |
| 3 | Andrei Nikonov | $103,700 | Russia |
| 4 | Kayhan Tugrul | $75,600 | Turkey |
| 5 | Sergey Rybachenko | $56,600 | Russia |
| 6 | Pierre Sayegh | $46,000 | Lebanon |
*Includes $25,000 seat at the WPT Championship
We'll leave you with an interview with the man himself, WPT Champion Alexey Rybin talking to PokerNews' Laura Cornelius.
Photo courtesy of the WPT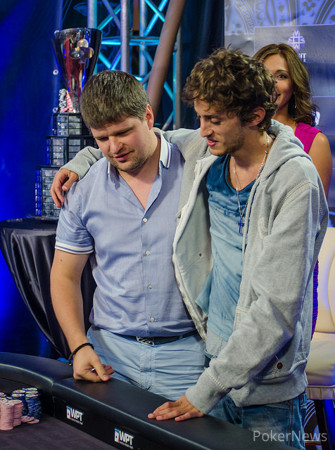 Albert Daher opened for 120,000 on the button with


, Alexey Rybin moved all in from the big blind with


and Daher made the call. The flop came





and Daher's hopes were ended. We had a new WPT Cyprus champion in Alexey Rybin.
Perhaps Daher's call with the


was a reflection of the frustration at how the last half hour had played out. He had made a hero call with top pair against Rybin's turn shove earlier and that was the key pot heads up. The main story will rightly be about Rybin leading the tournament all the way, but huge credit must go to Daher for the way he has played throughout the tournament and some of the amazing decisions he made in marginal spots.
Congratulations on second place Daher.
| | | | | | |
| --- | --- | --- | --- | --- | --- |
| Alexey Rybin | | | | 7,860,000 | 700,000 |
| Albert Daher | | | | Busted | |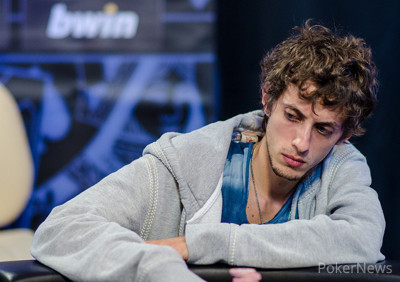 Alexey Rybin raised from the button with


Albert Daher shoved with


. Rybin called and we saw the board run out





. On the turn Rybin chanted "Ace, eight, six." but it didn't help. A little more wriggle room now for Daher. Can he force his way back into contention?
Alexy Rybin shoved


and was called by Albert Daher's


. The board ran out





and Daher doubled.
| | | | | | |
| --- | --- | --- | --- | --- | --- |
| Alexey Rybin | | | | 7,160,000 | -300,000 |
| Albert Daher | | | | 600,000 | 300,000 |
Albert Daher opened for 120,000 with


and was raised by Alexey Rybin in the big blind with


to 400,000. Daher called and they saw a flop of



. Rybin bet 515,000 and Daher called. The turn was the

and Rybin quickly moved all in. Daher thought for a long time and made the call. The river was no help and Daher was crippled.
| | | | | | |
| --- | --- | --- | --- | --- | --- |
| Alexey Rybin | | | | 7,460,000 | 3,360,000 |
| Albert Daher | | | | 300,000 | -3,450,000 |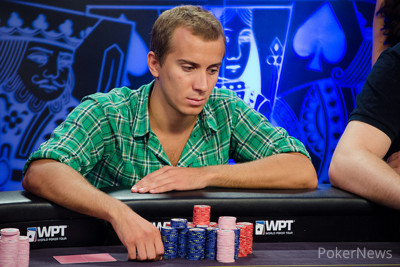 Alexey Rybin raised to 125,000 preflop with


, Andrei Nikonov three-bet to 350,000 holding


and Rybin moved all in. Nikonov quickly called.
The flop came



which helped neither player, the

turn didn't offer anything else and the

river meant that Nikonov was out in third place.
Rybin's rehabilitation is complete, his stack dropped like a stone earlier today but the momentum in the last twenty minutes has all been his and he's now heads up for the title in the position he knows the best, the chip leader.
| | | | | | |
| --- | --- | --- | --- | --- | --- |
| Alexey Rybin | | | | 4,100,000 | 1,425,000 |
| Albert Daher | | | | 3,750,000 | 400,000 |
| Andrei Nikonov | | | | Busted | |
Three handed, and they are playing pretty cautiously now. Albert Daher is the most active player, raising consistently from the button, but they all have playable stacks and no one player is getting out of line. Alexey Rybin, interestingly, has shown the table nearly every hand he has won a pot with. Will this information he is giving away come back bite him?
Level:

28
Blinds:

30,000/60,000
Ante:

10,000
| | | | | | |
| --- | --- | --- | --- | --- | --- |
| Albert Daher | | | | 3,350,000 | 270,000 |
| Alexey Rybin | | | | 2,675,000 | 985,000 |
| Andrei Nikonov | | | | 1,845,000 | -950,000 |