Event 15: $200,000 Guarantee Six-Max NLHE Re-Entry
Event Info
| | |
| --- | --- |
| Buy-in | $1,000 |
| Prize Pool | $361,810 |
| Players | 373 |
Level Info
| | |
| --- | --- |
| Level | 26 |
| Blinds | 20,000 / 40,000 |
| Ante | 4,000 |
Event 15: $200,000 Guarantee Six-Max NLHE Re-Entry
Day 2 completed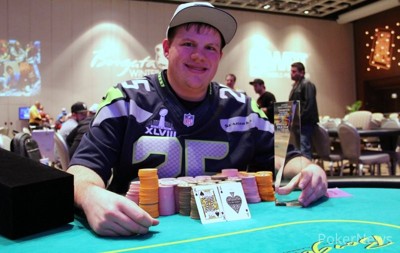 Matt Affleck seemed to know he would win this tournament the whole time - proudly donning his Seattle Seahawks jerseys with his team set to play in the Super Bowl - and his confidence proved to be well-founded after a rousing victory to begin his Borgata Winter Poker Open.
Affleck entered Day 2 of this event with a chip stack that was nothing to brag about, and he lingered near the bottom of our counts early in the day, but he quickly went to work in that regard.
A key hand occurred midway through the day, when Affleck brought the bullets against an outgunned opponent to score a decisive double up, but he was not through chipping up quite yet. He pushed Byron Kaverman off a big pot to keep climbing, before crippling and then busting Andy Hwang to begin his beastmode-like run through final table.
After knocking Hwang out in 5th place, Affleck sent Byron Kaverman to the rail just a few hands later, and like so many Seahawks games during this splendid season of theirs, the rout was on.
Affleck went toe-to-toe with chip leader Josh Brikis, bringing him down to size by winning a huge hand despite missing a flush draw. Soon afterward, Affleck took out his third consecutive opponent, dispatching Caufman Talley in 3rd place to enter heads-up play against Brikis with a truly massive chip advantage.
Although Brikis was able to force Affleck into a tough battle, doubling up a few times to move back up to more than 2 million, the tournament was Affleck's to lose. Affleck refused to lose, however, and eventually the title was his when


outraced Brikis'


on the





board.
His seats at the Super Bowl are already secured, so the $88,643 just put in Affleck's pocket won't be spent on scalpers, but we expect he'll spend the next week celebrating this win - hoping the whole time to be celebrating another Super Sunday win seven days from now.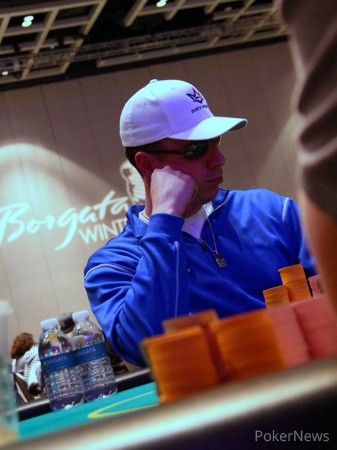 After running his stack back up from the brink - turning less than 400,000 into more than 2 million through a series of doubles - Josh Brikis nearly took the chip lead away from Matt Affleck. Unfortunately for Brikis, however, he came out on the wrong end of a coin flip confrontation and the comeback attempt was thwarted.
The action started when Brikis limped into the pot, inviting Affleck to make a standard raise to test the waters. Brikis then shoved all in for about 1.72 million - or 43 big blinds - and Affleck snapped him off to force the tournament's final showdown.
Showdown:
Brikis:



Affleck:


Both players had found hands worthy of going to war with, and the two were off to the races with a title on the line.
Flop:



Affleck picked up nine additional outs with his nut flush draw, and now any ace, king or spade would ship the pot - and the tournament. Brikis was left to sweat it out while trying to fade fifteen outs twice.
Turn:

Half of the work was done for Brikis as he survived one burn and turn. Fourth street changed nothing and it would be the river card that decided it all.
River:

The fifth spade on board completed Affleck's flush and his romp through the final table, as Brikis was forced to remain content with a runner-up finish after sprinting out to a huge chip lead throughout this second day of play. Brikis took home $54,272 for nearly winning his first tournament of the Borgata Winter Poker Open, and he is clearly playing well heading into tomorrow's World Poker Tour Borgata Poker Open Main Event.
| | | | | | |
| --- | --- | --- | --- | --- | --- |
| Josh Brikis | | | | Busted | |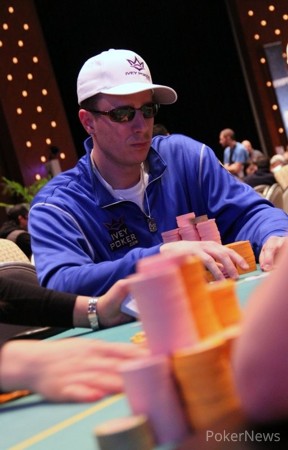 On the first hand back from break, Josh Brikis just made this heads-up match a real game.
Brikis woke up with


when Affleck went in for the kill, and although Affleck had brought a real hand to bear with his


, the percentages were firmly in Brikis' favor as the dealer burned and turned.
The final board rolled out





and Brikis' cowboys crushed Affleck's ladies. Affleck still holds a sizable lead, but after having Brikis down to just a few big blinds only mere minutes before, the pressure has to be building just a bit.
| | | | | | |
| --- | --- | --- | --- | --- | --- |
| Matt Affleck | | | | 5,200,000 | -1,150,000 |
| Josh Brikis | | | | 2,250,000 | 1,150,000 |
Level:

26
Blinds:

20,000/40,000
Ante:

4,000
Josh Brikis has battled back from a severe chip disadvantage to move back over 1 million, but he still has plenty of work to do if he hopes to pull even.
| | | | | | |
| --- | --- | --- | --- | --- | --- |
| Matt Affleck | | | | 6,350,000 | -650,000 |
| Josh Brikis | | | | 1,100,000 | 250,000 |
Matt Affleck and Josh Brikis have stood to stretch as we enter a 10-minute break.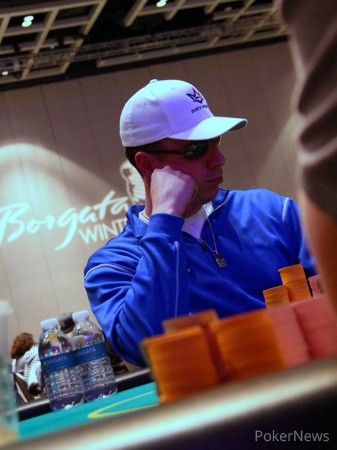 Matt Affleck has been moving all in on nearly every hand heads-up, trying to simply bludgeon a micro-stacked Josh Brikis into submission.
Brikis knows every deal will be played for it all, and lately he has been having a bit of masochistic fun sweating his hole cards on each deal.
On a recent hand, Affleck was all in yet again to put Brikis to the test, and he squeezed his cards slowly in anticipation:


. The rags were held up with disdain before being sailed into the muck.
"Ahh..." cried Affleck at the fold. "How can you not just call there? These would've been perfect for the winner's photo..."
Affleck tabled his


regretfully, not wanting to release the monster that may have won it all.
That winner's photo will have to wait - for now at least - as Brikis scored two doubles in a row to move back to nearly 1 million, attempting to mount what would be a truly miraculous comeback bid.
| | | | | | |
| --- | --- | --- | --- | --- | --- |
| Matt Affleck | | | | 7,000,000 | 200,000 |
| Josh Brikis | | | | 850,000 | 100,000 |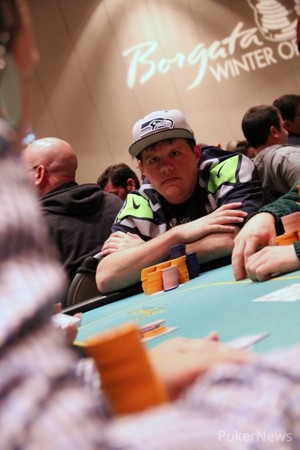 The chip count situation entering heads-up play.
Matt Affleck has the lead by a long shot, while Josh Brikis will need to score a string of double ups to get back in the running.
| | | | | | |
| --- | --- | --- | --- | --- | --- |
| Matt Affleck | | | | 6,800,000 | 1,300,000 |
| Josh Brikis | | | | 750,000 | -1,300,000 |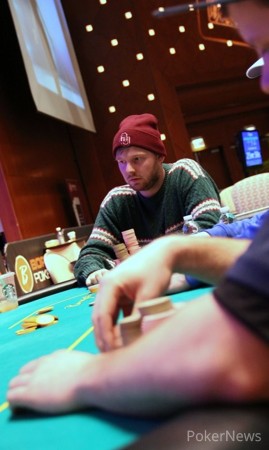 Caufman Talley stood no chance.
Mathematically speaking, of course, his


gave him nearly a fifty percent chance against Matt Affleck's


... but everyone watching this Six-Max final table wind its way down knew what was coming.
Affleck is running like Sidney Rice in the open field, and on this hand he could not be touched. With all of the money in before the flop, Affleck and Talley stood to sweat as the dealer delivered their destiny in a flash.
Flop:



Affleck clapped and pumped his fist at the sight of his set, but the four-flush on board calmed his celebration somewhat. The turn card came

to keep him out in front, and Caufman was down to his last card needing a club to keep him alive.
River:

Caufman found his flush on the river, but it made no difference to Affleck as he paired the board to fill his full house. The put Affleck on the brink of victory, as he now holds nearly every chip on the table entering heads-up play. Caufman, meanwhile, took home $41,246 for his near miss.
| | | | | | |
| --- | --- | --- | --- | --- | --- |
| Caufman Talley | | | | Busted | |