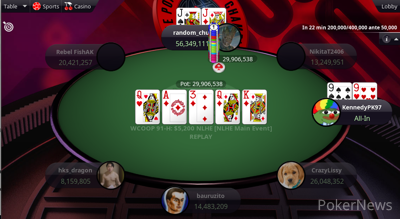 "Rebel FishAK" opened for 735,000 from middle position and Stevan "random_chu" Chew three-bet to 2,310,000 from the next seat over. "KennedyPK97" shoved from the big blind for 14,340,769 and "Rebel FishAK" got out of the way while Chew made the call.
"KennedyPK97":



Stevan "random_chu" Chew:


The board ran out





to give Chew the flush for a big pot that puts him over 50 million.
| | | | | | |
| --- | --- | --- | --- | --- | --- |
| Stevan "random_chu" Chew | | | | 56,349,111 | 19,725,769 |
| KennedyPK97 | | | | Busted | |