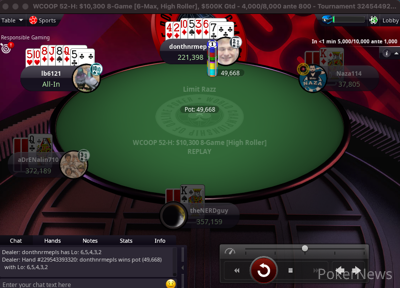 Razz Limits 4,000-8,000
"donthnrmepls" made it three bets on third and was called by Luke "lb6121" Schwartz, who had an eight showing. Schwartz check-called with a jack-eight on fourth with very few chips behind and called all-in when he paired the eight on fifth.
Until sixth, "donthnrmepls" had a made sixty-five and left Schwartz drawing dead.
| | | | | | |
| --- | --- | --- | --- | --- | --- |
| Denis "aDrENalin710" Strebkov | | | | 372,189 | 8,400 |
| Yuri "theNERDguy" Dzivielevski | | | | 357,159 | 64,000 |
| donthnrmepls | | | | 221,398 | -38,166 |
| Joao "Naza114" Vieira | | | | 37,805 | 6,800 |
| Luke "lb6121" Schwartz | | | | Busted | |