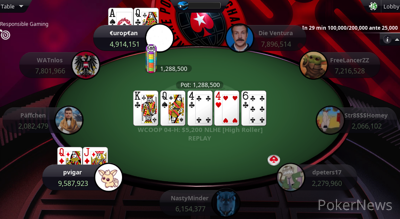 Samuel "€urop€an" Vousden opened for 240,000 from middle position and was called by Pedro "pvigar" Garagnani from the big blind.
Garagnani check-called for 168,750 on the



flop. The

turn paired the board and Garagnani fired out for 138,000. Vousden called and both players checked the

river.
Both players had the same two pair with Vousden holding


and Garagnani holding


. But, Vousden held the better kicker to win the hand.
| | | | | | |
| --- | --- | --- | --- | --- | --- |
| Pedro "pvigar" Garagnani | | | | 9,587,923 | -741,750 |
| Diego "Die Ventura" Ventura | | | | 7,896,514 | |
| Christian "WATnlos" Rudolph | | | | 7,801,966 | 444,750 |
| Michel "FreeLancerZZ" Dattani | | | | 7,216,528 | 821,700 |
| Dinesh "NastyMinder" Alt | | | | 6,154,377 | 195,000 |
| Samuel "€urop€an" Vousden | | | | 4,914,151 | 1,176,750 |
| David "dpeters17" Peters | | | | 2,279,960 | 60,000 |
| Pascal "Päffchen" Hartmann | | | | 2,082,479 | -315,000 |
| Sam "Str8$$$Homey" Greenwood | | | | 2,066,102 | -1,641,450 |