Event Info
| | |
| --- | --- |
| Buy-in | $3,300 |
| Prize Pool | $43,650 |
| Players | 15 |
Level Info
| | |
| --- | --- |
| Level | 19 |
| Blinds | 5,000 / 10,000 |
| Ante | 1,000 |
$3,300 High Roller
Day 3 completed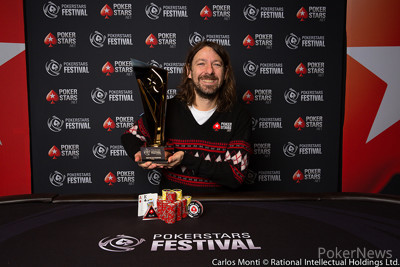 Day 3 of the $3,300 PokerStars Festival Chile High Roller was a quick one, lasting just four hands. Team PokerStars Pro, Leo Fernandez is the winner, taking home $20,950, the title and the elusive gold trophy.
The Argentinian pro was arguably the most decorated player in this event, boasting over $2 million in lifetime earnings, with two High Roller titles and a Latin America Poker Tour Main Event title on his resume. Fernandez now has three High Roller wins, with two from Sao Paolo, Brazil and now this win in Chile. He also has several close calls to brag about, including a career-best $554,925 cash after finishing as runner-up in the 2011 PCA High Roller in the Bahamas. Fernandez's results began back in 2005, and have progressed with plenty of deep runs in High Rollers and Main Events throughout Europe and South America.
Fernandez defeated Chile's Rodrigo Borquez after coming in to the day with a slight lead worth just a few big blinds. In the final hand, the two players found themselves flipping for the title. Fernandez held


while Borquez was slightly ahead with


. The flop had both an ace and a king on it, and the rest was history. Borquez earned himself $13,960 for his runner-up finish, and has already hopped in to the $500,000 guaranteed Main Event for a shot at redemption.
The High Roller began on Sunday and the number of entries grew to 11 by the end of the opening day. Registration was open before the start of Day 2, and just eight players moved on. Fernandez was actually eliminated late on Day 1, but was one of the four last-minute entries on Day 2. He was also the only player to re-enter. The prizepool totaled $43,650 with 15 entries at the close of registration, paying three spots.
Rugby star, Lucas Gonzalez, finished in third place late on Day 2, taking home $8,470 for his min-cash. Fernandez was responsible for his elimination after his queens were no match for Gonzalez's pocket jacks.
| Place | Player Name | Country | Prize (USD) |
| --- | --- | --- | --- |
| 1st | Leo Fernandez | Argentina | $20,950 |
| 2nd | Rodrigo Borquez | Chile | $13,960 |
| 3rd | Lucas Gonzalez | Argentina | $8,470 |
Among the 14 unique players in the High Roller, there were many decorated players in competition. This included Chile's own two-time LAPT winner, Oscar Alache, as well as LAPT winners Alex Manzano, Richard Dubini and Amos Ben.
The representation among the field was heavy with Argentinians, but included a fair amount of Chileans representing their home country, as well as a player from Peru and Mexico.
Final Table Action
The unofficial final table of nine came together early on Day 2 after the swift elimination of short-stacked Alan Manuel Mehamed. He was left with just under ten big blinds and was called in two spots. Alex Manzano flopped a set of sixes, and Mehamed was unable to find a much-needed triple up with pocket queens. In the first hand of play on the final table, Andres Roberto Finkelberg was the shortest stack and got it in good with ace-king, but Borquez out-flopped him with ace-jack and he was eliminated.
Peru's Jorge Postigo ended Day 1 with the chip lead and carried it over to the final table. He managed to build his stack up to sit on a third of the chips in play for several levels, and used his stack and position to keep accumulating chips. Tadeo Palomares was the next to go, also unable to build his short stack of chips up. He eventually piled his stack in the middle with ace-three, and was unable to pull ahead of Borquez's ace-ten.
Borquez continued with his hot streak and eliminated Norberto Korn in the next level. He flopped a set of tens on an ace-high board, and managed to get Korn to commit his stack with ace-deuce. Postigo began to pull away from the field, but Manzano was hot on his heels and began to chip up as the day carried on. About an hour of play passed before Postigo eliminated Javier Swett in a classic race. Postigo held ace-king and Swett tabled the smallest pair in the deck - pocket deuces. The board looked fairly safe for Swett, but the dealer peeled an ace on the river and it was all over.
Manzano was chipping up, but eventually lost a big chunk of his stack to Gonzalez a little while after dinner. The board was paired with two jacks on it, and Gonzalez managed to make a full house with pocket threes, with a three on the flop. He shoved his stack on the turn, but Manzano didn't believe his story and he called with two queens. The river was a brick and Manzano was left with very few chips. A short while later, Manzano got his remaining stack in the middle with jack-nine but couldn't pull ahead of Fernandez's ace-king.
The elimination of Manzano meant there were four players left and the tournament was on the direct money bubble. Postigo and Borquez made up the top two stacks, while Gonzalez and Fernandez found themselves at the bottom. Borquez won a big pot from Postigo, getting a full double up after flopping a set of nines on a queen-high board. The turn was another queen, and the two players got their money in on the river. Postigo did not show his hand, and Borquez got a full double up through the chip leader. Postigo found himself at the bottom of the pack after holding the chip lead since the end of Day 1.
The bubble burst shortly after Borquez claimed the chip lead, and it was Postigo who would be the one to leave empty-handed. He held jack-high and was unable to catch up to Borquez's ace-high. Gonzalez, Fernandez and Borquez were all in the money and were guaranteed to take home $8,470 for a min-cash.
About an hour of play passed before Fernandez chipped up enough to claim the chip lead for the first time in the tournament. Shortly after, he eliminated his fellow countryman, Gonzalez, on the winning end of a cooler. Fernandez held two queens while Gonzalez held two jacks. Fernandez flopped a set and Gonzalez collected his payout.
Fernandez continued to build on his lead as the night started to approach the end of the last level, and even had more than two-third of the chips in play at one point. Borquez battled back, and Fernandez bagged a slight chip lead to end the day, resulting in a win early in Day 3.
Main Event Starts Today
While the High Roller has wrapped up, the $500,000 guaranteed Main Event is already underway with over 90 entries so far. Keep following along as PokerNews continues with the live updates throughout the rest of the Festival!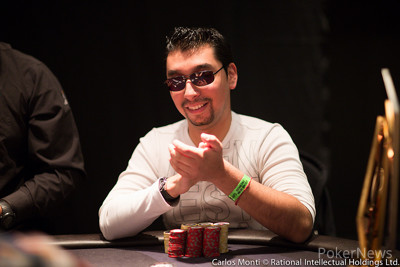 Rodrigo Borquez was on the button and raised to 26,000. Leo Fernandez three-bet to 80,000, and Borquez quickly moved all in. Fernandez snap-called.
In just the fourth hand of the day, the remaining two players found themselves in a classic race, with Fernandez holding


and Borquez tabling


.
The flop came



, and Fernandez took the lead with top two pair, aces and kings. Borquez needed one of the two remaining threes in the deck to stay alive and take a commanding lead, as he was the player at risk.
The turn was the

, and the river was the

. Top two pair was good for Fernandez, and Borquez finished as the runner up in the PokerStars Festival Chile $3,300 High Roller, taking home $13,960 for his impressive run.
Fernandez is the winner, pocketing $20,950 for his finish today. A full recap of the event will be available later today.
| | | | | | |
| --- | --- | --- | --- | --- | --- |
| Leo Fernandez | | | | 750,000 | 340,000 |
| Rodrigo Borquez | | | | Busted | |
Hand 1: Leo Fernandez limped in on the button, and Rodrigo Borquez checked his option. The flop was



, and Borquez bet 11,000. Fernandez called. The turn was the

, and Borquez bet 19,000 this time. Fernandez called again. The river was the

and both players checked. Each of them held a ten in their hand, but Fernandez's kicker was a deuce and Borquez's was a three, so they chopped it up.
Hand 2: Borquez raised to 25,000 on the button, and Fernandez three-bet to 60,000. Borquez thought for a moment and opted to fold.
Hand 3: Fernandez limped in on the button, Borquez raised it up to 37,000 and Fernandez folded.
Fernandez has chipped up a little bit, but play has been fairly even thus far.
| | | | | | |
| --- | --- | --- | --- | --- | --- |
| Leo Fernandez | | | | 410,000 | 22,000 |
| Rodrigo Borquez | | | | 340,000 | -22,000 |
Team PokerStars Pro, Leo Fernandez, and Chile's Rodrigo Borquez have begun their heads-up battle.
Cards are in the air, and play will conclude today once a winner is crowned.
| | | | | | |
| --- | --- | --- | --- | --- | --- |
| Leo Fernandez | | | | 388,000 | |
| Rodrigo Borquez | | | | 362,000 | |
Level:

19
Blinds:

5,000/10,000
Ante:

1,000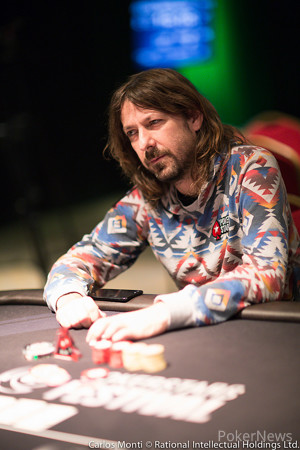 Team PokerStars Pro, Leo Fernandez, leads the final two in the $3,300 PokerStars Festival Chile High Roller at Casino Enjoy Viña del Mar. Day 3 begins at noon local time, and will conclude once a winner is crowned.
Chile's Rodrigo Borquez is the second player in contention for the title, and the race is close. Fernandez starts the day with 388,000 chips, while Borquez is right behind him with 362,000.
After two full days and 18 levels of play, it all comes down to this final day of competition. The winner will take home the title, the elusive gold PokerStars High Roller trophy, and $20,950. While there can only be one winner, the runner-up will have to settle for a payout of $13,960.
This event attracted a total of 15 entries, and is paying out three spots. Third place went to Argentinian rugby star, Lucas Gonzalez, earning himself $8,740 for a min-cash.
Play starts at Level 19, and blinds will begin at 5,000/10,000 with a 1,000 ante. As usual, there will be a 20-minute break every two hours, and an 80-minute dinner break is scheduled at the end of six levels if necessary.
A full recap will be posted once a winner is crowned, and the PokerNews team will continue with the live updates until then.
| | | | | | |
| --- | --- | --- | --- | --- | --- |
| Leo Fernandez | | | | 388,000 | |
| Rodrigo Borquez | | | | 362,000 | |
$3,300 High Roller
Day 3 started