Main Event
Day 2 completed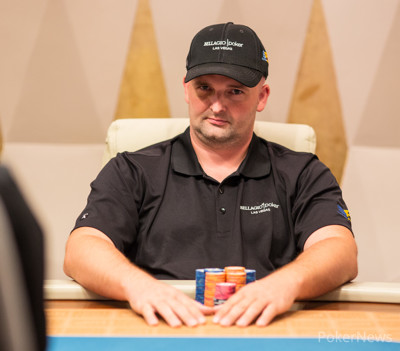 The final table of the 2017 PokerNews Cup Rozvadov €250 Main Event is set, as just eight players out of an 617-entry strong field remain in contention for the lion's share of the €200,000 guaranteed prize pool at the King's Casino in Rozvadov. Among the hopefuls is also defending champion Timur Caglan, who may become the first player to win two PokerNews Cup Main Events in the 12th edition.
Holger Bansner leads the final table line-up with 4,025,000, followed by Timur Caglan (3,405,000) and Daniel Novak (2,930,000). Benjamin Benoit, who finished 3rd in the partypoker German Poker Championships €5,300 High Roller a few days ago at the very same venue, will return with 2,855,000. The other finalists include Jörg Kunz (1,570,000), JOBBI (1,470,000), Jens Steuber (1,060,000) and Willem de Jong (1,055,000). All finalists have €3,933 locked up for their efforts, but all eyes are set on the trophy and payday of €36,385 that comes along with it.
Among those to bust in the money on Day 2 were the King's Casino regulars chiKKita banAAna (82nd for €589), Roman Cieslik (77th for €589) and Philipp Zukernik (72nd for €589), as well as David Taborsky (66th for €665), Martin Kabrhel (64th for €665), Day 1d chip leader Waldemar Kopyl (48th for €741), Marek Blasko (47th for €741), Day 1b chip leader Paulius Katinas (43rd for €741), Sebastian Langrock (33rd for €855), Cenk Oguz (27th for €1,121), Day 1c chip leader Markus Fritsche (24th for €1,121), Vytautas Milbutas (19th for €1,482), Karol Radomski (15th for €1,862) and Tezer Cetindag (14th for €1,862).
Final Table Seat Assignments
| Seat | Player | Country | Chip Count | Big Blinds |
| --- | --- | --- | --- | --- |
| 1 | Holger Bansner | Germany | 4,025,000 | 67 |
| 2 | JOBBI | Germany | 1,470,000 | 25 |
| 3 | Jörg Kunz | Germany | 1,570,000 | 26 |
| 4 | Willem de Jong | Netherlands | 1,055,000 | 18 |
| 5 | Benjamin Benoit | France | 2,855,000 | 48 |
| 6 | Timur Caglan | Germany | 3,405,000 | 57 |
| 7 | Jens Steuber | Germany | 1,060,000 | 18 |
| 8 | Daniel Novak | Slovakia | 2,930,000 | 49 |
Day 2 Action
After four starting days, a total of 114 players advanced to Day 2. Two players had bagged in two flights and carried over their bigger stack and the first goal of the day was the min-cash. Only the top 87 spots earned at least €589 and among those to bust before that were Vadim Taller, Michal Riczak, Ronald Van De Linde and Yordy Bakker. Action Man was crowned as bubble boy in the second level of the day when his pocket tens were unable to hold up against the jack-five suited of Barrelnbink.
What followed was a plethora of casualties in quick succession and many of those seat open were caused by Bariskaan Cinitas, who became the first chip millionaire of the tournament. Czech poker pros David Taborsky and Martin Kabrhel were eliminated just a few minutes apart, with Kabrhel standing no chance with pocket nines versus pocket aces. Marek Blasko was sent to the rail with pocket fives versus pocket tens and it was no other than Cinitas who immediately flopped top set to leave Blasko empty-handed.
However, the run-good of Bariskaan Cinitas came to a crashing end in 29th place. After losing several showdowns, he failed to crack the pocket aces of eventual end-of-day chip leader Holger Bansner with king-queen suited despite picking up a straight and flush draw. Cinitas bowed out soon after against Bansner and the last three tables were set with the elimination of TonyBet qualifier Dmytro Nesin.
Start-of-the-day chip leader Vytautas Milbutas had to settle for 19th place after getting short and losing a flip with pocket jacks against the ace-king of fellow Lithuanian Arnas Vaškevicius. Karol Radomski and Tezer Cetindag were eliminated in 15th respectively 14th place and the all in showdowns kept coming within minutes from each other. JOBBI went from chip leader to bottom stack and back into the lead in just half an hour and Benjamin Benoit was also very active at the same table.
Bertram Bechtold missed out on the last table when he failed to get there with pocket sevens against the pocket tens of Holger Bansner and the field was reduced to the last nine. Defending champion Timur Caglan was among the shortest stacks but doubled up twice. Ultimately, it was Alexander Weel that became the last casualty of the night. The Dutchman three-bet shoved with pocket eights and initial raiser Daniel Novak called with jack-five suited to spike a miracle jack on the river.
The action will resume on August 21st 2017 as of 3 p.m. local time with 18:58 left in level 27 at blinds of 30,000/60,000 with a running ante of 10,000, a live stream on security delay of half an hour will be available on the Twitch channel of the King's Casino and the PokerNews updates will be published accordingly.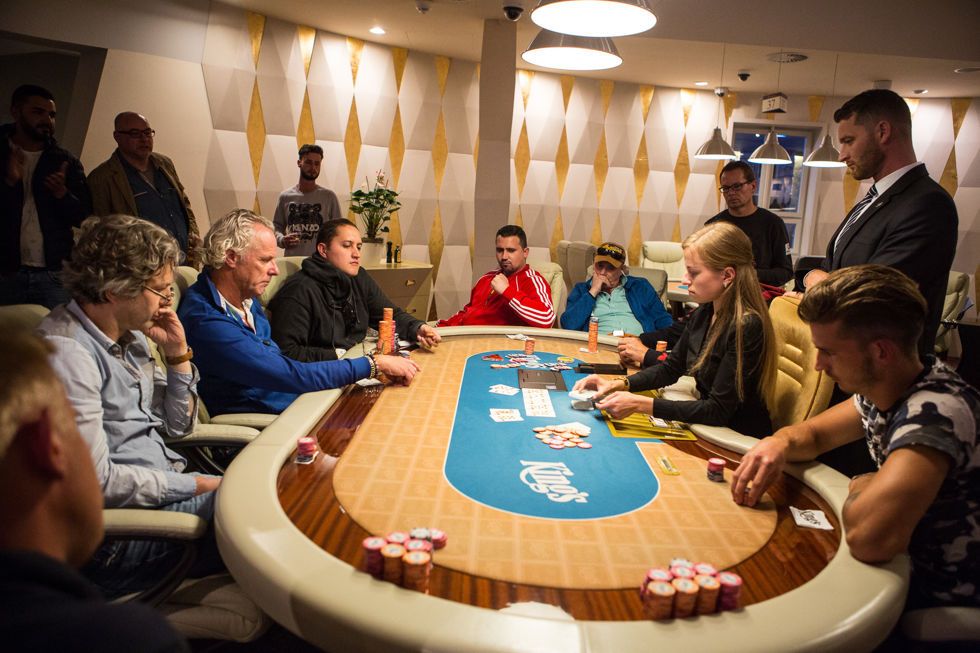 A full recap of today's action is to follow.
| | | | | | |
| --- | --- | --- | --- | --- | --- |
| Holger Bansner | | | | 4,025,000 | |
| Timur Caglan | | | | 3,405,000 | |
| Daniel Novak | | | | 2,930,000 | |
| Benjamin Benoit | | | | 2,855,000 | |
| Jörg Kunz | | | | 1,570,000 | |
| JOBBI | | | | 1,470,000 | |
| Jens Steuber | | | | 1,060,000 | |
| Willem de Jong | | | | 1,055,000 | |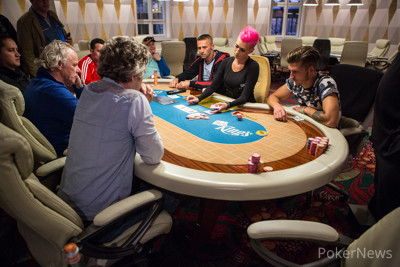 Daniel Novak raised to 200,000 and Alexander Weel three-bet all in for 790,000 from one seat over. Once the action was back on Novak, he tossed in the additional chips and the cards were turned over.
Alexander Weel:



Daniel Novak:


Players at the table gasped upon showdown and saw the board run out





and some joked "wow that's PokerStars" while a depleted Weel stood up from his chair. The Dutchman was eliminated in 9th place for €3,097 and all remaining eight players bag up for tonight. They will return tomorrow Monday August 21st 2017 at 3 p.m. local time and the final table will be streamed on King's Casino Twitch channel.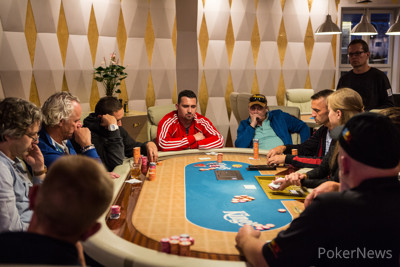 There was a dealer change and the first hand after saw a raise to 130,000 by JOBBI. Timur Caglan three-bet to 405,000 from the cutoff and JOBBI then announced a four-bet to two million. Caglan called all in for less and the cards were turned over.
Timur Caglan:



JOBBI:


"I haven't won a hand with her," JOBBI said, referring to the dealer. Caglan stood up from his seat and saw the flop fall



. On the

turn, JOBBI added "but now ..." while Caglan shook his head and sat back down. A blank

river completed the board and Caglan scored the second double in quick succession, worth 1,470,000 this time.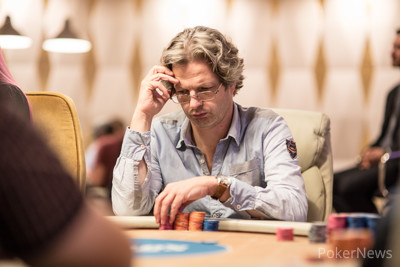 The action folded all the way to JOBBI in the small blind and he simply raised to one million. Jörg Kunz in the big blind called all in for less and the cards were tabled.
Jörg Kunz:



JOBBI:


The board of





ensured that the kicker played and Kunz doubled.
Timur Caglan was all in and at risk for 730,000 and Daniel Novak called from one seat over after getting a count.
"No worries, it will come," Caglan said over his rail before the showdown kicked off.
Timur Caglan:



Daniel Novak:


The predication of Caglan would turn out to be correct, as the board ran out





. Caglan pumped his fist in celebration and was even in chips with Novak once all was done and dusted.
Level:

27
Blinds:

30,000/60,000
Ante:

10,000
The remaining few minutes of the level brought the shove of Jens Steuber, who claimed the blinds and antes.
JOBBI won a pot post flop before Holger Bansner raised to 125,000 on the button. JOBBI three-bet to 400,000 in the small blind and Bansner four-bet all in to force a fold.
Last but not least, defending champion Timur Caglan was all in without receiving a call.
| Seat | Player | Country | Chip Count | Big Blinds |
| --- | --- | --- | --- | --- |
| 1 | Alexander Weel | Netherlands | 1,050,000 | 21 |
| 2 | Holger Bansner | Germany | 4,060,000 | 81 |
| 3 | JOBBI | Germany | 4,230,000 | 85 |
| 4 | Jörg Kunz | Germany | 900,000 | 18 |
| 5 | Willem de Jong | Netherlands | 1,200,000 | 24 |
| 6 | Benjamin Benoit | France | 2,900,000 | 58 |
| 7 | Timur Caglan | Germany | 900,000 | 18 |
| 8 | Jens Steuber | Germany | 900,000 | 18 |
| 9 | Daniel Novak | Slovakia | 2,200,000 | 44 |
| | | | | | |
| --- | --- | --- | --- | --- | --- |
| JOBBI | | | | 4,230,000 | 280,000 |
| Holger Bansner | | | | 4,060,000 | 60,000 |
| Benjamin Benoit | | | | 2,900,000 | 500,000 |
| Daniel Novak | | | | 2,200,000 | -200,000 |
| Willem de Jong | | | | 1,200,000 | 100,000 |
| Alexander Weel | | | | 1,050,000 | -850,000 |
| Jörg Kunz | | | | 900,000 | -150,000 |
| Timur Caglan | | | | 900,000 | |
| Jens Steuber | | | | 900,000 | -200,000 |