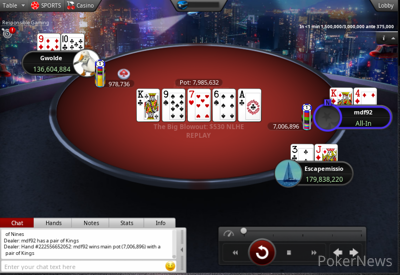 "Gwolde" limped in from the button and Mathias "mdf92" Duarte called for the 2,010,632 he had left in the small blind while "Escapemissio" opted to check their big blind.
The two players checked through the whole





board. "Escapemissio" tabled the


for "Gwolde" to show they held the


for the pair of nines and side pot but Duarte tripled up with the


for the pair of kings.
| | | | | | |
| --- | --- | --- | --- | --- | --- |
| Escapemissio | | | | 179,838,220 | -2,825,000 |
| Gwolde | | | | 136,604,884 | -1,846,264 |
| Mathias "mdf92" Duarte | | | | 7,006,896 | 4,671,264 |