32 player survived the first day of the inaugural €50,000 buy in Super High Roller in Prague yesterday, but there were more players seated at the start of the second day. Fedor Holz (third bullet) and Timothy Adams (second bullet) reentered, while Spain's Pablo Fernandez entered for the first time.
Team PokerStars Pro Jason Mercier was the first to go when he ran ace-king into Brian Roberts' aces. The 2 Months 2 Million star catapulted to a 1 million stack, taking the lead in the tournament. Joni Sointula, Mike McDonald and Joao Vieira followed shortly after. The extra €150,000 in the prize pool supplied by the late additions wouldn't find a way back into their pockets either. Holz, Adams and Fernandez all busted well before the money. Adams was at one point down to 4,000, made a miraculeus comeback to over half a million, but busted a bit later anyway. David Peters was the next with his head on the chopping block. He pushed his last couple of big blinds in with ace-seven and found Stephen Chidwick calling with sixes. The sixes held and Peters headed to the exit.
There were three way all-ins, there were double knock outs (Ole Schemion and Steve O'Dwyer to Martin Jacobson), and there were bad beats. Christoph Vogelsang and Mustapha Kanit for example got their chips in before the flop. Vogelsang with his eights flopped a set while Kanit flopped top pair with his ace-king. Kanit could have already begun looking for the necessary chips to hand over, if it wasn't for running kings to send Vogelsang home.
Micah Raskin's bust out wasn't pretty either. He lost all of his chips with kings to Leonid Markin's tens in a 1.4 million preflop all-in pot. A ten on the flop gave Raskin the whole afternoon off in Prague. Markin was gathering chips left and right and his bigger raises preflop and smaller three-bets had the desired effect; he was some sort of chip magnet on the second day of the Super High Roller.
One of the biggest pots of the tournament was between Brian Roberts and Vladimir Troyanovskiy. Roberts bet big all in with a rivered top pair in a battle of the blinds. Troyanovskiy held two pair though and called. Roberts fell back lots and the two million pot went to his neighbor. Troyanovskiy eliminated Tobias Reinkemeier with kings to jacks a short time later and added another half a million to his stack.
The initial plan for the day was to play down to eight players, but as the prize pool consisted of seven paid spots this was changed and play would continue until the final seven was set. With several shorties on the unofficial final table of nine, play was slow.
Markin wasn't about to relinquish his chip lead as he did something remarkable with nine players left. Kanit open-shoved his remaining 74,000 in before the flop from middle position. Action folded to Markin in the big blind, and everyone expected him to call as it was just 44,000 more. He folded instead and preserved his large stack.
Roberts, second to last in chips at this point, raised an eyebrow and voiced his concerns about the controversial decision by Markin. The floor came over and Roberts explained that he found it remarkable that Markin folded for just 1.5 big blinds more, though he added that he didn't really think that Markin and Kanit were friends or anything. The floor didn't hand out any penalties in the end, saying Markin was in his right to fold in the spot. Chidwick in the one seat thought out loud that one of the reasons someone in Markin's spot could fold would be to be able to keep the pressure on the entire table with a shorty like Kanit still in.
"Anyway guys, I had six-four," said Markin with a kind of puzzled look on his face. The dealer continued to deal and the nine remaining players were off to the next hand.
Kanit survived that hand, but would fall not much later. He pushed with king-nine and got looked up by Juha Helppi, whose king-queen held up.
With eight players remaining the official final table was formed. Just one more player had to fall before the chips could go back into the bags. It would be Jacobson, the World Series of Poker Main Event champion, busting out in the last spot empty handed. Jacobson pushed his last nine big blinds from the button over Ivan Soshnikov's min raise. Soshnikov called with fours and Jacobson tabled ace-king. Two aces on the flop gave Jacobson the lead, but the four on the turn was catastrophic for the Swedish WSOP champion and two-time EPT runner up. The five on the river was a blank and Jacobson officially bubbled the Super High Roller.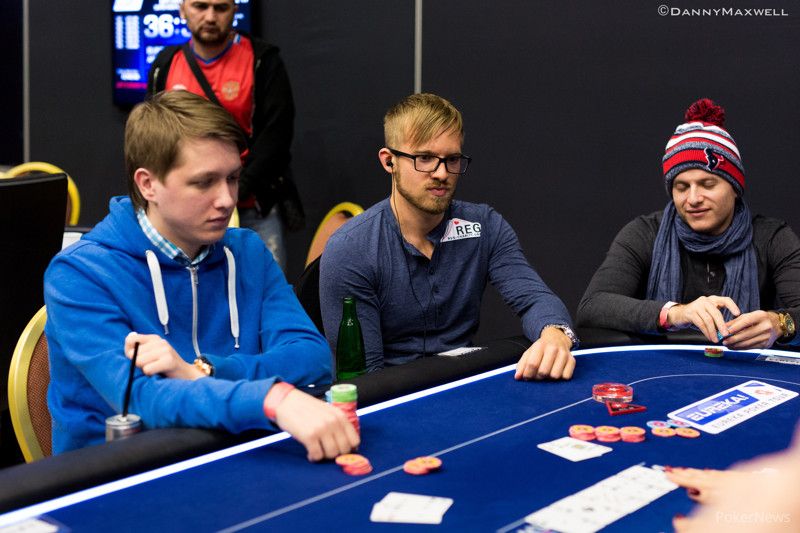 Leonid Markin leads the final seven players. Markin, who started out as the chip leader in the £10,000 High Roller back in October in London as well (4th for £145,800), had some unconventional moves on the second day here in Prague, but it worked out just fine for him. Vladimir Troyanovskiy, runner up in 2013 PCA's High Roller, is a close second. Helppi, who qualified for this event for €5,000, is in third. Roberts is the short stack with just shy of seven big blinds to start the final day. None of the players still in reentered, so they all make at least €78,565 as a seventh place finish nets €128,565.
| Seat | Player | Chip Count | Big Blinds |
| --- | --- | --- | --- |
| 1 | Stephen Chidwick | 660,000 | 16.5 |
| 2 | Paul Newey | 1,510,000 | 37.8 |
| 3 | Juha Helppi | 2,030,000 | 50.8 |
| 4 | Ivan Soshnikov | 1,925,000 | 48.1 |
| 6 | Brian Roberts | 275,000 | 6.9 |
| 7 | Leonid Markin | 3,350,000 | 83.8 |
| 8 | Vladimir Troyanovskiy | 3,000,000 | 75 |
There are 36 minutes and 16 seconds left in level 17 (20,000/40,000 with 5,000 ante). Players return at noon to battle it out for the following prizes:
| Position | Prize |
| --- | --- |
| 1 | €771,360 |
| 2 | €557,090 |
| 3 | €355,070 |
| 4 | €269,360 |
| 5 | €208,150 |
| 6 | €159,170 |
| 7 | €128,565 |
Check out the video Remko Rinkema did with Paul Newey after play finished, as they talked about his day and potential at tomorrow's final table.