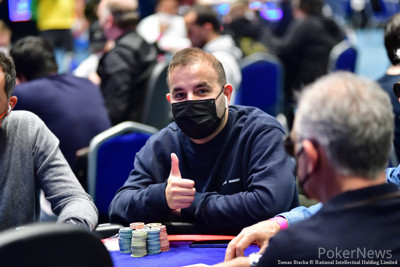 With a giant pot of near 600,000 in the middle and a full board of





, Adolphe Weinberg bet 125,000 and Kayhan Mokri shoved from the next seat over for 373,000.
Weinberg went into the tank and talked out all of the possibilities. He seemed to zero in on the chance that his opponent was holding


, and eventually he got away from it.
Mokri smiled and dragged the pot, showing only

.
| | | | | | |
| --- | --- | --- | --- | --- | --- |
| Kayhan Mokri | | | | 1,030,000 | 130,000 |
| Adolphe Weinberg | | | | 810,000 | 313,000 |