Level:

20
Blinds:

5,000/10,000
Ante:

1,000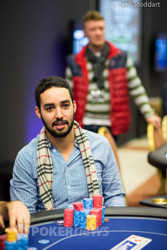 Hello and welcome to Day 4 of the PokerStars.net European Poker Tour Prague Main Event.
At 12:00CET the 55 players who have managed to navigate their way through three days of intense poker action, will sit down in the vast Hilton Prague Hotel tournament area and battle it out at the felt for a place in the final 24.
Leading the way going into Day 4 is Swedish pro Ramzi Jelassi, who is one of three players to begin the day with a seven-figure chip stack. Jelassi's 1,238,000 stack keeps him narrowly ahead of Sotirios Koutoupas's 1,049,000 chips and the United Kingdom's Christopher Brammer (1,021,000 chips).
Joining the aforementioned players are a selection of familiar faces well-known names. These include the Team PokerStars Pro Johnny Lodden (456,000), "Big" Roger Hairabedian (173,000), American Todd Terry (138,000), Manuel Bevand (522,000) and Mark "dipthrong" Herm (916,000).
Join the PokerNews Live Reporting team from 12:00CET for all of the action, as it happens, from the EPT Prague Main Event.
| Table | Seat | Player | Chips |
| --- | --- | --- | --- |
| 1 | 1 | Mariusz Klosinski | 218,000 |
| 1 | 2 | Maksim Semisoshenko | 233,000 |
| 1 | 3 | Marian Kulifaj | 278,000 |
| 1 | 4 | Ben Warrington | 545,000 |
| 1 | 5 | Roger Hairabedian | 173,000 |
| 1 | 6 | Sotirios Koutoupas | 1,049,000 |
| 1 | 7 | Todd Terry | 138,000 |
| 1 | 8 | Dominik Paus | 531,000 |
| | | | |
| 2 | 1 | Roberto Romanello | 278,000 |
| 2 | 2 | Eros Nastasi | 364,000 |
| 2 | 3 | Iosif Beskrovnyy | 601,000 |
| 2 | 4 | Glen Cymbaluk | 791,000 |
| 2 | 5 | Aleh Plauski | 807,000 |
| 2 | 6 | Jonathan Khalifa | 486,000 |
| 2 | 7 | Mads Amot | 895,000 |
| 2 | 8 | Johnny Lodden | 456,000 |
| | | | |
| 3 | 1 | Jonathon Driscoll | 219,000 |
| 3 | 2 | Martin Mulsow | 538,000 |
| 3 | 3 | Eddie Tasbas | 314,000 |
| 3 | 4 | Enver Khvitia | 409,000 |
| 3 | 5 | Jeff Sarwer | 963,000 |
| 3 | 6 | Dany Parlafes | 950,000 |
| 3 | 7 | Sergey Kuzminskiy | 310,000 |
| 3 | 8 | Marius Pospiech | 217,000 |
| | | | |
| 4 | 1 | Denys Drobyna | 378,000 |
| 4 | 2 | Marco Leonzio | 125,000 |
| 4 | 3 | Ramzi Jelassi | 1,238,000 |
| 4 | 4 | Robert Peltecci | 362,000 |
| 4 | 5 | Danilo Donnini | 202,000 |
| 4 | 6 | Nicholas Galtos | 262,000 |
| 4 | 7 | Manuel Bevand | 522,000 |
| 4 | 8 | Denis Pisarev | 632,000 |
| | | | |
| 5 | 1 | Mikhail Petrov | 612,000 |
| 5 | 2 | Jose Manuel Nadal Sordo | 138,000 |
| 5 | 3 | Jonas Gutteck | 165,000 |
| 5 | 4 | Jesus Sanchez | 185,000 |
| 5 | 5 | Christopher Brammer | 1,021,000 |
| 5 | 6 | Martin Hanowski | 893,000 |
| 5 | 7 | Andreas Berggren | 845,000 |
| 5 | 8 | Sergio Aido Espina | 374,000 |
| | | | |
| 6 | 1 | Marlek Tatar | 220,000 |
| 6 | 2 | Luca Giovannone | 89,000 |
| 6 | 3 | Diego Gomez Gonzalez | 487,000 |
| 6 | 4 | Jan Suchanek | 310,000 |
| 6 | 5 | Jason Helder | 768,000 |
| 6 | 6 | Jorma Nuutinen | 555,000 |
| 6 | 7 | Radu Catoiu | 358,000 |
| 6 | 8 | Fabrice Soulier | 265,000 |
| | | | |
| 7 | 1 | Robert Kokoska | 304,000 |
| 7 | 2 | Mark Herm | 916,000 |
| 7 | 3 | Enrico Tau | 62,000 |
| 7 | 4 | Ramin Hajiyev | 380,000 |
| 7 | 5 | David Boyaciyan | 500,000 |
| 7 | 6 | Cesar Garcia Dominguez | 313,000 |
| 7 | 7 | Michael Gross | 685,000 |
| 7 | 8 | --empty-- | N/A |
Main Event
Day 4 started