Main Event
Day 1a completed
Lukasz Golczyk

211,600

Mustapha Kanit

Winamax Team Pro

152,200
44,200

[Removed:40]

143,600
7,600

Raul Paez

136,500

Lev Marymsky

133,800
-21,200

Sandor Demjan

121,100

Scott Shelley

119,100

Konstantinos Nanos

111,600

Nick Binger

111,500
-26,500

Nikolay Losev

104,500

Dominykas Karmazinas

100,700

Fernando Salgado

98,700

Ana Marquez

PokerStars Team Pro (Spain)

98,000
71,200

Paul Foltyn

97,300

Walid Bouhabib

95,600

Stanislav Koleno

PokerStars Qualifier

95,400

Sam Grafton

PokerStars Ambassador

95,300

Kevin Vandersmissen

93,100

Carlos Sanchez Vegas

91,900

Roberto Romanello

91,200
26,200

Laurence Houghton

PokerStars Player

89,300

Sean Jazayeri

86,600

Tobias Revenas

PokerStars Passport Qualifier

84,300

Hugo Loureiro

83,800

Tyrone Kerrigan

82,800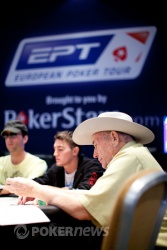 Day 1a of the 2011 PokerStars.com European Poker Tour London Poker Festival Main Event has come to a close after a starting flight of 280 players hit the felt to kick off the action. At the end of the night, under 200 of them remained with the official number coming once all the bags have been tallied.
Leading the charge after an amazing day of poker is Lukasz Golzyt with 211,600 in chips. Some of the other notable big stacks include Mustapha Kanit with 152,200, [Removed:40] with 143,600, Raul Paez with 136,500, Lev Marymsky with 133,800 and Sandor Demjan with 121,100.
With a hefty field coming out for this first day of play, we unfortunately lost some important players to the game. John Duthie, Guillaume Darcourt and Dave "Devil Fish" Ulliott all fell early on while Phil Collins and Xuan Liu hit the rail a bit later in the day.
Of those advancing to Day 2 include Barry Greenstein and the one and only Doyle Brunson, who is here in London for his first-ever EPT event. Jake Cody, Sebastian Ruthenberg, Nick Binger, Darren Elias, Arnaud Mattern, Mickey Petersen and Fatima Moreira De Melo are also moving on.
Day 1b will commence tomorrow at noon. Just like today, the players will play eight levels without a dinner break, but 15-minute breaks coming after every two levels. You can expect the field tomorrow to soar past the 500-player mark in hopes of setting another record here in London. Be sure to head right back to PokerNews for all of the live coverage from the felt.
Play has ended for the night and the players are now bagging and tagging. We'll have a complete recap coming shortly.
The clock has been paused with ten minutes left in the final level and the players will now play three more hands at each table before calling it a night.
Action folded to Xuan Liu in the small blind and she raised all in for 11,675. Philipp Gruissem called from the big blind and turned over the


. Liu held just one overcard with her


.
The flop, turn and river ran out





and Liu headed for the exit.
| | | | | | |
| --- | --- | --- | --- | --- | --- |
| Philipp Gruissem | | | | 68,000 | 8,000 |
| Xuan Liu | | | | Busted | |
Lev Marymsky

155,000

Nick Binger

138,000
13,000

Jeremy Kottler

137,000

[Removed:40]

136,000

Mustapha Kanit

Winamax Team Pro

108,000
-27,000

Marcelo Simonesmesqueu

107,000

Steve Billirakis

90,000
After a player opened to 1,400, action folded over to Barry Greenstein. He three-bet to 4,200 and play folded back to the original raiser. That player looked around the table quickly, then folded the


face up to Greenstein.
Level:

8
Blinds:

300/600
Ante:

75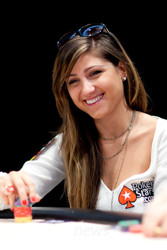 Ana Marquez is up to more than 90,000 in chips after doubling up through Kunimaro Kojo from Japan.
She raised from the hijack seat and was called by both blinds on the way to the



flop. Marquez continued for 3,500 and was check-raised to 9,500 by Kojo after the small blind had folded. Marquez wasn't going to be pushed off her hand though and three-bet to 16,500 and called all-in for 47,450 after she was set in with a four-bet.
Marquez:


for an over-pair
Kojo:


for two-pair
Marquez needed help and she got it as the board ran out


to make her a straight. Kojo was left with around 6,000 chips.