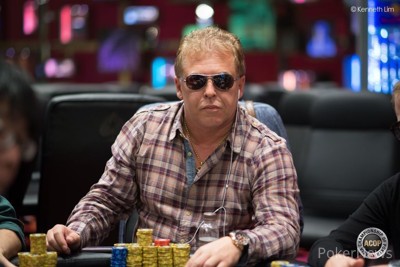 Sunny Jung opened the action for 26,000 and got a call from Ami Barer. Konstantin Pogodin in the cut-off made it 55,000 and when the remaining players folded Jung made a big raise to 205,000. Barer looked like he was a bit puzzled but mucked his cards. Pogodin took some time to think before calling.
It was heads up to the flop of



between the two big stacks. Jung made it 120,000 and Pogodin slid out a raise to 240,000. Jung had a long hard think about what to do before cutting out some chips and raising right back to 410,000. Pogodin checked his stack which was just above 600,000 before declaring all in and Jung instantly mucked his hand.
Pogodin had just won the biggest pot of the tournament and went to the top of the leader board.
| | | | | | |
| --- | --- | --- | --- | --- | --- |
| Konstantin Pogodin | | | | 1,750,000 | 590,000 |
| Sunny Jung | | | | 1,300,000 | -600,000 |