Sponsored by:

XL Spring #8 - $50,000 High Roller
Event Info
| | |
| --- | --- |
| Prize Pool | $50,400 |
| Players | 168 |
Level Info
| | |
| --- | --- |
| Level | 34 |
| Blinds | 22,500 / 45,000 |
| Ante | 5,625 |
Players Info - Day 1
| | |
| --- | --- |
| Players Left | 1 |
| Entries | 168 |
XL Spring #8 - $50,000 High Roller
Day 1 completed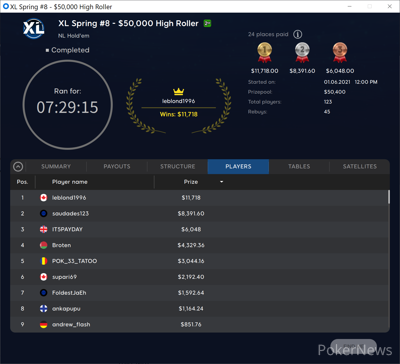 After a short heads-up session, "leblond1996" is the winner of the High Roller event for 2021 XL Spring Series. They made it through the field of 168 entries, made up of 123 unique players and 45 rebuys, to take down the $11,718 top prize. The event just managed to crack the guarantee, with $50,400 in the middle to play for.
"leblond1996" was one of the small stacks coming to the final table, but found a huge spot with jacks to triple up and get into the top three. They chipped up to the lead later after flopping two pair with king-jack against the king-queen of the third-place finisher Adam "IT5PAYDAY" Neal.
They stayed at or near the top of the chip counts from there out. Both "saudades123" and Neal briefly took the lead at various points, but "leblond1996" jumped back into the lead after eliminating "Broten" in fourth and sailed to the win from there.
Final Table Payouts
| Place | Player | Country | Prize |
| --- | --- | --- | --- |
| 1 | leblond1996 | Canada | $11,718 |
| 2 | saudades123 | | $8,392 |
| 3 | Adam "IT5PAYDAY" Neal | United Kingdom | $6,048 |
| 4 | Broten | Belarus | $4,329 |
| 5 | POK_33_TATOO | Romania | $3,044 |
| 6 | supari69 | Canada | $2,192 |
| 7 | FoldestJaEh | | $1,593 |
| 8 | ankapupu | Finland | $1,164 |
| 9 | andrew_flash | Germany | $852 |
The Day's Action
After the three and a half hours of late registration was finished, they just barely managed to break the guarantee with 168 total entries. That meant there was $50,400 in prizes to play for, divided up between 24 players.
Among the players in early action were 888poker ambassadors Vivian "vivi.888." Saliba and Sofia "sofialovgren" Lovgren. Lovgren couldn't put anything together today and busted early, but Saliba managed to survive a few all-ins and put in another deep run. Even when fellow ambassador Dominik "888Dominik" Nitsche jumped in near the end of registration, Saliba was able to be the last ambassador standing once again. She ultimately cashed for $716 in 20th place and was the only ambassador to make the money.
It took about two hours to play down to the money, but less than an hour to make the final table from there. It was Canadian "algsxr" who bubbled the final table when they couldn't get there with a dominated king against "Broten".
The final table started with a bang when "leblond1996" found a huge flop with jacks to crack kings and essentially bust two players in a single hand. "leblond1996" played a trappy game for much of the final table, check-calling for the win in a couple of spots with big hands.
It looked like Neal might take it down at one point, as he led for the early stages of four-handed play. But after "Broten" went out in fourth, Neal fell into a trap when he tried a big river buff and got called by pocket jacks. That spelled the end for the British pro, and set up a heads-up that "leblond1996" dominated.
They were never worse than three to one in chips at any time heads-up, and waited patiently for the spot. It came near the end of the first level of heads-up play when "saudades123" got less than 20 big blinds in with a suited king. "leblond1996" called with ace-five and ended the game with trip fives.
The Canadian won more than $11,700 versus $8,392 for "saudades123" but it's worth noting "leblond1996" indicated they were interested in a deal early on the final table, and offered a deal verbally in chat when play was three-handed. The other two players declined however, and "leblond1996" booked the win.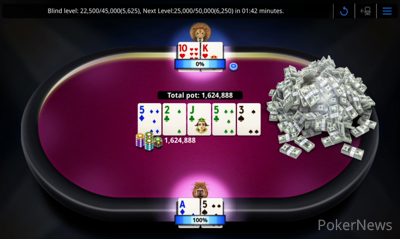 "saudades123" had less thand 20 big blinds, and got them with with


. "leblond1996" called with the big stack and ace-five, and held when they flopped a five and turned another one.
"leblond1996" is in control of this one with a huge led now after taking a pot of more than 600,000 with trip sixes.
Level:

34
Blinds:

22,500/45,000
Ante:

5,625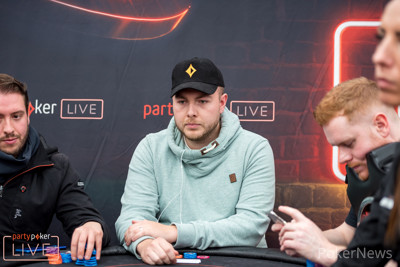 Adam "IT5PAYDAY" Neal put in a huge bluff on the





river with


but "leblond1996" called with jacks and took it down. Neal lost it all a couple hands later getting ace-queen in against the jacks of "leblond1996".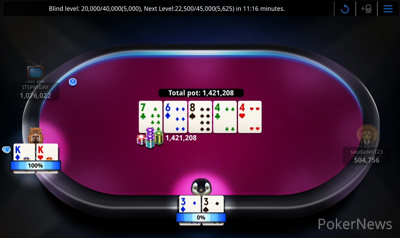 "Broten" got it in with threes, but ran into the kings of "leblond1996" and was left very short. Two hands later, they busted qith queen-ten into the kings of Adam "IT5PAYDAY" Neal.
Level:

33
Blinds:

20,000/40,000
Ante:

5,000
"saudades123" got the short stack in with


against the fives of "leblond1996". "saudades123" flopped a deuce and turned another to stay alive.