Level:

7
Blinds:

300/600
Ante:

75
Three players limped with the blinds 250/500, before Michal Zylo raised to 2,000. The three players all called.
The flop came



and it checked to Zylo in position who bet 3,000. He got one caller.
The turn was the

, and Zylo's opponent checked, while a player who folded on the previous street muttered something in German about jacks. Zylo said nothing and checked back.
The river was the

and again both players checked.
Zylo showed


for two pair, and his opponent checked the board before releasing his cards.
"Were you scared?" his opponent asked in German, but Zylo said nothing. "Make a raise! I would have called!"
| | | | | | |
| --- | --- | --- | --- | --- | --- |
| Michal Zylo | | | | 34,000 | |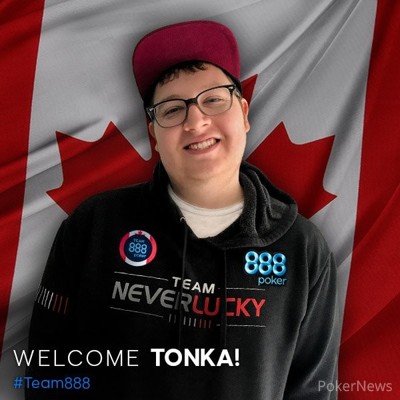 It was announced yesterday that Team888 has a new member - popular Twitch streamer Parker 'tonkaaaap' Talbot. Talbot was already scheduled to appear later this week at the 888Live Festival in Rozvadov to commentate alongside David Tuchman, but this announcement means that he will be streaming action from 888poker at least five days a week, as well as representing the site at their many live events around the globe.
Talbot said that he was a big fan of 888poker, as he plays a large percentage of his online volume there.
"When presented with the opportunity to become an 888poker Ambassador, it became apparent that this could turn into something very exciting!" said Talbot, who has streamed on Twitch and neverlucky.tv for the past 13 months.
Suuuuupppppperrrr excited for the year ahead and happy to join the team! #888poker https://t.co/PHO2dmHdMU

— tonkaaaap (@tonkaaaap)
Level:

6
Blinds:

250/500
Ante:

75
The entire board was dealt:





and Maciej Kondraszuk was sat with 9,000 chips in front of him, with the pot around 11,500. However, there was some question as to whether he had announced his bet of 9,000. The floor was called over and the situation was explained.
Kondraszuk had said 'Nine' only, without putting any chips over the line. However, he argued that earlier when facing a bet of 1,600 he had said 'Four' and that had been interpreted as a raise. The discussion garnered input from several other players, who held differing views of how much the bet should be.
Eventually, the floor ruled that the bet stood at 9,000, but that Kondraszuk would get a warning.
With that settled, the action now fell to his opponent, who eventually called and turned over


for a pair of jacks, but Kondraszuk had him beat with


for a set of eights.
| | | | | | |
| --- | --- | --- | --- | --- | --- |
| Maciej Kondraszuk | | | | 75,000 | |
Level:

5
Blinds:

200/400
Ante:

50
With the board reading [kds6cjdqs], Heinz Novak checked to his opponent who bet 3,500 into a pot of around 10,000.
Novak then raised to 7,500. His opponent thought, cutting out the chips to call, before having the clock called on him.
The floor person came over, and as the clock was ticking down he folded


face up.
"An easy fold," said a player at the table in German.
"It's not an easy fold," came the reply from the player who saw his chips heading towards Novak, who now has more than 80,000 in chips.
| | | | | | |
| --- | --- | --- | --- | --- | --- |
| Heinz Novak | | | | 80,000 | |
Level:

4
Blinds:

150/300
Ante:

50
A player raised to 800 with blinds 150/300 with a 50 ante, and Lubor Klima called from the hijack. The player in the big blind then three-bet to 2,200 and both remaining players called.
The flop was



and it checked to Klima who bet 3,200. The original raiser folded and the single remaining opponent called. The turn was the

and both players checked.
The river was the

and when his opponent checked to him, Klima bet 2,100 and his opponent quickly called.
Klima showed


for trip aces and won the pot.
| | | | | | |
| --- | --- | --- | --- | --- | --- |
| Lubor Klima | | | | 42,000 | |