888Live London Festival Opening Event
Day 1a completed
| | | | | | |
| --- | --- | --- | --- | --- | --- |
| Jamie Spencer | | | | 1,083,000 | 878,000 |
| Paul Bahbout | | | | 489,000 | |
| Abu Hamza Khalek | | | | 476,500 | |
| Kenny Lim | | | | 375,500 | |
| Phi Bang Vo | | | | 344,000 | |
| Domas Juosenas | | | | 291,500 | |
| Minh Tieh | | | | 276,000 | |
| Shaul Ben Yosef | | | | 252,000 | |
| Wayne Leung | | | | 218,500 | |
| Rytis Taujanskas | | | | 206,000 | |
| Ylfer Shevket | | | | 176,000 | |
| Thanh Hoang | | | | 165,000 | |
| Shlomo Dobnov | | | | 155,500 | |
| Eugen Sorin Marcu | | | | 147,000 | |
| Stephen Smith | | | | 145,500 | |
| Keith Ellis | | | | 131,000 | |
| Richard hayes | | | | 112,000 | |
| David Attew | | | | 95,500 | |
| Cristina Ilie | | | | 44,000 | |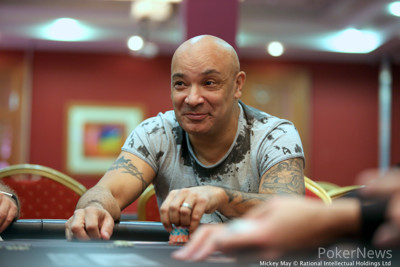 Day 1a of the Opening Event marked the official start of the 888Live London Festival at Aspers Casino heralding 12 days of non-stop poker action from October 5th to 16th.
A huge £650,000 in guaranteed prize pools will be offered over the course of the festival including the £2,200 buy-in High Roller with a £50,000 GTE, and the £1,100 buy-in Main Event with a £400,00 GTE.
Day 1a saw 181 entries comprising 144 unique and 37 re-entries which saw a large and eager crowd turn out for 13 levels of hotly contested poker.
You can see the full schedule of events here.
Look out for poker notables such as Dominik Nitsche, Chris Moorman, Niall Farrell, Ludovic Geilich and James Dempsey likely to make an appearance, while actress and poker player Tiffany Michelle is set to play both the Main Event and the Ladies event,
Action continues tomorrow with another £30 satellite starting at 3 p.m. with Day 1b kicking off at 6 p.m.
The PokerNews Live Reporting team will be on hand once again to keep you up to date with all the festival news.
The remaining players have just one more 40-minute level to play before the survivors can bag up their remaining chips.
Day 1a survivors will join those who make it through Day 1b, Day 1c and Day 1d.
You can click to find the full schedule.
Level:

13
Blinds:

2,000/4,000
Ante:

500
Terry Jordon currently has 550,000 chips and continues to lead with just two other players around the 400,000 mark.
The average is currently 126,279 with 43 players left and Jordon has more than 10 percent of the chips in play.
| | | | | | |
| --- | --- | --- | --- | --- | --- |
| Terry Jordon | | | | 550,000 | 100,000 |
Level:

12
Blinds:

1,600/3,200
Ante:

400
There was an open to 5,500 before it got to Stuart Guthrie who moved all in from the cut-off for 36,500.
Andreea Enache in the big blind asked for a count and moved all in over the top.
The original raiser thought for a while but let it go.
"I only went in because you made it fifty five," Guthrie said and turned over


.
Enache showed


.
A run out of





gave Guthrie a set on the flop and a handy double up and a bit of joking from the other players at the table.
| | | | | | |
| --- | --- | --- | --- | --- | --- |
| Stuart Guthrie | | | | 74,000 | 74,000 |
| Andreea Enache | | | | 65,000 | |
It's been a rollercoaster day for Jim Manlove and his tournament has finally hit the buffers.
Facing off against two opponents he was all in for 32,000 on the turn of a board reading




.
There was action between the two other players and Manlove suspected he was in big trouble. He was.
When the cards were turned, over he showed


but his opponent had him crushed with


.
Seven hours after he had sat down, Manlove was out and unsure at that point if he would be back to fire again. See you tomorrow Jim!
Terry Jordon continues to lead the tournament while one table over, our friend Anon Player has topped the 400k mark and a mystery man in a zipped up anorak is closing in on Jordon.
Three more 40-minute levels to play before they bag and tag.
Jordon joked at the break that he was feeling tired and ready to gamble so anything could happen.
Full names and counts will be made available after they bag up.
| | | | | | |
| --- | --- | --- | --- | --- | --- |
| Terry Jordon | | | | 450,000 | 147,000 |
| Anorak | | | | 420,000 | 420,000 |
| Anon Player | | | | 405,000 | 135,000 |