WSOP Satellite Strategy: 'The Hunt for WSOP is on'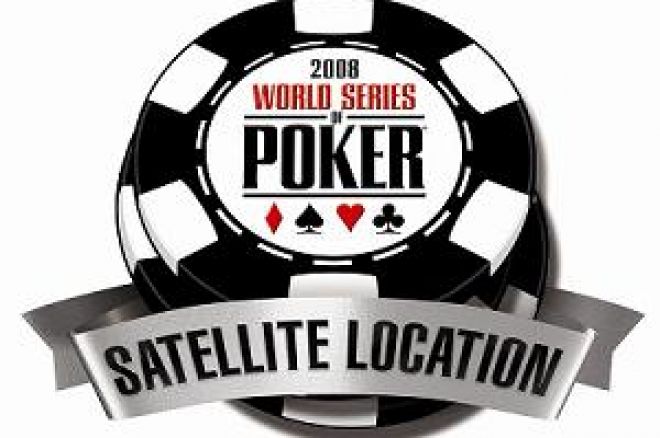 In only a couple of weeks time the entire poker world will be focusing their attention on the Amazon Room of the Rio All Suite Hotel and Casino as the Main Event of the WSOP 2008 kicks off on July 3rd. Many of you are dreaming of taking part in this fantastic event, but don't have the bankroll to afford a direct buy-in. Luckily every online poker room is offering WSOP satellites for this event. As many of you do probably not belong to the small group of players that manage to win 2 tickets a week, I will do my best to try and help you reach your goal of playing in the main event. WSOP satellites are nothing like playing a normal multi-table tournament or sit & go, and as such they require a completely different strategy.
One example of how not to do it.
I was playing a FPP satellite for the Sunday million yesterday and was literally ROFL. This ended quickly when I became the bubble boy after going out in 6th place with 5 tickets up for grabs. What I had to laugh about was the period around the Final Table bubble. 11 players were left and the average stack was about 20k. One of them was a guy (who I immediately added to my buddy list by the way), who was trying to build up some table dominance with his stack of 51k. Usually there would be nothing wrong with that, but as I said before, satellites aren't like normal tournaments. The big difference between a satellite and a regular MTT is that there is no difference in prize structure. A player either wins a ticket, or he wins nothing (except maybe in steps or single table satellites). And this guy was obviously going for first place. As if that is important!! You didn't need to be a pro to know that this guy was going to in every pot. And after he doubled up an average stack you would think that he would slow down a little, but no. He just kept on going until, in the end, all his chips were gone. The only thing I wasn't happy about is that he only doubled me up once. But seriously, this player had the luxury that he could have just sat out for the rest f the tournament and he would've still come 1st or 2nd. Instead he played in a way as if he didn't even want the ticket. As simple as it all might sound sometimes, there's always a couple of players in there that just don't seem to understand the slightest thing of what they're doing. Make use of this fact. Many players who understand the technique make a lot of money by winning numerous satellites in a period before a large live event.
To give you an idea of how many satellites and sub-satellites there are, here is an overview of the cash satellites on PokerStars. Every site has a similar setup. This is just meant to make you aware of the differences between different kinds of satellites, as there are numerous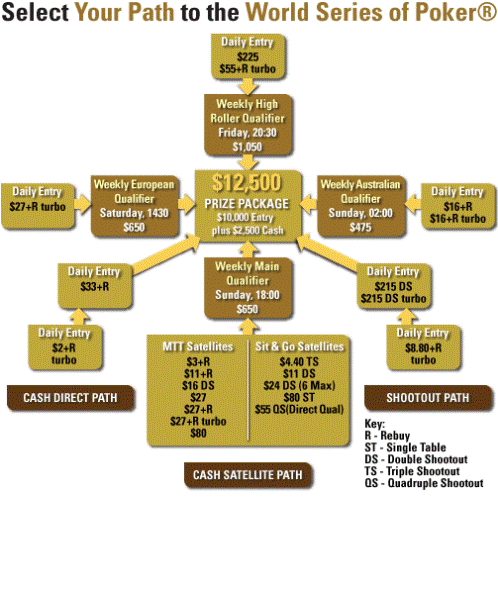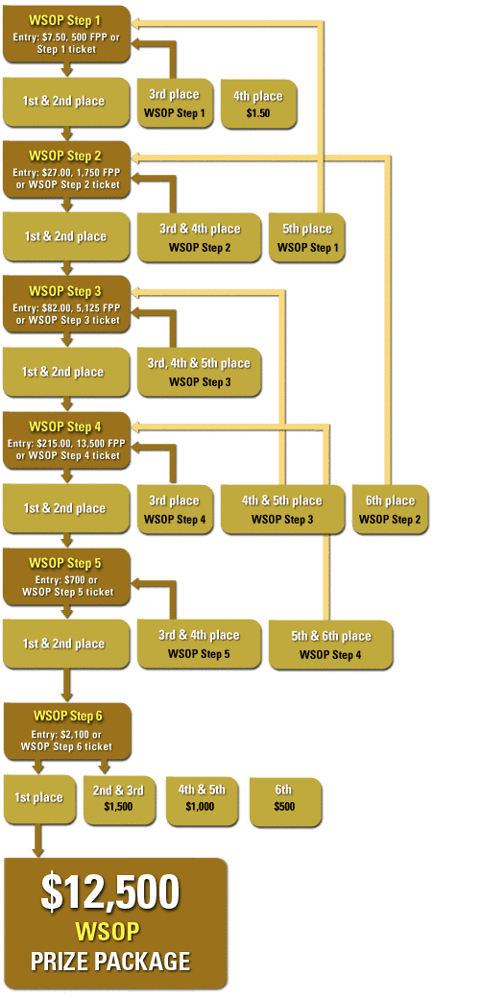 1-table satellites
Lets say your playing a high roller satellite for the WSOP. To simplify the strategy, we'll assume that 10 players are competing for 1 ticket and the rest get nothing.
In order to win, the first thing you need to do is get Heads-Up. You can get there by doubling your stack once. This means you'll be a 4:1 underdog in terms of stack sizes. Although you might be an underdog here, you shouldn't forget that you started the satellite with 10 players, giving you odds of 10:1 on your money, and you now have a chance of 4:1 to win that money. I don't know about you, but I would accept that offer at the start of the satellite. In addition to that you are now Heads-Up with relatively high blinds, so if you mange to double up your stack twice in a row, you'll be the 4:1 favorite. Yes, you can expect an All-In party to take place, and obviously you'll need to be lucky enough to win them. There's not much strategy or skill involved here, with blinds that high you don't really have a choice. But if you can just make it to Heads-Up, you've already come a long way. With step tournaments its not winner takes all but some other places get paid as well. This only works to your advantage. What you have to try and avoid is to start playing backwards poker. Especially with the low buy-in step tournaments you will find that about 80% of all players play backwards poker. With this I mean that many players will limp often and see many flops and will take big risks in order to double up and become the big stack. Of course its always nicer to play a tourney as a big stack, but that shouldn't be your main objective at the start of the game. Your goal is to get Heads-Up, and this you can do by doubling up your stack once. And you don't have to do this at the start of the tournament, u can easily wait until around level 6 before you double up.
Weekly main qualifier: $650 buy-in.
In these satellites about 1 in 25 players win a ticket. They have a good blind structure so there is absolutely no hurry. On average you'll find about 100 players in these satellites, competing for 4 seats. So your aim is to get into the top 4, not to win the tournament. I can't repeat myself often enough, but you will have to adjust your strategy accordingly. There is absolutely no need to take big risks at the beginning. If you're lucky enough to get A-A when your opponent looks down at K-K (and your Aces hold up) then that's fine, but again, this is not your aim. Your goal is to reach the final stage of the tournament, and you can do this simply by stealing blinds every now and then, without even doubling up your stack. Theoretically you could win a ticket without having to move in all of your chips at any point during the tournament.
To clarify this we can use some simple psychology. It's in a player's nature to feel more comfortable dealing with a shortstack than attacking a player who could potentially hurt them. The reason for this is simply that a player feels a sense of security to have an all-in situation without having to put his own tourney life on the line. So, the players who took the risk in the beginning and managed to build up a stack are now looking for shorties to bust. At the same time they will watch out for the average stacks that could harm them. Therefore, your aim should be to not become a shortstack, and as a result become a target of the big stacks. Having an average stack in front of you should be enough to keep you out of trouble.
So, survive by picking up dead money and please don't think about becoming one of the big stacks. You don't win an extra prize for first place; you win exactly the same as the other 3 players who might not even have half your stack in front of them at the end of the tournament. If you manage to grab 4th place with only 2 Big Blinds left in front of you, you're the biggest winner of them all.
The most important thing to focus on, therefore, is to find players that will let you steal their blinds. Try to never, or hardly ever, get into a confrontation with a big stack, unless you have AA or KK of course. There's no need for it. Also make sure to pay attention to the level of aggression at your table. If you see that players are constantly attacking each other, it might be sensible to keep on folding, even if you have an under-average stack, in the hope that the other players will bust each other. Maybe they will even fly out so fast that you can just fold your way into the payout. This is what almost happened to me in the example I gave earlier. It might not have been for a WSOP ticket, but the strategy stays the same. I didn't have to double up and was holding on to an average stack. The fact that I ended up as the bubble boy was more due to the short stacks doubling up 3 times on the bubble with the worst hand every time, so that in the end, I became the short stack. That happens, but if I find myself in the same situation again, I will once again keep on folding until I find a nice spot to pick up some blinds.
Low buy-in satellites.
On various sites you can also play direct satellites for $3 rebuy, which can be compared to the 4000FPP main event Qualifiers on PokerStars. The difference between these qualifiers and the $650 Main Qualifier is the number of tickets that are up for grabs. With these lower buy-in satellites, there will usually be 1 ticket for every 200 players. How does this affect our strategy for the tournament?
Other than with the $650 qualifier, you will just have to be very lucky with these. If you are having one of those good days, its fine to test your luck and take some risks in during the early stages of these tournaments. Try to double up as soon as possible and don't be scared to push all your chips into the middle during the first 2 levels of the tournament. This way you have a better chance of reaching the final stage with a healthy stack, and you can resort to the tactic as described in the $650 Main qualifier.
Finally i would like to wish everyone the best of luck with their attempts to secure a seat for this years WSOP Main Event and who knows, maybe we'll see each other at the tables in Vegas.