WSOP Main Event Decision: With Pocket Kings John Cynn Faces a Four-Bet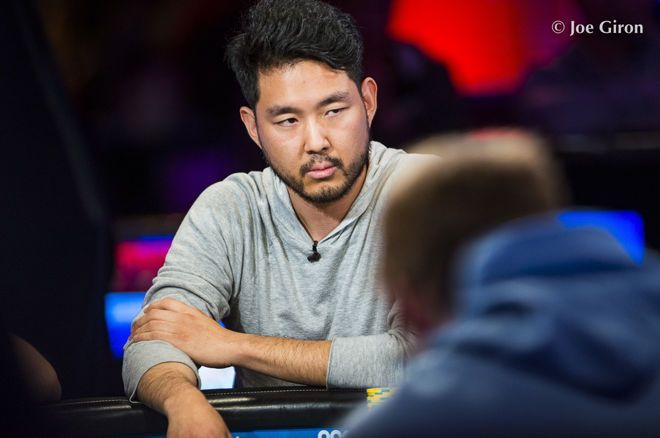 From a larger-than-expected starting field of 7,874 players, the 2018 World Series of Poker Main Event will finally play down to a winner this weekend as poker's most prestigious and pressure-packed tournament at last reaches its conclusion.
There have been a few huge, dramatic all-in hands over recent days involving pocket kings — hands in which the second-best starting hand in hold'em did not fare so well, as it happened.
One came with 10 players left on Wednesday, a three-way all-in involving Nicolas Manion, Antoine Labat, and Yueqi Zhu.
After Manion opened from under the gun with


, Labat flat-called from middle position with


, then Zhu pushed all in from the hijack seat holding


. It folded back to Manion who jammed all in over the top, and Labat — who had both players covered — had to think a bit before calling as well.
Manion's aces held up to knock Zhu out in 10th and leave Labat short-stacked, and genuine debate followed over whether or not Labat might have found a fold in that spot.
Then last night kings failed Labat once again as he got all in with


versus Artem Metalidi's


, but a queen came on board and Labat fell in ninth.
Back on Day 7, there were 15 players left when John Cynn found himself having been dealt


.
Cynn, who finished 11th in the 2016 WSOP Main Event and was edging close to bettering that feat, watched Ryan Phan open for 900,000 (a little over 2x) from under the gun, and from a couple of seats over Cynn three-bet to 2.6 million. Phan had begun the hand with a little under 24 million, while Cynn started with around 40 million.
The action back on Phan, he deliberated a bit before four-betting to 7 million. What was Cynn thinking when he saw that?
Cynn spoke with PokerNews' Sarah Herring about the situation, and how his first thought when seeing Phan's four-bet wasn't necessarily a pleasant one.
"At this point, I'm kind of just thinking maybe my run good is coming to an end," Cynn chuckled.
Cynn did manage to reraise back, though, five-betting to 13.5 million, and earned a fold from Phan who had been making a move with


. Listen to Phan talk more about the spot:
It's worth noting how Cynn took well over a minute to act after Phan's four-bet, during which time Maria Ho commended Cynn in her commentary on PokerGO.
"I would not mind if Cynn took a little bit of time for his action," said Ho. "You have to sell it. Every pot is so important, and if your opponent has a hand that you can possibly get it in with, you don't want to give away the strength [of your hand]."
Phan ultimately went out in 11th — the same spot Cynn finished in 2016 — for a $725,000 payday.
Meanwhile Cynn went on to win the Main Event for a massive $8.8 million score.