WSOP Colossus Champ Ben Keeline Shares Tips for Playing 'The BIG 50'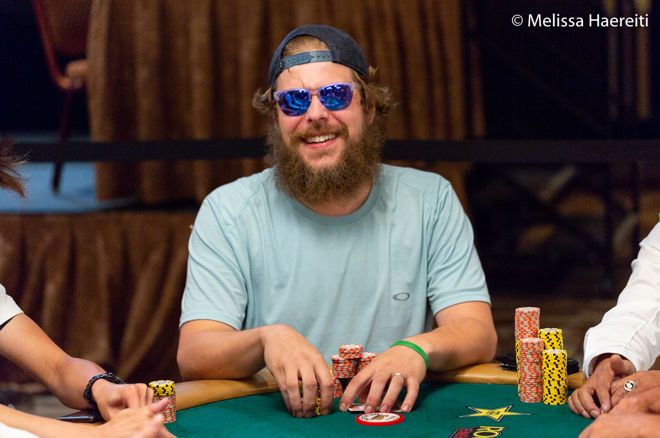 In 1982, Jack "Treetop" Straus was down to a single 500 chip in the World Series of Poker Main Event before making an improbable comeback to win the title, giving rise to the iconic phrase "chip and a chair." Straus' victory was the shining example of why players should never give up in a poker tournament, no matter how dire circumstances might seem.
At the 2016 WSOP, a modern version of this tale occurred in one of the largest events in poker history. Near the end of Day 1 of the massive $565 Colossus II No-Limit Hold'em event, then 30-year-old player Ben Keeline was also down to one, lonely 500 chip at a point when the antes were 500 and blinds 1,500/3,000.
After a few fortunate all-ins, Keeline spun his chips back up to a workable stack, then amazingly went on to win the event and the $1,000,000 first prize. It was the second largest tournament in WSOP history with 21,613 entries, nearly matching the previous year's inaugural Colossus which drew 22,374 entries.
As the 50th WSOP begins this week, one of the mammoth events that will kick off the series will be The BIG 50. This bracelet event has only a $500 buy-in with four initial flights, a $5 million guaranteed prize pool, and $1 million guaranteed to the winner.
The first of the four Day 1 flights is this Thursday, May 30 and they'll run through Sunday, June 2. This tournament is expected to have a massive turnout and could potentially break the all-time record.
For those preparing to play The BIG 50, I sought out Keeline to gather advice from someone who has managed to take down one of these huge-field, low buy-in events at the WSOP.
PokerNews: Thanks for taking the time to give your words of wisdom to players about to play The BIG 50 bracelet event this summer.
Ben Keeline: No problem. Happy to help and answer any questions.
The field size of The BIG 50 is predicted to be similar to the first couple of Colossus events. Having played and won a Colossus previously, what advice would you give players who plan to play The BIG 50?
Look at [table] breaks as a positive and recognize that the more table breaks you are involved in, the deeper you are getting in the event.
With regards to the play, go with the flow. I see a lot of amateurs getting aggravated when their table breaks. Sometimes, they are involved with multiple breaks throughout the day.
I would advise these players to look at these breaks as a positive and recognize that the more table breaks you are involved in, the deeper you are getting in the event. With that in mind, you should hope to be a part of as many as possible. This mindset should help eliminate any frustrations that may build up.
When you won Colossus in 2016, players began with 5,000 chips or 100 big blinds. In The BIG 50, players will start with 50,000 or 250 BBs. The levels will also be longer (50 minutes vs. the half-hour levels in the Colossus). How should these differences affect players' approach to The BIG 50?
One thing that I've noticed over the years is that when players get more starting chips, they are more willing to put more chips in the pot. People tend to splash around more and unnecessarily waste chips.
Don't fall into this trap as your chips are just as valuable, even if you have more than you are used to. You don't need to go crazy early and try to accumulate chips. The BIG 50 will definitely be a marathon, not a sprint, especially with 50-minute levels throughout the tournament.
Since this is an event that allows multiple re-entries, do you have any advice on a re-entry strategy?
First, you need to decide how many bullets you are willing to fire or able to afford. In 2016, I was willing to fire two bullets in total.
With regards to play, I don't modify my strategy based on whether the tournament is a rebuy or a freezeout. I just try to do what is most effective in the current hand situation. However, you do have to recognize that other playerss are often willing to gamble.
When I play these massive field events, I notice many amateurs focusing on things that they can't control such as players with massive stacks at other tables. Is there anything that you have noticed that amateurs overemphasize?
One thing I would tell many amateurs is to disregard average stack size. Understand the value of how many big blinds you have. Tournaments like the Colossus and The BIG 50 can easily have a deep average stack like 70 to 80 big blinds.
Some players begin to panic when they have 30 to 40 big blinds. They see the average stack size and feel short-stacked. But in reality, they have plenty of maneuverability and are just one double-up away from becoming an average stack. If you have been playing a 30 to 40 big blind stack well, don't overreact... wait for the right moment.
After the bubble burst in the Colossus, did any players react differently than they might in other tournaments?
There was a time during the Colossus on Day 2, well after we got into the money. We started to get into the low hundreds of players remaining and were losing players at an incredibly fast rate. Going from 400 to 100 left, players were feeling this accelerated rate of elimination. You could see that the inexperienced players thought that they were going to be at the final table in no time.
One thing I would tell many amateurs is to disregard average stack size. Understand the value of how many big blinds you have.
Therefore, so many players felt handcuffed because they were so afraid to get it in and be eliminated. If you have a solid stack, you can really take advantage of this situation and accumulate many chips.
A lot of players didn't realize that this stage of the tournament was still so far from the final table and that the elimination rate would eventually slow down. They felt overwhelmed being in the final few hundred players left and didn't know how to react.
For players fortunate enough to make a deep run and, say, make it to Day 3, what recommendations would you have? (It's worth adding most players will have a day off between Day 2 and Day 3 of The BIG 50.)
I would recommend that they prepare themselves mentally. Take advantage of the time off in between days. You will play a lot of poker and rest is key as you will hopefully play for a few days more, making the final table. Overall, don't go hard on your days off and play a single-day event. You can play poker any time. Rest in between days and focus on the task at hand.
If someone manages to make it to the final nine, what advice would you give a player reaching his or her first WSOP final table?
While I recognize this is a huge moment, stay focused on the task at hand. Try not to make such a big deal about the moment and play this final table like the others you have done before.
Also, try to recognize other players who are possibly trying to just ladder up and take advantage of those people when you get the opportunity.
As you get deeper in the event and definitely at the final table, the media scrutiny intensifies. What advice would you give players if they reach this scenario?
Embrace it and enjoy it, but don't make yourself uncomfortable. Although many of you may not be accustom to the media, have fun with it and don't be nervous.
Any final words to the thousands of BIG 50 players?
Good luck to everyone! Hopefully we all can have an awesome experience playing The BIG 50.