Where's the Value? Looking at the Players Left to Act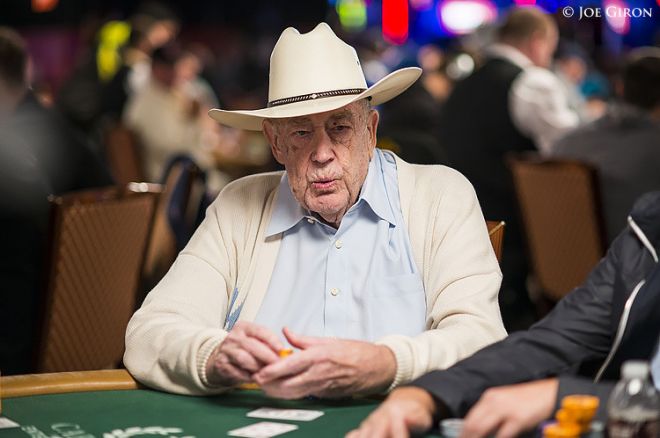 Covering live poker tournaments for a living affords me the opportunity to see countless thousands of hands played out, many of which offer interesting and potentially valuable insights into how players — both amateurs and professionals — play the game. In this ongoing series, I'll highlight hands I've seen at the tournaments I've covered and see if we can glean anything useful from them.
The Scene
For the third straight week, we're back at the ARIA Resort & Casino for a cash game hand from the Super High Roller Series. Unlike the last two hands, which came from Day 3 of the series, this hand comes from Day 1, which featured a tough lineup including Phil Ivey, Doyle Brunson, and Antonio Esfandiari. The blinds for this eight-handed game were $400/$800 with an ante of $200.
The following hand occurred early in the session, but already Brunson has been one of the more solid players at the table. He has just shown down two winners in the most recent big pots — a pair of tens in the hole and another one pair of tens with a good kicker. Meanwhile Jennifer Tilly has been one of the more active players, unafraid to mix it up with the big names at the table.
The Action
The player under the gun folded, and Tilly opened for $2,500 from the next seat. Johnny Chan called on her left, Bob Bright (cutoff) and Jean-Robert Bellande (button) both folded, then Ivey and Brunson both called from the small and big blind, respectively.
The flop came



, and Tilly bet $4,000 after the two legends acting in front of her checked. Chan pitched his cards, as did Ivey. Brunson wasn't such an easy sell, however, and he check-raised to $14,000. Tilly came back with another raise to $45,000, and Brunson made it $139,000. Tilly put in her remaining chips, a wager of $278,000 total, and Brunson snap-called.
Brunson turned over


for the nut straight. Tilly was drawing very slim with


, needing running clubs for a flush to win the pot. The two agreed to run it three times, and it was Brunson coming out ahead all three times and scooping a pot of about $570,000.
Concept and Analysis
When the



flop comes out, Tilly has the third nuts and stacking off is a very defensible decision. A stack of more than 300 big blinds is a lot, but her hand is both extremely strong and extremely well-disguised. From her point of view, Brunson could have flopped a set and likely doesn't see many straights in Tilly's range. But should she have even seen that flop in the first place?
Looking at the players acting behind Tilly, we see Chan, Bright, Bellande, Ivey, and Brunson. That's a legendary two-time world champion with 10 bracelets, an amateur used to playing against the world's best, a regular at some of the highest stakes live cash games in Las Vegas, and in the blinds two of the greatest to ever lace 'em up. Of that group, only Bright looks like a clear target for Tilly, and even he has position on her.
Tilly opens with a hand that has very little value and rarely any postflop playability despite having a slew of tough players acting after her. The redeeming factor is that nobody will see it coming should she flop huge, but


is rarely going to flop anything with which you're comfortable getting 300 big blinds in the middle. Two pair or even flushes could easily be counterfeited because of the rank of the cards, and there's only one nut straight for the hand. Indeed, the worst-case scenario happens as she flops a second-best straight and gets stacked.
Tilly's ability and willingness to mix it up is admirable, but you should always look at the players left to act and consider how you expect to make money postflop. There's definitely a time and a place to get tricky with


, but playing against a group of mostly experts who have position on you probably isn't it.
Get all the latest PokerNews updates on your social media outlets. Follow us on Twitter and find us on both Facebook and Google+!