Vivian Saliba on Playing 'Blind' Against an Unknown Opponent
Vivian Saliba
PokerNews Staff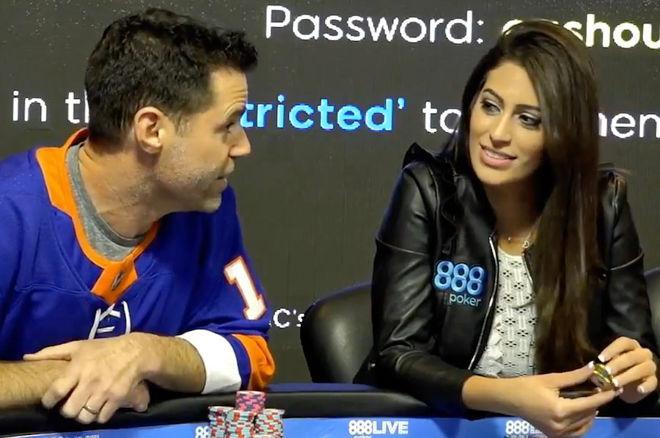 What is your tendency when playing against an opponent for the very first time? With no prior history with a player, what baseline assumptions tend to govern how you respond, say, to significant aggression early in a session? 888poker Ambassador Vivian Saliba had that very experience at the start of the 888poker Live Kickoff Cash Game in London not long ago.
Having sat down next to David Tuchman — with whom she'd never played before — Saliba was instantly presented with a somewhat difficult decision on the first hand of the night.
Tuchman was in the small blind (£2) and Saliba was in the big blind (£5), with her fellow 888poker Ambassador Chris Moorman having put in a £10 straddle on her left.
As Saliba explains below, it folded around to Tuchman who raised to £30, then Saliba looked down at


in the big blind. She thought a short while (listening to Tuchman chat as she did), then three-bet to £110.
Moorman folded, then Tuchman leaned over to examine Saliba's stack. He had her well covered, having started the session with more than £1,500 while she had begun with about £900. After a bit of "Hollywooding" (as Saliba describes it), Tuchman four-bet to £440.
Pocket jacks can often be a tricky hand to play. But here Saliba's situation was further complicated by the fact that she'd never played against Tuchman before.
Listen to how Saliba approached the problem of trying to narrow Tuchman's range and judge how her jacks compared to what he might be four-betting in this spot:
As it happened, Tuchman had made his play with


, meaning Saliba had let go of the best hand. "Either I was extremely nitty, or he was extremely degenerate," laughs Saliba.
"After you've played against your opponents for a while, you already know the profile of each one," Saliba continues. "You've seen the situations and the hands, and you can have a better read. But I had never played against Tuchman... I was kind of blind!"
It was a "blind-versus-blind" hand, but as Saliba notes she was additionally "blind" to any personal experience versus her opponent, and in this case she chose the cautious route.
How would you play pocket jacks in this spot versus an unknown opponent four-betting you as Tuchman did here?
Primarily an online player, 888poker Ambassador Vivian "Vivi" Saliba has recently collected numerous live cashes including making the money in both the 2017 WSOP Main Event and 2017 WSOP Europe Main Event. Pot-limit Omaha is her favorite variant, and among her many PLO scores is an 11th place in the $10,000 Pot-Limit Omaha 8-Handed Championship at the 2017 WSOP.