Vayo, Josephy, Ruzicka Talk Strategy and More Regarding Key November Nine Hands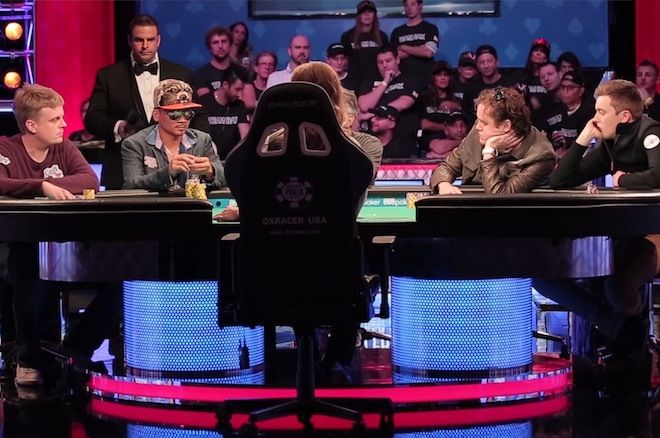 This week's finale of the 2016 World Series of Poker Main Event featured a ton of excitement as well as numerous hands over which many are still discussing strategy and decisions the players made.
PokerNews was on hand for all three nights of the final table, of course, and was there to gather some post-elimination thoughts from some of the players regarding key hands they played at the final table.
Following his elimination in fifth place, Vojtech Ruzicka was asked to discuss his thought process during a key hand for him in which he lost most of his stack to Gordon Vayo before getting knocked out shortly thereafter.
Ruzicka and Vayo were nearly even in chips when the hand began with Vayo raising the button, Ruzicka three-betting with


from the small blind, and Vayo calling.
Ruzicka then led with bets on the



flop,

turn, and

river, with the last bet being an all-in push. Vayo called the whole way, ultimately tabling


for a set of eights to cripple Ruzicka.
Hear what the Czech Republic pro had to say about that hand and his performance generally speaking at the final table:
The next night third-place finisher Cliff Josephy spoke about the big set-over-set hand he lost to Vayo and how his read in the hand was affected somewhat by a hand he'd seen Vayo play at the final table the night before.
Josephy also shares some compliments regarding the toughness of eventual winner Qui Nguyen. Take a look:
Finally, runner-up finisher Vayo also spoke with our Sarah Herring after the conclusion of his grueling, 182-hand heads-up duel with Nguyen.
Vayo talks about how he was able to maintain his patience during heads-up, despite being behind for much of it. He also addresses in particular one hand in which he regretted not making a river call versus Nguyen.
Nguyen had 218.9 million to begin the hand, and with the blinds 1.2M/2.4M he made it 6.7 million to go from the button. Vayo — who had 117.7 million to start — called with


.
The flop came



to give Vayo top pair, and he check-called a continuation bet of 9.7 million from Nguyen. The turn brought the

, and after Vayo checked again, Nguyen fired a big 27.7 million bet into the 33.6 million pot. Vayo called again, bringing the pot to 89 million even.
The river was the

, and after Vayo checked one more time Nguyen didn't waste much time before saying he was all in.
With 162.2 million in the middle, Vayo thought for a long while before letting his hand go and preserving the 73.2 million he had behind. If he had called, he'd have been the one with a better than 2-to-1 lead as Nguyen had only had


.
Vayo adds a few more thoughts about his final table experience as well, sounding remarkably lucid after such a long, pressure-packed night: