US Poker Open Event Champ Lauren Roberts on Learning, Having Fun, Winning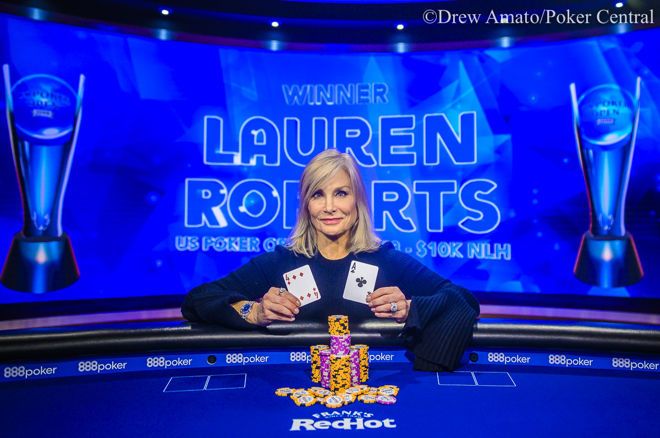 A few of weeks ago, Lauren Roberts became the first woman ever to win a U.S. Poker Open event, capturing Event #3: $10,000 No-Limit Hold'em. Roberts topped a 91-entry field at the PokerGO studio at the ARIA Resort & Casino to take home the title and $218,400 first prize.
Not considering herself a poker pro, Roberts continues to work in the financial world. Over in the poker world, Roberts first gained notice as the only woman to play in the $300,000 Super High Bowl in 2017. Although she didn't cash, she believed the experience of competing and making friends with several players were worth the price of admission.
Previous to her recent tournament experience, Roberts used to play in high level cash games, though started out playing online at the smallest level of $0.01/$0.02.
Recently, I interviewed Roberts for The Bernard Lee Poker Show. Besides discussing her big win, I asked Roberts to share her advice for poker players looking to improve their games.
PokerNews: Lauren, congratulations on your recent victory at the U.S. Poker Open. This was your first live victory, correct?
Lauren Roberts: Thank you.... Yes, it is my first live victory. I've won tournaments online, but never live. I'm not sure I even realized what was actually happening.
Prior to playing in tournaments, you used to play almost exclusively in cash games. You started online at the micros and have played as high as $500/$1,000 no-limit. What advice would you give to players about moving up in stakes?
Of course, you need to consider your bankroll and make sure that you have enough funds to play at a higher level.
But more importantly, you need to be honest with yourself. Many players feel they are winning consistently and want to move up, but are they really playing well or just having a hot, lucky run? You need to truly analyze your game and maybe ask some friends their opinion about your decision making.
Is there anything else players should consider when playing cash games?
I think many players do not consider game selection nearly enough. Players just want to get into the first game available, but I feel that game selection is critical.
Sometimes certain games may have lots of regulars, while another game at different [stakes], lower or maybe even higher, may have numerous amateurs that might be in town for a big conference. So, I believe game selection is crucial to cash game success.
What advice would you give players to help improve their games?
I have been fortunate to make numerous friends in the poker world to discuss hands. However, for most players who just are starting out, organize a group of players together to talk about different hands and strategy.
Also, don't be afraid to play against the best players that you know or even the pros. When you play against these players, you may be able to pick up a lot of plays and strategy by just watching and playing against them.
What advice would you give amateurs who are considering trying to become pros?
I actually don't consider myself a pro poker player as I have a day job, but if someone is considering it, I would tell them to think long and hard because it is not as easy or glamorous of a life as some people think.
However, to gain the necessary experience, play as much as you can within your means, but, most importantly, enjoy the journey, don't just focus on your results. If I played in a tournament and I've learned something, I feel like I have won.
Poker pundits believe that the next big boom in poker will surround women entering the game. What would your advice be to women in playing poker tournaments?
Be confident in who you are. It is natural to be nervous, but don't let the men intimidate you while you play. Make sure that you go and play your best game. Trust me, I'm the queen of failure and falling down. If you do the same, just get up and dust yourself off. That's how you get better. You have every right to be there as a woman. Don't let anyone hassle or intimidate you.
Any additional advice for first time players in live tournaments, either women or men?
Pay attention!
Often, you will see people at tournaments looking at their iPhone or iPad, watching a movie or surfing the internet. When I play a tournament, I am laser focused. I am watching absolutely everything that is going on at the table, especially when I'm not in a hand. What amount did they bet, how much did they bet, does he have any possible tells, does he have any possible reactions? By the time, you put all of those pieces together, you can make the best possible decision.
After this win, you must have a lot of confidence. What are your plans for this summer's World Series of Poker?
I always love playing in the WSOP events. I plan on playing a lot of events this summer, but I have a huge advantage over some of these other players in that I only play when I feel like it. I don't have to play every event like some of these players who feel they don't have a choice.