Transitioning from Live to Online Tournament Poker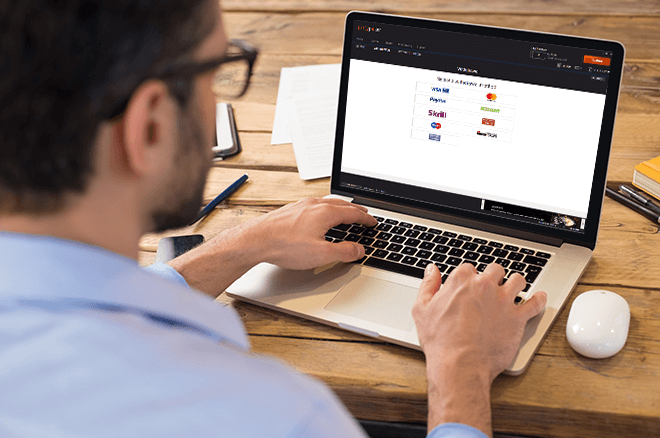 If your primary focus to the game of poker has been live tournaments and you are looking to get into the online action, now is as good of time as ever.
We put together a list of some things that are important to pay attention to when making the transition from live to online tournament poker, so make sure to keep reading to set yourself up for success.
---
Bankroll Management
Bankroll management is critical to poker success just the same online as it is live. However, the two should not be treated identically for various reasons.
A $300 tournament online is not created equal to a $300 live tournament.
When a poker room runs a $300 tournament, it is usually the only primary event being run on a given day. On the contrary, real money poker sites online are able to run multiple tournaments around the clock, providing greater access to the amount of risk you can commit in a given session.
Furthermore, the pace of play online is quicker due to the fact that a site's software will deal you a new hand immediately upon the completion of the current one.
Dealers do not need to shuffle and pitch cards, and players can simply click a button rather than take time to physically look down at their cards before acting.
As such, it is easier to put in more volume in a session, which makes it critical to exercise discipline and stay within the limits of your bankroll.
---
WANT TO KNOW MORE? Poker bankroll management: six essential tips
---
Start on One Site
There are a lot of sites out there, both legitimate and illegitimate.
First and foremost, PokerNews does not condone activity on unregulated sites or app-based platforms, but there are still plenty of options available after that has been said.
It is best to start by familiarizing yourself with playing on only one website, especially if you are brand new to online poker.
Three options in partypoker, GGPoker, and PokerStars have already been mentioned, and sites such as 888poker, Unibet Poker, and others may be available depending on where you live.
If you are unsure which to choose, do a little bit of research!
Download various platforms and see which sites offer tournaments that fit your schedule and your bankroll. And most importantly, choose a site with software that suits your eye, as you are hopefully planning to run deep in tournaments and spend a lot of hours playing.
Start with Low Volume
We have already mentioned the potential for increased volume and risk in online poker when compared to live tournaments.
The pace of play is also quicker when playing online, so it is important to start slow as it can be easy to get overwhelmed with a lot of tables popping up on your screen at the same time.
You can always add more tables, so it is best to start with one or two tournaments at a time.
Get comfortable with that for a few sessions, and then add in another.
There is no rush: it may be easy to feel like you are missing a ton of potential value by not registering for more tournaments, but those tournaments will be there again tomorrow and the next day just the same.
Additionally, playing too many tables can hurt your game if you are not used to focusing in the capacity required to do so.
Timebanks can run out quickly if you are not familiar with a site's software, blind structures may have abnormal levels, and players may use different bet sizes than you are used to.
All of these things may lead to tougher decisions than you initially expected, so it's best to become comfortable with these dynamics before increasing your volume.
Just because you see others playing heaps of volume while streaming on Twitch doesn't mean you need to plunge in just the same – many of these players have spent years working their way up to being able to put in the volume they currently play, which takes us to point number four.
---
READ MORE: Four Mistakes Beginners Make at Online Poker When Starting Out
---
Watch a Twitch Poker Stream
Twitch has increasingly become a quality source of poker content, both for entertainment and knowledge.
Poker sites now have sponsored Twitch streamers that play tournaments at all stakes, not just the nosebleeds, meaning access to free and relatable content is no more than a click away.
Sure, there are also poker training sites out there, but Twitch is an excellent resource for devouring poker when away from the felt, whether it be physical or virtual.
There is no shame to devoting some of your poker time to watching others who play professionally and learning from what they do.
You may learn concepts that you can use in your game moving forward, further expanding your arsenal of understanding.
Watching others play on Twitch, like Jordan Drummond, who streams his play on the partypoker client can also help you acclimate to sites and allow you to invest your time into productive poker measures.
There are sure to be times when your session ends early (it happen to all of us!), and Twitch is an excellent resource when you've exhausted your risk for a given day or session.
Furthermore, poker sites may offer tournaments such as progressive knockouts that do not exist in the live realm, and Twitch can be another resource towards acclimating yourself to these other types of games.
Play with Jordan on partypoker
Trust Your Game
Despite the nuances between online and live tournament poker, you are still playing the same game.
Chances are you are not reading this article with zero poker background.
You know how to play poker, you know this is a game of adjustments, and you surely have some understanding of winning strategies to employ on some level of the game.
You also hopefully don't need us to tell you that you should find a buy-in level that is commensurate with your level of play.
If you play a local tournament once a month for $100, you probably already know that it would be improbable to find immediately sustainable success playing $1,000+ tournaments online.
With that being said, there is still tremendous opportunity for success in online poker tournaments if you approach the transition with the right mindset towards bankroll management and volume while working on improving your game as much as possible along the way. Good luck at the virtual felt!