Tighten Up or Stick to Your Game? The Pressure of Playing Poker on a Live Stream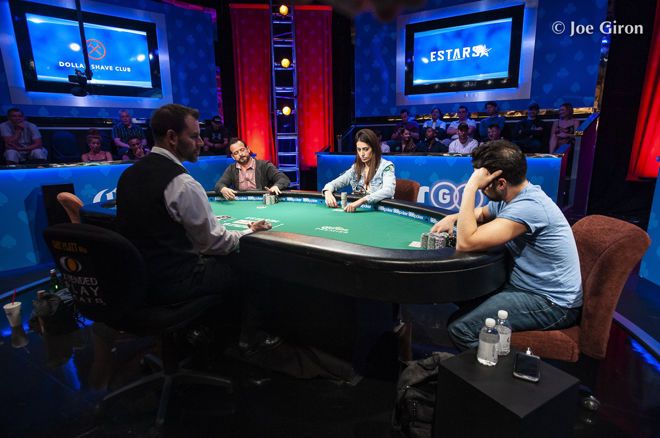 Live streaming of poker tournaments and cash games has never been more prevalent. In addition to the World Series of Poker and World Poker Tour constantly airing over cable television, practically every major tournament series and many smaller ones stream final tables with hole cards and commentary.
As a result, the phenomenon of players experiencing playing final tables on camera with their every move exposed is becoming increasingly familiar.
Whereas in the past only top, high-profile pros or those making deep runs in major WSOP or WPT events would ever find themselves playing at televised final tables, today anyone getting to the end of a "mid-major" tournament or even smaller ones might expect to do so as well. Sometimes you don't even have to make the final table to get on the live stream.
Adding to the list of examples are players live streaming their online tournaments and cash games over Twitch and via other outlets, as well as customary final table "replays" of major online tournaments such as the Sunday Million and "COOP" series events on PokerStars.
Does playing poker on a live stream affect playing styles? Whether or not it does likely has a lot to do with players' experience both at poker and at playing with their hole cards shown and every action available to all to scrutinize and deconstruct.
Think about it. You're in the big blind with


and watch a somewhat loose player open from the cutoff, then two tighter ones call the raise from the button and small blind. These players' images, stack sizes, and other factors all add up to you considering putting in a reraise as a "squeeze play."
But... it's the final table. You know whatever you do will be seen a half-hour later and perhaps become the source of Twitter threads and forum chatter for days. Could that affect your thinking?
Vivian Saliba has been on a number of live streamed tables over the last year, including the final table of Event #64: $888 No-Limit Hold'em last summer where from over 10,000 entries she finished fourth for a career-best $308,888 score.
Just a week ago the 888poker Ambassador was back on a live stream while making a run to the final three tables of the 888poker LIVE London Main Event eventually won on last Monday by Adrian Constantin.
During a break in the event Saliba was on camera some more, speaking to PokerNews' Tiffany Michelle who asked her specifically how playing poker on a televised table might affect players' decision-making — and how she might sometimes change her approach by applying additional pressure to those who might be tightening up. Take a look:
As Saliba notes, it is probably best not to alter your game too greatly when the cameras are on, although it might pay to remain aware of whether or not others are being affected and adjust accordingly.