Sylvain Loosli Breaks Down EPT Monte Carlo €10K High Roller Win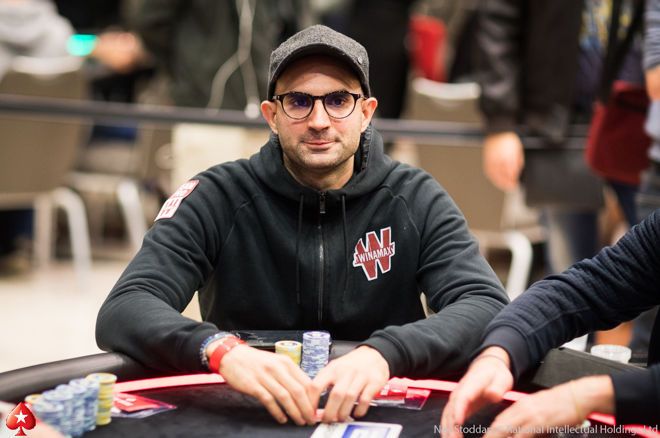 Sylvain Loosli became a household poker name in 2013 when he final tabled the WSOP Main Event, eventually finishing in fourth for a career-high score of nearly $2.8 million. Loosli has remained at the top of the game since, finding plenty of success both online and live, including making another deep run in the WSOP Main Event finishing 18th in 2018.
The French poker pro is no stranger to success on the European Poker Tour either. He won a €50k Super High Roller at EPT Barcelona in 2015 and a €10,300 Pot-Limit Omaha event under the rebranded Barcelona PokerStars Championship in 2017. Then this past Saturday his win in the €10,300 High Roller over a 70-entry field at the 2019 PokerStars and Monte-Carlo®Casino EPT was his first victory in Monaco.
At €198,610 ($222,298), the win may not be anywhere near his biggest cash or his biggest score — both of which were for seven-figures — but it's still a nice win for the seasoned pro. He was especially happy to claim victory near home turf what with friends and Winamax teammates around as well as family nearby following the updates.
"I guess if you have to choose where to win — when you're French especially, with so many French people around and such a big crowd — you know that everyone is going to hear about it, so it feels extra special," said Loosli.
PokerNews talked with Loosli about the interesting and action-packed final table he played en route to his win on Saturday, and he shared some of the strategy he employed during the event's final stage.
Dynamic Final Table Strategy
Loosli began the six-handed final table as the shortest stack with a mere 15 big blinds. The overwhelming chip leader, Charlie Carrel, started with 125 bigs and the others were all somewhere between 22 and 66 big blinds. Loosli's plan at the start to outlast some other short stacks changed drastically as the chips began to be redistributed.
"My first goal was to hang around and try to ladder up," Loosli shared. That plan worked out quite well as Carrel got the best of two top pros in Joao Vieira and Erik Seidel to get them down to the final four.
"Charlie played a lot of big pots, as he usually does. It was fun to watch — lots of action."
"Charlie played a lot of big pots, as he usually does. It was fun to watch — lots of action."
As table dynamics changed, Looslie's extensive final table experience came into play.
"I'm very comfortable with ICM decisions at final tables, so sometimes you have to play tighter, sometimes you can play more hands, especially when you get short-handed. If you're one of the shortest stacks, you can obviously take more risks — to put it quite simply."
It helped he also got "a few lucky doubles" — first with queen-ten all-in preflop against Seth Davies' king-jack, then with queen-jack against Carrel's pocket aces. In both hands he made two pair, but the hand against Carrel was a bit more interesting.
Coolering Carrel
In that key hand, Loosli opened the button with around 15 big blinds and four players left.
"Charlie flatted the small blind with aces, which is probably the best decision to make."
The big blind came along and a flop of queen-jack-seven with two spades gave Loosli top two pair.
"If you're one of the shortest stacks, you can obviously take more risks — to put it quite simply."
"Charlie decided to lead the flop, which I thought was quite strong. Basically it hits his range very hard when he leads; he's not lead-folding. So I just went all in and managed to hold — that... was quite an important pot."
It was important not only because Loosli doubled up, but the hand also took yet another chunk from Carrel's already dwindling stack.
Carrel would be the next player out in fourth place, failing to get there with the nut-flush draw against the pocket aces of Georgios Kitsios, and then there were three. Loosli was still the shortest stack, but the situation was much changed.
Aggression + Rungood
Having already laddered up three places after coming in as the shorty, Loosli was now in position to fight for the title.
"When we got down to three, I knew anything was possible and I started playing to win at that point."
Loosli had 25 BBs while Davies had 50 BBs and Kitsios (the less experienced of the three) held the lead with 100 BBs. Loosli would double through Kitsios, getting lucky once again. It happened when Loosli min-raised the button with ace-nine and called off around 20 big blinds after Kitsios moved in from the big blind. Kitsios had the dominating ace-jack, but Loosli found a nine on the flop and a clean runout to double and even out stacks quite a bit.
"When we got down to three, I knew anything was possible and I started playing to win at that point."
Sylvain would bleed down again, though, and later limp-called for 22 BBs from the small blind with king-jack when Davies shoved on him from the big blind. Davies held ace-three and Loosli got there again to climb into second place just above Davies.
In the next level, Loosli came into the chip lead by chipping away at Davies, with Davies getting some chips back from Kitsios. Then after Kitsios eliminated Davies with a flush over a straight, a pretty even heads-up match was set up with Kitsios sightly out front.
There was some back and forth, with Kitsios battling back when Loosli pulled away, but eventually, Kitsios' short stack went in with king-five and Loosli put him at risk and held with ace-five.
Loosli, who has maintained a high level of volume in recent months both online and live, is happy to see the fruits of his labor.
"It feels good when you put in a lot of work and dedication and finally you have the opportunity to close out a nice one," he explains.
Keep following the PokerNews live updates as the action heats up here in Monte Carlo with Day 1a of the €5,300 EPT Main Event underway, with Loosli among the field. Watch him discuss his EPT Monte Carlo win in an interview with PokerNews below.
Images courtesy of PokerStars.