Strategy Session: Taming the "Monster Stack"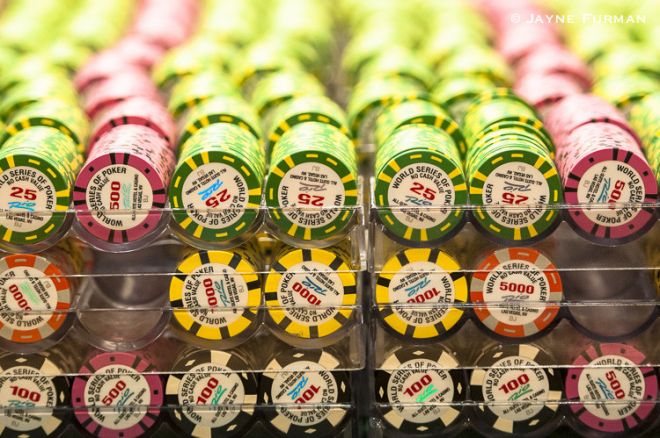 When Day 4 of Event #51: $1,500 No-Limit Hold'em Monster Stack began, just 62 of the 7,862 runners who made up the record-setting field remained. And while many of those represent the masses of amateurs who flocked to the Rio, a few sharks are still swimming as the final table nears.
We had a chance to talk to four players who came to this tournament with a previous record of tournament success who have each successfully managed deep runs in this first ever "Monster Stack" event at the World Series of Poker — picking the brains of each to discover some strategy tips related to deep-stacked tournament play.
Jason Duval made the breakthrough every poker player dreams of last year, winning his first WSOP bracelet in a $1,500 No-Limit Hold'em event for a $521,202 score. The haul was Duval's second six-figure score — after a third place run in the C$3,300 buy-in PartyPoker WPT Canadian Spring Main Event Championship — and in only three years of live tournament play the Quebecois pro has amassed nearly $1 million in earnings.
Joe McKeehen is a native of Pennsylvania who has absolutely crushed the East Coast tournament circuit in his first two years of competition. In addition to the WSOP Circuit ring he snagged for taking down the 2012-13 WSOP Circuit Caesars Atlantic City Main Event, McKeehen has made a mockery of the Borgata's seasonal Poker Open series by winning three straight trophies in Atlantic City. With more than $1 million in live earnings in just the last five years, McKeehen is poised to claim his first gold bracelet — while more than doubling his lifetime winnings in one fell swoop.
Tony Sinishtaj can vouch for McKeehen's bona fides... after all, the two tangled with the aforementioned WSOP Circuit ring on the line last year. Primarily an East Coast grinder by trade, Sinishtaj recorded his first career WSOP cash in the Monster Stack event, but he is no slouch on the felt with nearly $350,000 in live earnings since 2010. His résumé includes a first-place finish in a $2,500 buy-in Venetian Deep Stack NLHE event in addition to his six-figure score placing second against McKeehen at Caesars Atlantic City.
Finally, Paul Mattioda made his first WSOP final table appearance last year in the $2,500 Limit Hold'em Six-Max event, where he was knocked out early for a ninth-place result. The payout of $14,404 he took home that day was by far the largest of his career to that point, but by reaching the final three tables of the Monster Stack event, Mattioda has already eclipsed that milestone by a mile. Guaranteed to earn at least $50,202 by virtue of his deep run, Mattioda has already used the Monster Stack to make one dream come true, but he has his sights set on a higher finish than last year, and perhaps his first career gold bracelet.
****
Jason Duval
(On starting stack size depth): I think on Day 1 you have to be really patient. It's such a grind and just doubling your stack would be average at the end of the day. So it's not like the other tournaments where you really have to get it in at one point. Here you can just be patient, grind your stack, and wait for Day 2 to really make moves. I think it's important to be really patient in this kind of event on Day 1.
(On the shift from deep stack to a more traditional pace of play): I think, because we skipped some levels, when we skipped the 2,500/5,000, it really changed the average from something like 40 big blinds to 30 big blinds. Every event here gets this deep, so... when they skipped that level, it just tricked us into thinking it's a deep stack. But it's actually not that deep when you get this far.
(On the collective strength of the competition early on): You have to take that into consideration when you play, and you don't want to flip there, you don't want to risk your stack for no reason when you have such an edge. Because people don't really know what to do when they're that deep in tournaments. They've played before, but never in that situation, so they're a bit scared money. So you have to ask some questions to the players, like [to find out whether] they play a lot or not, so you can maybe take advantage of that on the tables.
(On trying to make the Monster Stack his second bracelet win in as many years): Yeah, that would feel really good. It's been a while since I had a good result in poker, so it would be really good to win this.
Joe McKeehen
(On starting stack size depth, and the shift from deep stack to a more traditional pace of play): I don't think much has changed at all. It's still just poker. No one at this stage is super deep anyway, and I got in the tourney at 11 p.m. so I wasn't ever super deep to begin with. I registered with 75 big blinds so I never had to deal with that.
But I think I would play a lot of pots if I liked my table. Both strategies you listed [playing more pots or letting opponents splash around while playing solid] can work in the right circumstances.
(On his approach to the Day 4 endgame): I'm just going to continue to play my best. I think I've been playing really well and running well this tourney, and I hope it continues. There's a lot of good players left and the amateurs know what they're doing, too. No true fish at this stage.
Tony Sinishtaj
(On starting stack size depth): I started at 100/200 no ante, so I sat with 75 big blinds which is still a lot. I felt like I was able to play a little bit more patiently, and try to avoid high variance spots. The first day I was just totally card dead — the couple of hours I played, anyway — but I managed to chip up a little bit. Then on Day 2 and Day 3, things basically just went smoothly, no tough spots.
(On the collective strength of the competition early on): I mean, it's a pretty weak field so that's the whole strategy. You obviously play a little different on weaker tables, and if you've got a tough table you've got to take more marginal spots. So yeah, we obviously enjoy the weaker fields. It's a minefield, but you've gotta get through. It's very similar to the Main structure-wise, even field strength-wise, I believe, although I guess in the Main it would be a little tougher. I did fold a lot of marginal spots, and while that was a factor of the stack size, it was more knowing that we're in a good structure and there are a lot of weak players. So I didn't feel like I needed to put myself in bad spots for no reason.
(On the shift from deep stack to a more traditional pace of play): I was lucky enough to have some chips almost throughout. The effective stacks… there were some smaller ones, but I managed to have a pretty deep stack most of the time. Now, I just had it down to between 10 and 20 bigs, and obviously at that point you're just playing your normal short stack strategy with 20 bigs. But I was able to get a couple of doubles, so I am sitting on about 25 bigs now [on the first break of Day 4]. It doesn't even feel like it's the same tournament we started. To me it just feels like a totally different tournament. I'm playing with a whole new group of people… it has just been so many days I guess.
(On what a Monster Stack win would mean): It's surreal... It would change may life in a very good way.
Paul Mattioda
(On starting stack size depth): I actually registered early, so started with 600 big blinds, and I actually play a lot of cash back at home, a lot of $2/5, $5/10, so the deeper stacks played directly into my style. There's so much more room for play, it's so beautiful. I mean 600 big blinds is just ridiculous. Like when I play pot-limit Omaha I'm used to sitting with like 1,000 big blinds, so it worked well.
A lot of people, I don't think they pay attention to the denominations... they just bet chips. So they just punt off giant stacks, because they don't know what a 50 or a 100 big blind is. But it's valuable. Right now there's almost 60 people left and I have heaps with almost 30 big blinds. I consider that a giant stack. Average is about 30 right now, which is actually pretty good for a tournament [at this stage]. It's still a little better than the structure for an average tournament.
(On the shift from deep stack to a more traditional pace of play): Around late last night you could tell when the shift was being made. I haven't been all in yet once for my tournament life, so basically I've just been playing small ball every since the start. With 600 big blinds there was no reason to blow anything: survival is the key. I'm treating this like... well, they call this the common man's Main Event, so I'm treating it like the Main Event. It's a million dollars man... it's fantastic. I play poker for a living, so winning is basically freedom for a long time.
Get all the latest PokerNews updates on your social media outlets. Follow us on Twitter and find us on both Facebook and Google+!