Poker's Biggest Bubble: Considering the 2014 WSOP Main Event Bubble Hand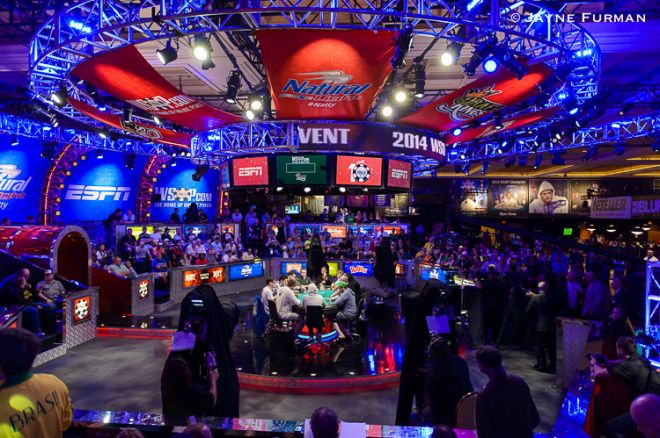 All tourney bubbles bring about drama and often some anxiety-producing decisions as well. Somewhat uniquely, the World Series of Poker Main Event features a couple of "bubbles" that never fail to be full of excitement — the one that bursts when players make the money, and the final table "bubble" that bursts when a player exits in 10th place to set up the November Nine.
This year two-time bracelet winner Luis Velador was the unfortunate 10th-place finisher in the Main Event, earning a nice consolation prize of $565,193 though unfortunately being knocked out of the running for the $10 million prize awaiting this November's winner.
Velador's bustout hand — the last one of the summer at the Rio All-Suite Hotel and Casino — proved especially intriguing, involving difficult decisions that have earned a lot of discussion in the days since.
Chad Holloway has focused on the hand in a new strategy piece for Learn.PokerNews, examining the choices faced by three players — Velador, Bruno Politano, and Mark Newhouse.
Chad describes how following a Politano opening raise and a call from Newhouse, Velador decided to reraise all in for just over 15 big blinds, forcing a fold from Politano — who said afterwards he'd let go of


— while earning a call from Newhouse.
As it turned out, all three players had been dealt pocket pairs as Newhouse had


and Velador


. The board brought no help for Velador, and Newhouse won both the hand and — incredibly — a seat at the WSOP Main Event final table for the second straight year.
"The hand played out in a curious manner," Chad opines before exploring it in greater detail, starting with Politano's opening raise:
Assuming Politano really did have pocket tens, I like his open to 900,000 from middle position. It was a little over a min-raise, which seemed to be the standard at that point in the tournament. Newhouse was sitting sixth in chips with 18.35 million at the time, so he could afford to call from the button, though doing so looked weak in my opinion.

That apparent weakness no doubt inspired the short-stacked Velador to move all in with his small pocket pair, something he probably wouldn't have done had Newhouse from the button. A veteran of the game, Velador knew the gravity of the situation and realized there was probably no better spot than the final table bubble to get maximum fold equity. If he managed to push both his opponents off their hands, he'd effectively increase his stack by 25%.
Read the subsequent discussion of the hand and decide for yourself "What Would You Do on the Bubble of the November Nine?"
Get all the latest PokerNews updates on your social media outlets. Follow us on Twitter and find us on both Facebook and Google+!