It's Always Good To Have (Poker) Friends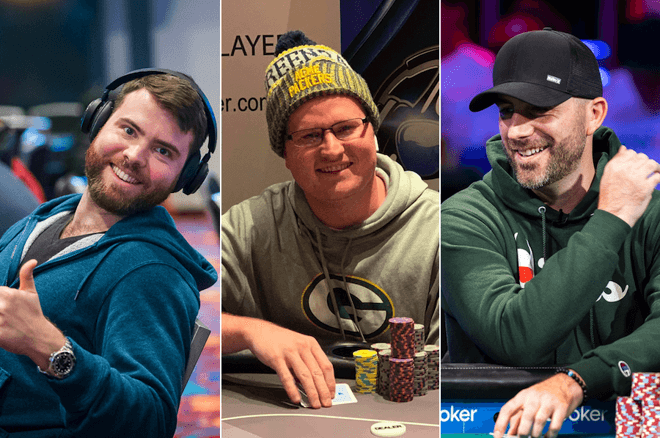 As poker players begin 2020, everyone aspires to have successful year on the felt. Players evaluate their own game and assess what areas to work on in order to get better. Some have even made new year's resolutions to make specific improvements and achieve certain results for their own poker game.
Over the past couple of years, I have interviewed numerous poker pros and in several PokerNews columns have shared their personal advice to poker players. One common theme touched upon by nearly all of these top players has been to discuss poker with fellow poker players. Whether you play professionally on the poker tour or just in a home game, these players advise reviewing poker strategies and hands regularly with others to help improve your game.
However, you don't want to discuss poker with just anybody, and there are some other tips to keep in mind as well when it comes to gathering such advice. The professional players I spoke with had some specific parameters when it came to talking strategy with others. I've highlighted some of those additional guidelines below.
Discuss Poker With Players More Skilled Than You
While you want to discuss poker with fellow players, you generally don't want to be far and away the best player among the group in these review sessions.
Some players may want to boost their ego by discussing hands with inferior players in order for their opinion always to seem correct. In this situation, weaker players will frequently defer to your opinion, basically becoming "yes" men or women. Optimally, you want to discuss poker with players who are as good or (more preferably) better than you to help thoroughly improve your game.
Jack Sinclair, who made the World Series of Poker Main Event final table in 2017 and in 2018 won the WSOP Europe Main Event, shared some thoughts about the value of discussing poker with players whose skills and experience match or exceed your own.
"I ended up rooming with Phil Gruissem (after receiving some coaching from him) in Malta," said Sinclair. "And from then on, we played poker online non-stop sitting next to each other for the next several months. It was a real transformation for my game."
"Additionally, during the 2017 WSOP, I roomed with another German pro who I met in Malta, Anton Morgenstern. Throughout the summer, we would talk over hands every day, sometimes during the breaks of the tournament. Anton really helped develop my live poker game," explained Sinclair.
For Sinclair, being able to learn and improve through such discussions "is one huge benefit to traveling so much to play poker."
"I have made friends with so many fantastic poker players and really improved my game in the last year," he said. "I'm learning so much from these fantastic players that I'm able to talk hands with every day. With different people to talk with, you get different opinions and you have to figure out why each of them is saying what they are saying. It is such a great learning experience and has helped me constantly improve my game."
Find Players Who Play a Different Style Than You Do
Players tend to discuss poker hands with other players with similar styles of play. These similar minds will often agree with each other, as their decisions would have been comparable.
However, the poker pros I have spoken with often recommend discussing hands with players who have different playing styles and strategies than yours. By taking this approach, you not only can develop a new style of play, but maybe more importantly gain an understanding of what opponents with different styles are potentially thinking when you are playing against them.
This is a point 12-time WSOP Circuit ring winner Josh Reichard highlighted during our conversation.
"Many of my friends all have had success winning WSOP Circuit rings, and many have different styles," said Reichard. "If you can hear hands from a different perspective and thought process, this really gives you a different way to think about the hand that you may not have initially thought of."
"Another reason why this is helpful is you may be able to relate to other opponents' style better since their style may be similar to your friend's style," he added. "Now, after understanding the different style, it may be easier for you to adjust to your opponent and possibly relate to their thought process. This probably wouldn't have been possible if you didn't hear one of your friend's different perspective."
Emulate a Successful Player
There is always a reason (or multiple reasons) why certain players are consistently successful at poker. They might work harder on their games when away from the table than others do. They also might regularly work out, meditate, and eat more healthily than others, which can also help them to improve their edge.
Many people overlook these other factors, believing results only can be affected by what happens on the felt. Poker pros have recommended that if you befriend a successful player, consider as well what that player is doing on and off the felt to improve his or her game. Once you have determined these other factors and discussed them with your successful poker friend, consider emulating them.
Garry Gates, fourth-place finisher in the 2019 WSOP Main Event, made this very point when sharing his advice to newer players about how to improve their games.
"I think having a solid group of poker friends to bounce ideas and hands off of is invaluable," said Gates. "I've been fortunate in that regard, as I have a lot of very smart poker people around me — especially in my close circle. So, I would definitely ask players that you feel are better than you or at least better that you in a certain aspect of the game and talk poker strategy."
"But I would also recommend observing their habits and following them," he continued. "As with any industry, if you want to be the best at anything, you need to keep tabs on what the best in the world are doing. In poker, it helps to watch what the best players in the world are doing, both at the table and away from the table."
As Gates pointed out, it's easy enough to appreciate such players' skills when watching them play and be successful. But there's always more to the story, and more to consider when evaluating why exactly they are consistently winning.
"At the table, some of these guys possess pure talent, but they have also worked extremely hard not only playing millions of hands, [but also] studying for countless hours, learning how to exploit various situations, learning how to implement strategies they've learned and getting comfortable with situational poker — especially in tournaments," explained Gates.
"Away from the table, some players have used fitness to their advantage," he continued. "Playing all day can be a grind, so these players consistently work out so they do not have any endurance issues. Also, some players are focused on mental stamina in an effort do condition themselves to navigate the ups and downs that come with poker."
"You truly have to understand what the best players in the world, or at least in your playing circles, are doing and try to gain an understanding for why they're doing it," recommended Gates.
* * * * *
There are many reasons why it is a good idea to find poker friends from whom you can learn and thus improve your game. Try if you can to befriend players who are better than you and who play styles that are different from yours, then pay attention to what they are doing when they are playing and when away from tables as you try to follow their examples.