Poker Author and Coach Tommy Angelo's Advice to WSOP Players

Martin Harris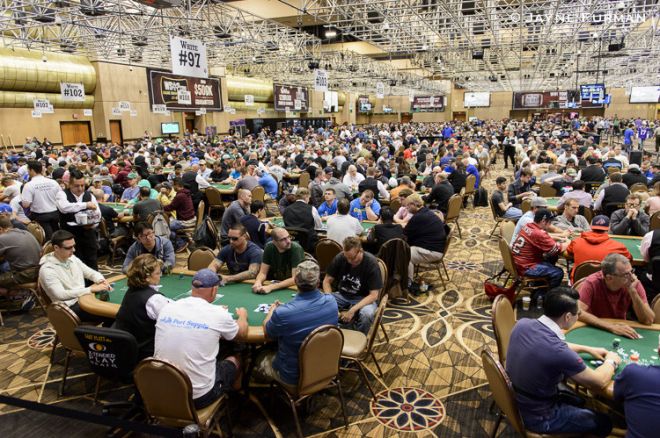 Poker author and coach Tommy Angelo has some advice to poker players heading to the 2014 World Series of Poker. Really, he does.
You might know Tommy from his two highly-regarded books, Elements of Poker and A Rubber Band Story and Other Poker Tales, as well as for the numerous poker articles he's written for many different outlets over the years. Those who he's coached — and there are some talented, successful players among that group — can also attest to his helpfulness when it comes to understanding poker and thinking about the game in constructive ways.
Given such a background, we at Learn.PokerNews thought we'd ask Tommy to share some of his wisdom as part of a larger series of articles providing "WSOP Player Tips."
He has already been contributing a series of entertaining and informative articles to Learn under the heading "Tilt for Beginners" in which he's been exploring various forms of tilt — a topic upon which he's something of an expert — as they affect new poker players.
And since we'd gotten used to seeing Tommy at the Rio All-Suite Hotel and Casino every summer, we figured it only made sense to ask him if he might share with our readers his own advice for those coming to the WSOP.
Because Tommy is an agreeable sort, he agreed to help us out. Here's how he began:
If you are going to Vegas for the World Series of Poker, and you're new at this, and you're super-stoked, and you want some advice on what to do and not do, here's mine: Check out Hoover Dam. And if that's too ambitious, then drive out to Red Rock Canyon and walk around.
Okay... we thought. We'll remember that.
But what about the poker? There are wall-to-wall tournaments going on at the Rio every day, and cash games, too. What can you tell us about that?
He continued:
When it comes to the poker playing itself, my normal advice is stuff like don't play poker for 20 hours before you've even unpacked, unless you really have to. And try to eat actual food, unless you don't want to. And try not to get maximally wasted in wondrous ways, unless the opportunity presents itself.

Basically I suck at suggesting to people who I don't know — meaning you, dear reader — that you should curb your Vegas-induced degeneracy whatsoever. But if I have my coaching hat on, and I've been hired to help with control issues — which is ostensibly what I do in these articles — then I'm on solid footing. I feel I've been invited to tell you where they hide the bananas.
All right, now we're getting somewhere (we thought). He continued:
I'm only going to make one more suggestion. It's for players who play both tournament-structure games and cash games at the WSOP...
Tommy prefers the cash games, we know. And while playing in the cash games during the WSOP, he's had a lot of experience with tournament players who also find themselves at the cash tables, sometimes after having busted from an event.
Head over to Learn.PokerNews and read what Tommy's tip to players coming to the WSOP turned out to be in "Tilt for Beginners (WSOP Edition): Please Don't Feed the Grinders."
Get all the latest PokerNews updates on your social media outlets. Follow us on Twitter and find us on both Facebook and Google+!